Knights Glamping at Leeds Castle
Ali and I between us have worked at Red Letter Days for nearly three decades, sharing many an unusual adventure thanks to our employers. We often pool experience opportunities together in order to try different things. This summer has been no exception and, combining Ali's great love of history and my passion for nature, we set off on a trip to Leeds Castle in Kent for a spot of Knights Glamping.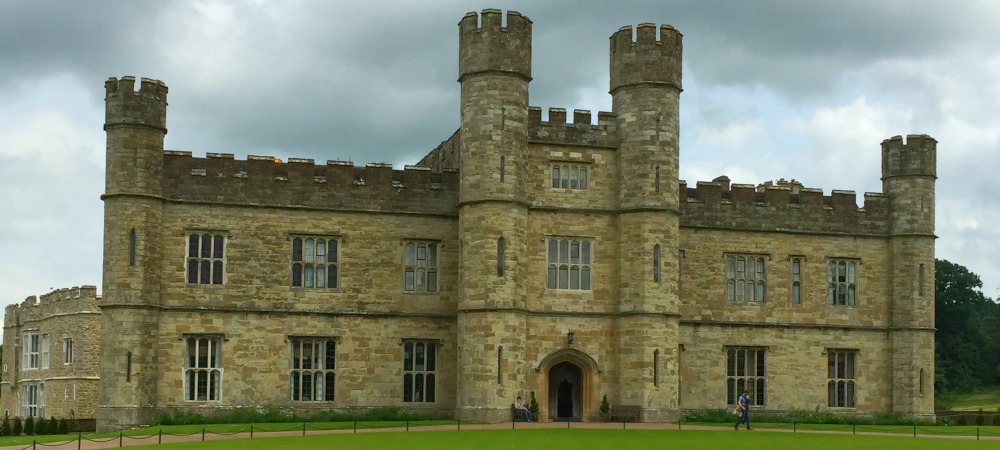 Issy – Leeds Castle was so easy to get to. It lies just off the M20 but you could be a million miles from anywhere. The feeling once in the estate was one of excitement, anticipation and relaxation. After driving in and being directed first to reception to check in, then towards our accommodation for the next couple of nights, we were both already beaming.
Like a pair of children, we giggled as Gina, the host who introduced us to our 'room', led us round to see the luxurious medieval yurt that would be our home from Sunday to Tuesday. I think we were both surprised at how luxurious it was.
Ali – There were some lovely touches, each tent being given the name of a historical duchy or aristocratic family on a wooden shield at the edge of the decking – we were Devonshire, our neighbours Howard. The actual structure was securely rigged to a wooden platform and double insulated, with outer canvas and rich inner felt. This led to the inside being distinctly snuggly, and thoughtfully dark. During the summer months even the keenest of knights is keen to avoid being woken at 4.30am to blazing sunshine, with not a lot of night for your average knight in June!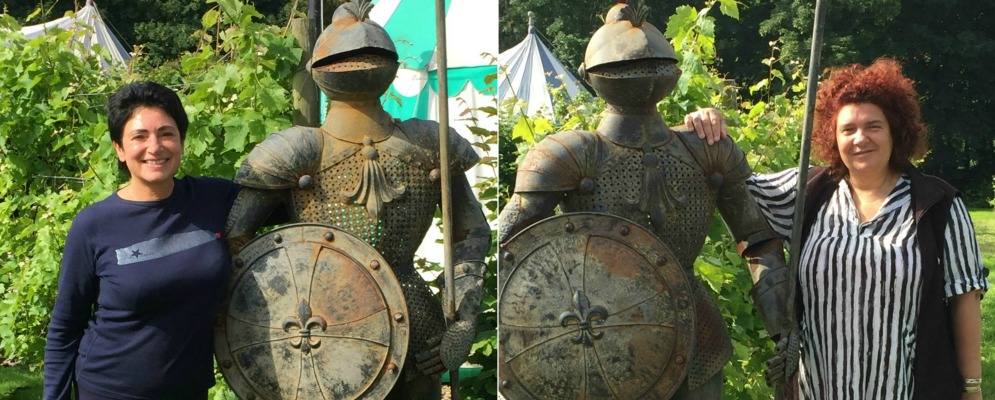 The tent fastened with sturdy canvas flaps, easily pegged open to allow fresh air to pour in (and rain to pour with it when we left them open). Birds, as we found out, could pour in too, case the joint and steal our cereal bars later as we slept.
The spaces were carefully designed with light hedging, and delightfully placed in a working vineyard, with tethered curling vines staked in rows to mark out the spaces between tents, without the harsh straight lines of wicker fencing or similar. At the head of the rows, two metal sentinels guard the central passageway – perfect for a photo opportunity.
We'd stayed in a nice tent in Devon which had nearly come down in the worst storms in living memory. We'd shared a one man tent whilst stewarding at Green Man Festival in Wales. We'd never glamped like this!"

Not sure this picture does the yurt site justice. The wood chipped floor, beautiful vines, hand-carved wooden furniture, firepits and bbq's, acres of open space with birds and rabbits diving in and out of view all made it feel special and exclusive.
There were a few others staying for knights glamping but it was never crowded or noisy; there were a couple of families of 4, a single mum and her little boy, a young couple and us. Just a short walk away was the house with fully equipped kitchen and several big bathrooms all with electric showers. Everything was open to glamping guests 24 hours, so we never got under one another's feet.
Apologies for the poorly shot phone video but it offers a brief look at the relaxation and cooking areas, as well as the inside of the yurt. Each of the 8 yurts included almost total privacy and for one afternoon of sun, we even laid out to let the rays sink in and topped up our tans. At night, the twinkling LED lights wrapped around interior wooden poles added to the atmosphere, and although we weren't terribly successful, we made fire in our own stove (the built-in chimney efficiently took any smoke outside).
It was tempting and would have been easy to just chill out in this area, but there is so much to see and do at Leeds Castle, and our stay was just two nights so we made the most of what was on offer (after all, our experience included entry to all the castle's attractions).
We walked the grounds, went inside the castle, attended a talk on the TV and films made there over the last 50 years, witnessed the birds of prey display, looked at the maze, watched the indoor story and light show all about the Battle of Agincourt, went for a homemade dinner at the cosy inn less than a mile from the estate, went through the kitchen and Mediterranean gardens and fed numerous friendly birds, including a peacock, sparrows, crows and a duck who was nesting her eggs among the plants by the cafe!
Here are a few pictures for a visual flavour.
If you haven't visited Leeds Castle yet, we definitely suggest you do – aside from the Knights Glamping, there truly is something for everyone.