5 Reasons to Visit Kathmandu
Flamboyant, fragrant and frenetic, the incredible city of Kathmandu is at once fascinating and frustrating. A favourite of backpackers and culture vultures, the capital's tourism industry is slowly recovering from the aftermath of the 2015 earthquake, which devastated the city exactly two years ago. In spite of lingering damage, Kathmandu's astonishing life-force seems more resilient than ever and it's an overwhelmingly lively and energetic atmosphere that permeates the streets today.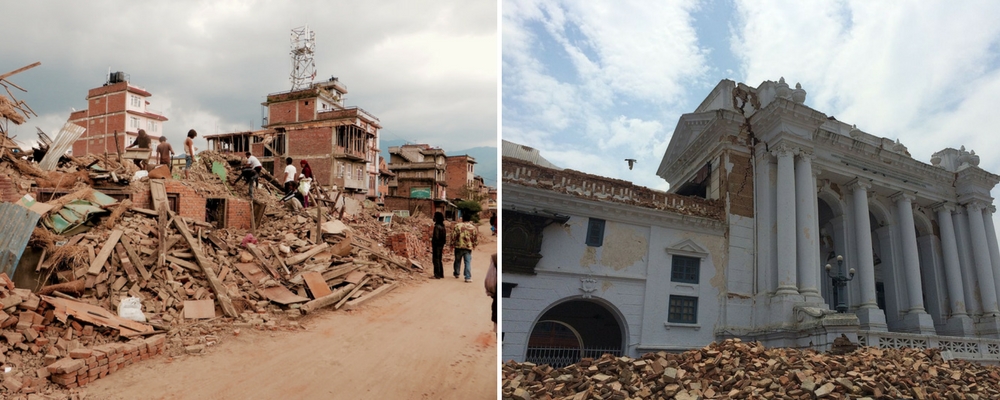 In a city well-known for its rich and colourful culture, the locals go about their daily lives against a backdrop of ancient temples and bustling market squares. With large Hindu and Buddhist populations, the area is an important place for all spiritual seekers. Brightly robed Tibetan monks take part in prayers while, outside Kathmandu's royal palace, sacred Hanuman monkeys are obscured behind layers of thick vermillion paste, generously applied by devotees. In contrast, animated street vendors line the winding streets, showcasing their wares and selling hungry tourists chatamaris and momo dumplings, a traditional Nepalese delicacy which is a tasty snack loved by locals and visitors alike.
A complete sensory overload, many visitors to the region adopt an 'in and out policy' in an attempt to manage the city's sometimes overwhelming personality. Clever navigation is key, so we've rounded up 5 of the best attractions to see during a trip to this captivating city.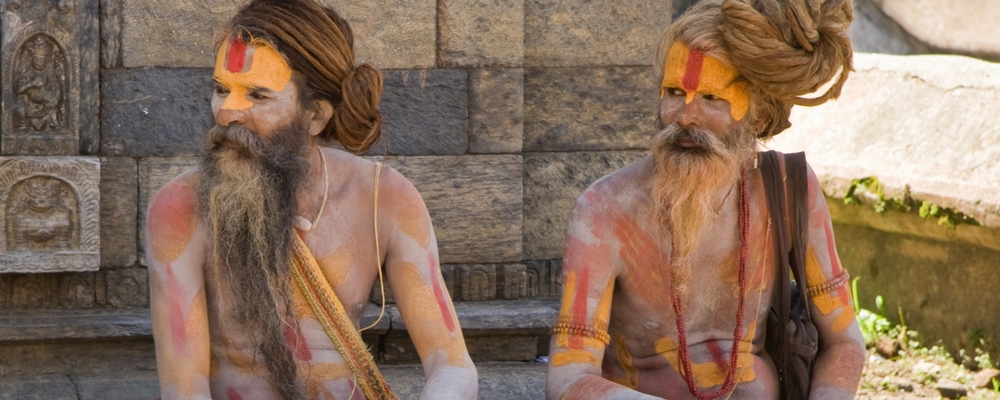 Boudhanath Stupa
Assigned as a UNESCO World Heritage Site in 1979, the remarkable Boudhanath Stupa is a religious temple sacred to Nepal's Tibetan and Buddhists communities. One of the largest stupas (a dome-shaped building erected as Buddhist shrine) in the world, it dates back to the 14th century and remains an important place of pilgrimage and meditation. Thousands of religious observers still gather daily for a ritual circumnavigation of the dome, walking to the hypnotic beat of ceremonial drums and horns.
Dominating the skyline, and resembling a traditional mandala from above, the stupa is marked by four cardinal points, with the fifth enshrined in the centre. Each point represents a Buddha and uses the five elements (earth, water, fire, air and ether) in its sublime architecture. The streets and monasteries around the stupa are vibrant and seemingly oblivious to Western influences; monks roam the streets with shaven heads while bustling shops sell traditional Buddhist headwear, instruments and utensils.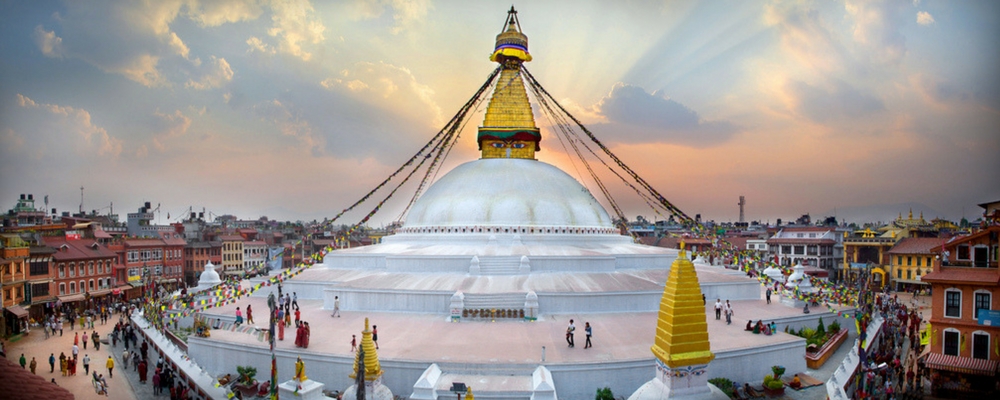 Hanuman Dhoka
Founded in the 4th – 8th centuries AD, and extensively restored in the 1600s by King Pratap Malla, the Hanuman Dhoka is a complex and impressive structure. Having suffered crushing damage during the 2015 earthquake, Kathmandu's royal palace has been subjected to extensive renovation work to restore its former glory.
Getting its name from the Hindu deity Hanuman, the monkey god statue guards the entrances into the palace (dhoka meaning door or gate in Nepali). Believed to frighten away evil spirits, he's been re-imagined in bright oranges and pillar-box reds, standing high above visitors and acting as a multi-coloured grinning guardian. Originally home to 35 courtyards, the earthquake left only 10 remaining (no wonder the Nepalese are so protective of this sacred place). Explore the Nasal Chowk, the handsome courtyard inside the main entrance, or walk through the Sisha Baithak of the Malla Kings where portraits of the Shah Kings adorn the walls.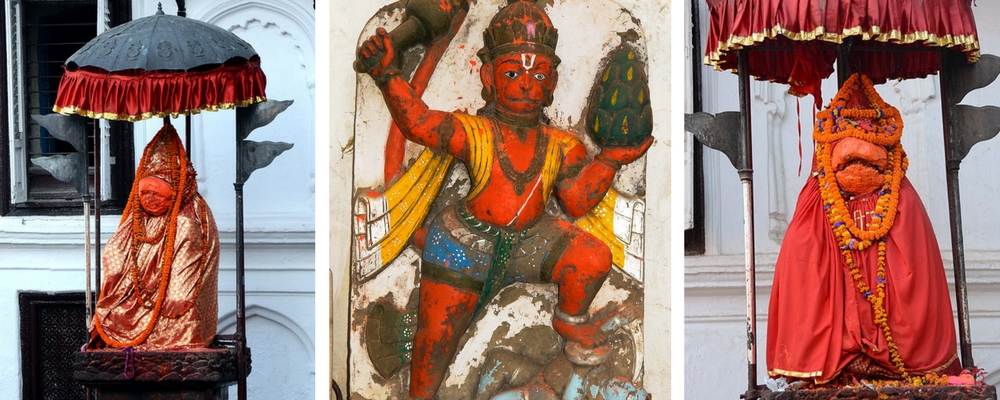 Durbar Square
Often cited as a must-see if travelling to Kathmandu, the Durbar Square is a vibrant plaza and UNESCO World Heritage site, where tourists can easily spend half a day losing themselves amongst religious relics and striking early architecture. Known as the traditional heart of the capital, the square was once home to Nepal's Shah and Malla kings. Managing to retain much of its ancient illustrious feel, important royal events still take place here, including the coronation of King Gyanendra Bir Bikram Shah in 2001.
The smell of incense thickens the already muggy air as tourists and locals go about their daily business side by side. Wander through the colourful and chaotic bazaars, overflowing with hand-painted pottery and freshly packed spices, including Timmur pepper, ginger and pungent black cardamom. Traditional jewellery glints in the Eastern sun and strands of glass beads become hot to the touch. If you're looking to take home a present, vendors are usually more than happy to create personalised necklaces, bracelets and anklets.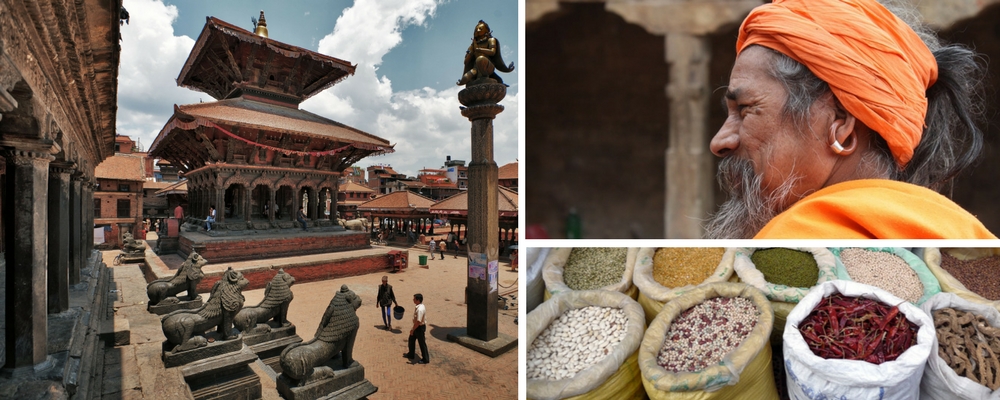 The Garden of Dreams
Beautifully restored, The Garden of Dreams is Nepal's answer to The Garden of Eden and offers a sanctuary away from the hustle and bustle ubiquitous in Kathmandu. Inspired after the owner visited several Edwardian estates in 1920s England, the gardens are prim and exotic – combining Eastern and Western influences.
Sprinkled with exquisite details, every new corner holds another treasure waiting to be uncovered. From tranquil fountains and ponds, home to bathing birds trying to escape the heat, to pavilions, pergolas and verandas, it's the perfect place to unwind. Sip on a milky Nepalese coffee or ice cold beer while drinking in the rich sights and sounds.
The Pashupatinath Temple
Located on the banks of the holy Bagmati River, the Pashupatinath Temple attracts thousands of religious pilgrims each year. The most sacred Hindu temple in Nepal, its golden gilded rooftop is easy to spot. Built in the native pagoda style common to eastern parts of Asia, its tiers are intricately carved with sacred deities and imposing statues of the Shiva family guard its entrances.
Although non-Hindus aren't allowed inside the temple, there's still plenty to see and experience. Along the banks of the river, traditional funeral pyres are built and sacred cremations take place. These rituals are an important part of the country's culture and peculiarly joyful (despite being unusual to Westerners). If your stars are aligned, you may even meet a sadhu – wandering yogis who have renounced worldly possessions in an attempt to find moska (total liberation). Notable for their bright robes and ritual makeup, these holy men cover themselves with chalk and ash which represents their death to worldly life.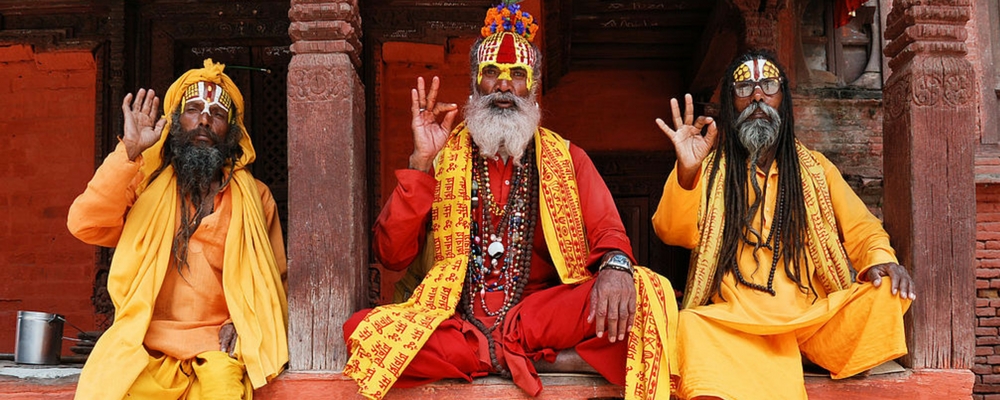 Despite the physical destruction and loss of so much life just two years ago, Katmandu is getting back on its feet and every rupee spent in hotels, shops, taxis etc. is being ploughed back into the city. What better reason could you need to visit?
Please like, comment or share this article to spread the message. Check out our other travels blogs for Newcastle, Manchester and Amsterdam.
Image credits to Wikimedia Commons, Pixabay and Flickr.