10 Things to Do in Stratford upon Avon
'Good dawning to thee, friend.'
Yesterday was Talk Like Shakespeare Day – an annual event celebrating the birthday of our most prolific playwright, and his many famous literary works which include Romeo and Juliet, Macbeth and Hamlet to name but a few.
To get into the Shakespearian spirit, we have come up with a list of 10 fun things to do in Stratford upon Avon the birthplace of the world's most famous Bard.
1. Take a boat trip down the meandering River Avon and soak in sights from Shakespeare's hometown from the water.
2. Check out a play, concert or comedy show at The Stratford Art House.
3. Pay a visit to Mary Arden's Farm, which is a childhood home of the bard's mother.
4. Embark on a chilling overnight ghost hunt at Fallstaffs Museum.
5. Enjoy a guided Stratford town walking tour and spot Shakespeare's former homes, among many other interesting landmarks.
6. Grab a pub meal or a pint of local ale at the historic Old Thatch Tavern.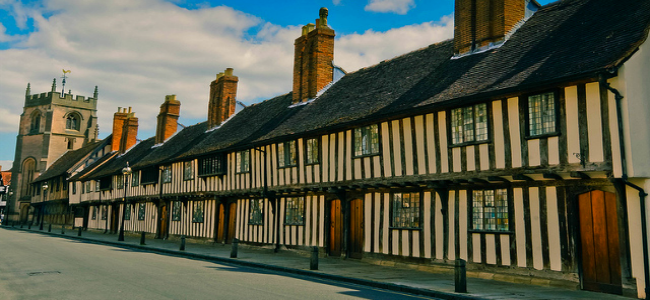 7. Watch a production of one of Shakespeare's famous plays at the RSC's intimate Swan Theatre or The Globe Theatre.
8. Go for a leisurely stroll along the pretty banks of Stratford upon Avon's canal.
9. Check out the magnificent Harvard House. Did you know? It was home to the mother of John Harvard, the English clergyman after whom Harvard University is named.
10. Hang out with the weird and wonderful creatures at Stratford upon Avon Butterfly Farm.