7 Time-Honoured Wimbledon Traditions
Boasting 141 years of history, Wimbledon remains the longest running and most prestigious tennis tournament of all time, showcasing the sport's most celebrated and rising talent from around the globe (check out these trailblazers!). From the days of lop-sided wooden lawn-tennis rackets and hand-stitched balls, to innovative hawk-eye technology and a retractable Centre Court roof, the tournament has certainly advanced since 1877. However, some of the time-honoured traditions have been passed on through the years.
As the Championships bounce back into action, we've taken a look at some of the longest standing traditions to have survived the test of time.
1 The grass is greener
Historically, tennis was always played on a grass court and, while all major tennis championships started out with grass, Wimbledon is the only one to have maintained this tradition. The Australian Open and US Open have now moved on to hard courts and the French Open to clay. The grass at Wimbledon is tended to meticulously year-round and during the event, it's cut to a height of exactly 8mm for optimal performance. This serious precision is presided over by Head Groundsman Neil Stubley, with a team of 28 who work tirelessly during the two weeks.
2 Dress for success
If you're not wearing white, you're not playing… Even if your name is Roger Federer! Of all the Grand Slams, Wimbledon has by far the strictest dress code, and when we say strict, we mean STRICT. Players must adhere to a stringent set of rules, including "White does not include off-white or cream", "There can only be a single trim of colour no wider than 1 cm", and "Any coloured undergarments that either are or could be visible during play are not permitted". The all white dress-code has been in place since the tournament's inception and is very much here to stay!
3A berry special occasion
When you think of Wimbledon, you probably conjure up an image of indulgent servings of strawberries and cream – after the actual sport, of course! Best savoured with a glass of Pimms (230,000 glasses a tournament are served in fact – check out our Wimbledon fact file for more nuggets of info like this), tennis fans love the fruity snack so much that the tournament brings in an estimated two million berries and 1,820 gallons of cream each year to satisfy the cravings of hungry spectators. There are a couple of theories about how this tradition was born, one being that King George V brought strawberries and cream to Wimbledon and others followed suit, while others believe it's because strawberries and Wimbledon both represent the arrival of summer. Either way, we're totally on board with this custom!
4 Fit for royalty
Of all the Grand Slams, Wimbledon is the only one which is patronised by royalty and the English Royal Family has a close connection with the club. Having supported the tournament since 1907, members can frequently be spotted gracing the Royal Box, particularly Princess Diana and more recently, the Duke and Duchess of Cambridge, who are known to love the game and can become pretty animated during play! Until 2003, it was custom for players to bow or curtsy to all members of the Royal Family, but the Duke of Kent discontinued this rule and now the action is only obligatory for the Queen and Prince Phillip (who are however rare visitors, the last visit was 2010).
If Wimbledon is good enough for the Royal Family, it's certainly good enough for us!
5 The ball's in your court
Each year, Wimbledon employs 250 ball boys and girls (known as BBGs) from local schools, to assist with the smooth running of the tournament. Working in teams of six – two at the net and four at the corners – they all work on a rotation of one hour on court and one hour off. They must pass a series of fitness, mobility and tennis rules tests before landing the job and they're under strict guidance to do the job with subtlety (no making a racket!), so as to not hinder or distract from the match. Traditionally they were dressed in Wimbledon's official colours of green and purple, but in 2006 Ralph Lauren was enlisted to re-design the formal uniform, which now comprises navy polo shirts. These teenagers have their own restaurant and leisure area built underneath some of the outside courts.
6 Winner Winner
As a momentous finale to two weeks of world-class tennis, the male and female Wimbledon champions are awarded their winner's trophy  – the male champion receiving an impressive 18.5 inch silver gilt cup etched with the words 'The All England Lawn Tennis Club Single Handed Championship of the World', and the female champion receiving the historic Venus Rosewater Dish. The originals are exhibited in the Wimbledon Museum itself (well worth a visit, open most days from 10am), however, each winner receives a scaled-down replica to take away with them. Along with this, they are awarded prize money – a subject of controversy. Historically the male winner was awarded more money than the female, but as of 2007 Wimbledon changed the policy and now an equal amount is awarded to both champions. Hoorah!
7Advertising? Not at Wimbledon!
While other high-profile sporting venues are adorned with sponsored marketing, to this day Wimbledon remains uniquely a strictly no-advertising-zone and the club say they will always enforce this rule to retain its character and class.
Think you've got what it takes to be a tennis champion in the making? Give one of our tennis coaching days a go!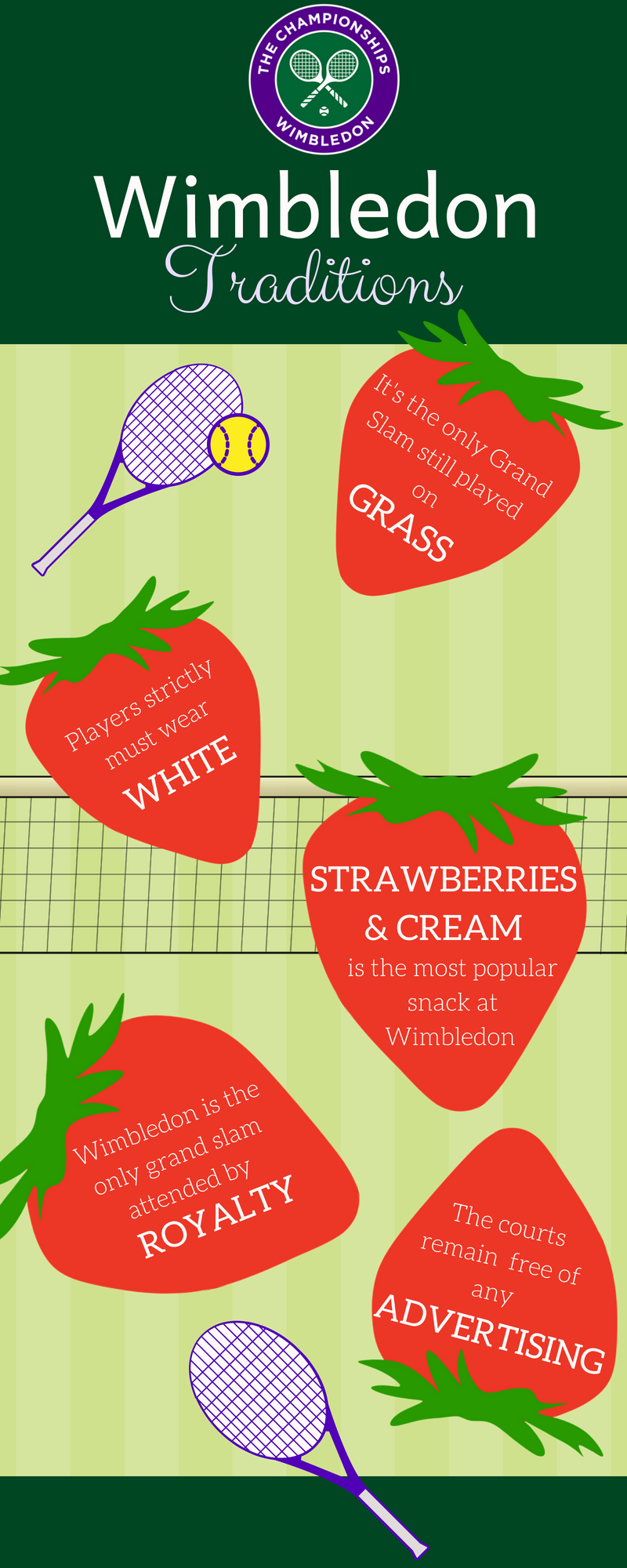 Images: Canva and Pixabay: Strawberry; Net