The Bucket List – Aerobatic Flying
Our last Bucket List, A Silverstone Single-Seater Experience with Badger GP, was a rubber-burning speed fest around a world-famous track. This time we left the ground far behind with Aerobatic Flying. It's just one of our heart-stopping Flying Experiences available across the UK. On our continuing quest to help fun-lovers tick items off their bucket lists, we sent one of our favourite bloggers to test out this Red Letter Days gift experience.
Milly, of Mini Adventures, is a bona fide wanderluster, London-lover and all-round adventurer. She's been to far-flung corners of the planet, chronicling her envy-inducing activities, but flying a plane was something she had yet to try out. Luckily for us, she was very much up for the challenge.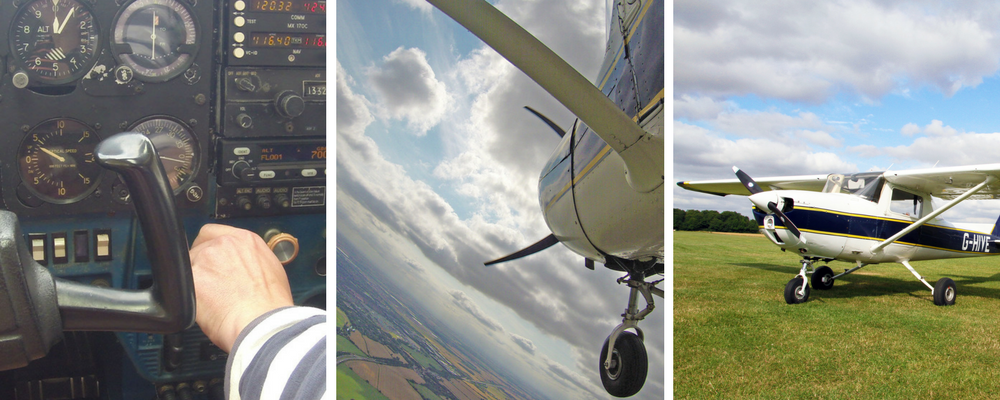 Our aerobatic flight gift experience, courtesy of Peterborough Flying School, offers courageous types the chance to leave the ground far behind, to learn the controls of a light aircraft and even to perform some stunts, no prior experience required.
The experience begins with a full flight safety briefing to introduce the high performance 152 Aerobat Cessna aircraft. Then don a headset and sunglasses, strap the seatbelt on and get ready to take off. The pilot pushes the plane to its limits, showing off its aerobatic capabilities which include loops, barrel rolls and stall turns (this latter refers to dipping to increase speed, then sharply returning to vertical). There's also the option to take the controls and feel the rush that comes from piloting a real plane.
Nowadays, you're more likely to find me in the boarding queue, not the cockpit. Until the chance appeared to treat my seven-year-old, wonder-filled inner child to achieving her dreams, and I took to the skies in quite a different way than I'm accustomed to.
~ Milly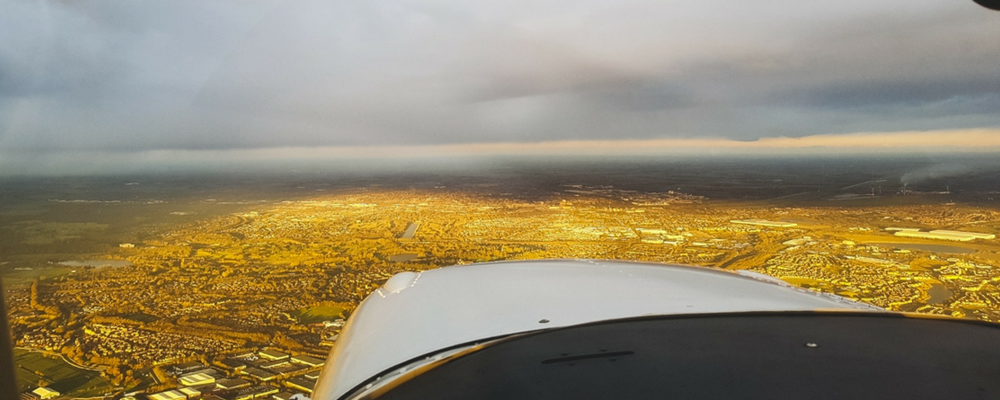 On the day of Milly's flight, she woke up early and called ahead to check the weather was right for flying. Thankfully, the calm day equalled perfect flying conditions. After a train and taxi ride through green landscapes and little villages, she arrived at the airfield and met her flying instructor. He conducted a thorough introduction to the activity ahead, then Milly put on a flight jacket and the pair got into the aircraft.
Takeoff was smoother than she had expected, and the views of the sunset and sprawling fields were impressive to behold.  When it came time for the pilot to perform a loop, she described the experience like an upside-down rollercoaster with epic views. Further twists, turns and a barrel roll followed. Then it was Milly's turn to take the controls. Despite the plethora of dials and buttons in the cockpit, piloting wasn't too complicated. It was clear from Milly's handling of the controls that she was ready to perform a loop by herself, and so she did. You can watch the action for yourself thanks to her video below.
Not every flyer who takes on the aerobatic flying experience opts in for performing a loop on their own, and the team here at RLD HQ was uniformly impressed at Milly for seizing the moment.
Milly rounded off the experience with some gentle flying, taking in the sights. Be sure to read her full account of her stunt flying experience over on her blog.
If you're looking for that out-of-the-box present idea for a zany daredevil friend, you can't go far wrong with an aerobatic flying session. Throw down a challenge and give them the ride of a lifetime followed by endless bragging rights.
What You Need to Know About This Aerobatic Flying Experience
Minimum age: 16
Minimum height: 4'11"
Maximum weight: 16 stone
Duration: 30 mins' flying time, 30 mins' briefing
Spectators: Up to four
Dress code: Flat, soft-soled shoes and sunglasses

Images and video courtesy of Milly Youngman. Others are Red Letter Days' own.