Famous Motor Racing Circuits: Thruxton, Rockingham and Donington
To commemorate our new and exciting range of driving experiences at the UK's most famous circuits, earlier this week we gave you a glimpse into the world of Brands Hatch and Silverstone.
Today, to keep your motors running, we're offering a little insight into three of our other famous circuits: Thruxton, Rockingham and Donington Park. Hold on tight!
Thruxton
As one of the UK's fastest race tracks, Thruxton has seen its fair share of motor racing action over the years. Jon, our resident driving aficionado, drove two very iconic supercars around this celebrated circuit. Here's what he has to say:
"I've had the pleasure of driving the Aston Martin V8 Vantage and the Ferrari 430 at Thruxton. The Aston's got an interior like a spaceship and was very easy to drive, but the Ferrari was so quick and went round corners like a go-kart. The great thing about Thruxton is that it's long (2.4 miles) and has lots of straights where you can really put your foot down and hear the engine roar. With cars like the Ferrari 458 and Lamborghini Aventador, Thruxton is a quality circuit that only ever has the latest and best supercars."
Did You Know?
Thruxton Circuit was originally built in 1940 and was used in World War II for troop-carrying aircraft and gliders, most notably during the D-Day landings
Due to planning laws, Thruxton only holds 12 professional motoring events per year, but they are said to be some of the most exciting in the racing calendar
With a total track length of 2.4 miles, Thruxton is officially one of the UK's longest circuits
Rockingham
Boasting two challenging and adrenaline-fuelled tracks, Rockingham is a firm favourite among petrol heads everywhere. Here are Jon's thoughts on Northamptonshire's finest racing venue:
"Rockingham has the benefit of two different track layouts. Most driving experiences take place on the National Circuit which features a challenging series of high speed corners, straights and tight turns. As well as being great for Ferraris, Astons, Lamborghinis and the new McLaren, you can also drive a V8 Touring Car from Australia, which is an absolute beast. The single-seater experiences take place on the super quick Oval Circuit, the only one in the UK, where you can drive at breakneck speed if you're brave enough."
Did You Know?
Rockingham is the official home of Europe's fastest banked Oval Circuit
It took a whopping 10 years of planning and 23 months of construction work to complete the renovation of this highly celebrated race venue, which re-opened in 2001
The international circuit is the UK's first purpose-built track since Brooklands in 1907
Donington Park
As one of the UK's premier International Grand Prix motor racing venues, Donington Park has witnessed some of the world's most historic driving moments. Here is a little bit of insight from Jon:
"Donington Park is a world-famous venue and justifiably so. Home to the 1993 European Grand Prix, which saw Ayrton Senna win in one of the most exciting Grand Prix races of all time, you get to drive the full circuit which features straights, tight corners and a couple of dips, making it one of the most thrilling circuits in the country. Donington is a mightily impressive venue, and as you speed round the circuit in a supercar or single-seater, you can feel that sense of history around you."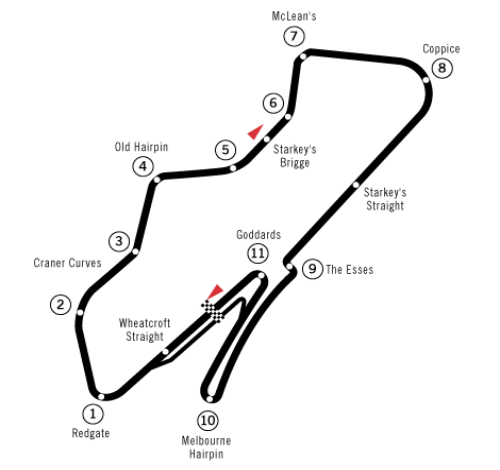 Did You Know?
In addition to being a world-class motor racing venue, Donington plays host to Download Festival, one of the UK's most popular rock music events
During World War II, the Donington circuit was closed to become a military vehicle depot
In 1988, Donington was promised the British GP by the Royal Automotive Club. However, they went back on the deal at the last minute and the battle was taken to court
These race tracks are driven by adrenaline junkies who enjoy challenging and exciting circuits to fuel their petrol-powered passion.
Now that you know a little more about our range of Famous UK Motor Racing Circuits, which one would like to try?