Celebrating Extreme Water Sports
Say hello to adrenaline filled Extreme Water Sports – a brand new sub category based within our Water based range of experiences!
Check out this rippling smorgasbord of videos to give you a taste of what each extreme sport in the water involves.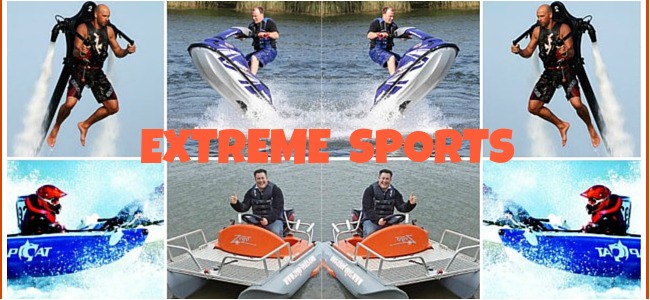 JET SKIING
Jump aboard a Yamaha Superjet Stand-up Ski – the nifty twin-carb 701cc vehicle is one of the most exhilarating powered water crafts around.
Meet the Zapcat, a nimble vessel with lightweight inflatable catamaran hulls and a powerful racing engine.
This exciting new activity combines personal flight with a high adrenaline watersport. Get kitted up and take off to fly over water at speed – reach up to 30 feet high going as fast as 50 mph!
Designed and built in New Zealand, Zegos have become known as the quad bikes of the water. Extremely stable and easy to drive, perform sharp spins and tight turns, reaching up to 30 mph.
Water babies and adrenaline junkies alike should love these fast, wet and furious extreme water sports.
Which is your favourite?