Get Wet and Wild with White Water Rafting!
As we kiss goodbye to July and step into August, it's the perfect time to get outdoors. Not only are the days warmer and brighter, teens and children are bound to have a load of pent up energy (a scary 'why did I ever become a parent' amount of energy) over the summer holidays that needs working off. Cue our new favourite activity – white water rafting!
If you're not familiar with the sport, you're in the right place! We've put together an essential river rafting guide – you'll be desperate to give it a go after this read!
What is white water rafting?
White water rafting is a rising star in the water sports world, having gained unprecedented success in the past few decades. Constantly evolving, it's transformed from an activity undertaken by a fearless few to something everyone can enjoy.
It involves navigating sections of a river in a raft (a basic boat or kayak) through areas of rough water. Catering to all abilities, people can choose to take on gentle rivers with small waves or rough white water with plenty of rocks, huge waves and drops to overcome. Some regard it as an extreme sport but that all depends on the difficulty of the chosen course. In fact, there are plenty of venues that offer rafting for families and children.
What is the history of white water rafting?
Water rafting has been around, in some form or another, for several hundred years.
The boats were originally made out of wood, which made them uncomfortable, uncontrollable and they often broke under the strain of the water. Journeys definitely were not the fun-filled activity we know and love today.
It wasn't until the 1840s that the first rubber rapid was invented by the intrepid explorer Lt. John Fremont, so he could explore the Platte River in Nebraska. A century later, a veteran riverman called Clyde Smith took a small group of people on the first successful water rafting tour through the Snake River Canyon.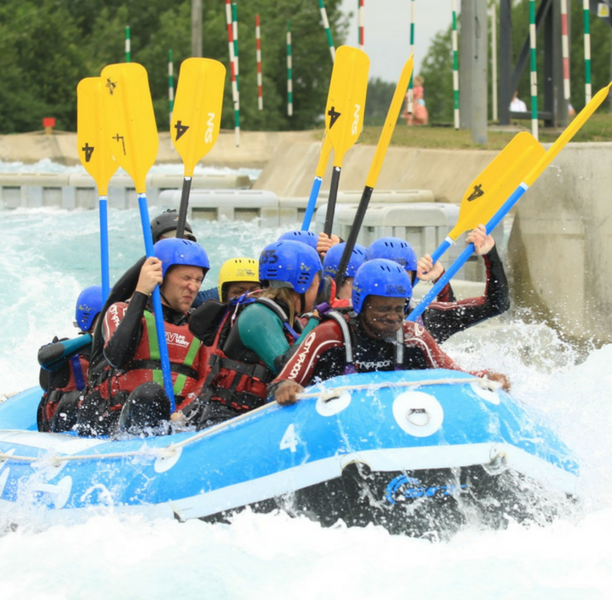 Is white water rafting safe?
Absolutely! Injuries and accidents are very uncommon even in do-it-yourself rafting (however, obviously, we only recommend going to a professional venue). This is largely down to the meticulous care that venues pay to their guests and river courses.
Dangerous debris is cleared from river paths to ensure safe passage, even on advanced courses, and guests are provided with essential safety equipment including life jackets, whistles, floats and helmets. This is accompanied, of course, by the expert tuition of professional rafters, who guide groups through the process step-by-step.
Where can I go white water rafting?
We have plenty of exciting white water rafting experiences to choose from across England, Scotland and Wales. Perhaps you want to visit the Vale of Llangollen and conquer the infamous 'Serpents Tail' rapid or take the family on a white water tube adventure in Northampton? If you're closer to London, then the Lee Valley White Water Centre is only a stone's throw away and promises to be the white-knuckle adventure of a lifetime.
Tips from the experts…
Before you undertake white water rafting, it's helpful to get some advice. We spoke to the Lee Valley White Water Centre to get their top tips!
1. First things first – getting your wetsuit on! Make sure you always have your zip at the back of your wetsuit otherwise you'll be *rather* uncomfortable on your journey #wedgie
2. Learn from the masters – spend the time during your briefing to get to know your raft guide, the moves you'll need to perform on the water and any advice they have on some of the spectacular drops on our course. Our favourite is BOOM!
3. Jump in feet first – if you find yourself in our water, whether it be on your swim test or during a man-over-board moment, flow down our course feet first and listen to the bank safety staff, who'll help you onto dry land.
4. When they say get down, they mean GET DOWN! – When you hear this call, make sure you squeeze yourself between the two tubes as much as possible to save yourself from an unexpected swim.
5. You WILL get wet – forget the makeup and the fancy hair dos, as these will be washed away by our white water! So sit back, relax and enjoy the ride.
If you liked this post, we have plenty of other exciting watersports blogs to explore! Read our Q&A with Paul Hyman: Paddleboarding Adventurer or check out our Alternative Water Sports for Summer guide.
Image credits: Red Letter Days and Rafting Gram