The 3 Types of Holidaymaker
When the good people of Earth are not tapping at keyboards, sighing at the size of the supermarket queue or gazing wistfully through bus windows, they're living out their dreams somewhere far from home. Our Short Breaks offer countless ways for all types of holidaymaker, be they families, couples or lone rangers, to slip the leash of monotony.
It occurred to us that not every holidayer is after the same thing. There are the Luxury Lovers who relish the finer things in life, like four-poster beds in high-ceilinged rooms a stone's throw from a private spa. We have the Wild and Wacky Wanderlusters, not content until they've ticked a box from their bucket list and got some crazy photos along the way. Then there are the Outdoorsies, whose romantic hankering for meandering hilltop trails and the smell of morning dew sets them apart from the rest. (Click on any of these to skip straight down this page.)
We've picked out some of our favourite getaways for each of the three categories. What's more, we spoke to the people behind the scenes of these awe-inspiring establishments and got some top tips directly from those who know best.
Luxury Lovers
For many, a short break is a chance to step out of the ordinary and into the extraordinary. Red Letter Days has a glistening array of top-end options for the discerning vacationer. Have a gander at the beauties below, then check out still more by visiting our Luxury Short Breaks category.
Ultimate Suite Escape for Two at Rudding Park, Yorkshire
The opulence of Harrogate's Rudding Park Hotel makes it ideal for special occasions – significant anniversaries, grand gestures and the like. Enter the Follifoot Suite to scattered rose petals, a chilled bottle of Nocturne Taittinger Champagne and strawberries dipped in chocolate. Add to this experience a candlelit bath, 3-course meal and slap-up breakfast, and you've got a holiday that oozes luxury right down to the last detail.
Indulgent London Escape for Two at St. Ermin's Hotel
Behold: the city break of dreams. Set in the heart of grand Westminster, the Grade II listed St. Ermin's Hotel is a showstopping host, ensuring comfort but also an unbeatable location near transport links from which to explore the capital. An unexpected bonus? They make their own honey!
To make the most of your indulgent getaway, why not enjoy a Garden themed afternoon tea- taking seasonal ingredients and inspiration from right here at the hotel, including our roof-top garden and 350,000 honey bees nestled away on the viewing platform on the 3rd floor. After you've had your fill make your way to the London Essence Summer Terrace and enjoy an artisan gin paired with perfected crafted tonic and watch the world pass by.

~Gemma, Catering Sales Manager
Wild and Wacky Wanderlusters
This particular shade of holidaymaker eschews the typical bed and breakfast deal with a firm hand. Their aim? To expand their horizons, inject a little quirkiness into their well-deserved time off and leave with a Facebook album that will make their friends do a double take. From innovative boutique hotel breaks to repurposed buildings that exude character, we've got plenty for the wild and wacky to get their teeth into.
One Night Weekend Stay at The Lodge at Bristol Zoo Gardens
Bringing double significance to the term 'creature comforts', this one night weekend stay at the wonderful Bristol Zoo Gardens can accommodate up to six people. Its interior is decked out in bold, safari themes and a private chef is on hand to serve up a four-course banquet. Bookend the stay with a private evening tour of the resident animals and a morning tour with breakfast served in the Gorilla House.
Lighthouse Escape for Two at The West Usk Lighthouse
Whisk your lover away to the peaceful seclusion of a lighthouse escape. This award-winning Newport venue serves up astonishing views of the British Channel. Sleep on a comfy waterbed, pop a welcome bottle of champagne and succumb to an aromatherapy treatment during the stay. Grade II-listed and utterly charming inside, it's no surprise it's also a popular place for weddings. Just think of the photos…
I think our guests find rest and relaxation in a quiet but homely place. The sea air and 360 degrees panoramic views from the lantern room make our place very special. It also has a history and is very unique among lighthouses. Most guests rave about Frank's big breakfasts!

– Danielle, Joint Owner
Outdoorsies
If walking shoes and a camera are the first things you pack for the holiday, you're an outdoors type through and through. We can relate to the yearning for a big open sky and adventures among nature. And with an optimistic spring paving the way for a balmy summer, we're going crazy for kooky glamping trips, hiking holidays and family activities.
One Night Golf Break for Two at The Oxfordshire
Chase the elusive birdie on a golf break at The Oxfordshire, a much-lauded golf and spa hotel in the Chilterns. The picturesque 18-hole course is favoured by big names including Colin Montgomerie and brings together challenging terrain and strategically placed pot bunkers. After a day of perfecting that swing, head to the on-site spa to avail yourself of the swimming pool and sauna before sitting down to a three-course meal in the hotel restaurant. That view across the course is a tonic for the soul.
Family Treehouse Experience
Hunker down among the treetops like a happy squirrel with a unique family treehouse experience. It's full of cosy comforts such as a wood burning stove which also heats up the spring water shower, and plenty of Swedish-inspired, retro furniture. Nestled on the edge of Snowdonia National Park, it's a fantastic base for a hike or mountain bike session. The whole family can pretend to be the Lost Boys or creatures from Wind in the Willows. An absolute winner.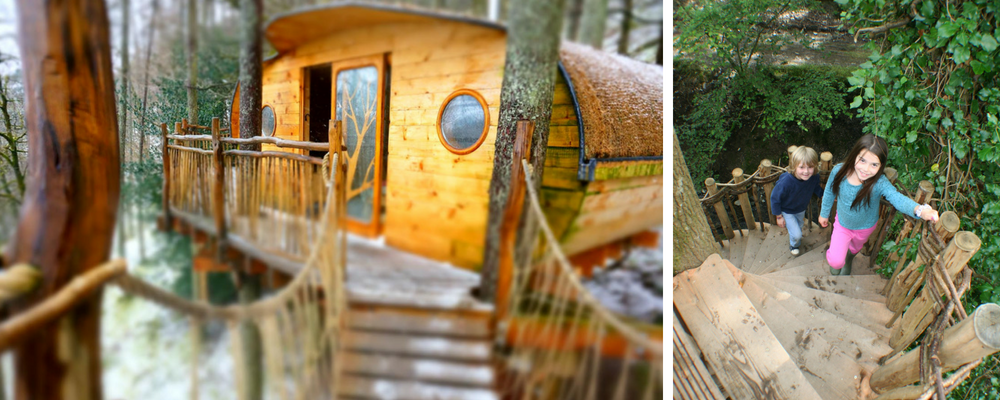 Two Night River Yurt Retreat for Two in Wales
This winsome river yurt retreat offers expansive, comfortable dwellings set in a meadow beside a picturesque river – it really couldn't be more charming if it tried. Make the most of the outdoor wood-fired bathtub, the fire pit and the facilities which use fresh spring water. It's the sort of place you'd escape to if ever you wanted to find inspiration for a novel, we imagine.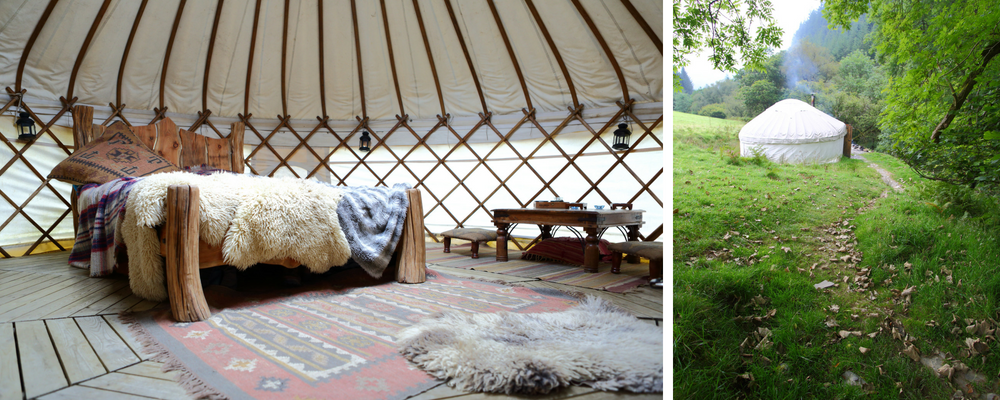 Top tip: leave the iPad at home!

Deep in the Dyfi forest, 20-25 minutes off the main tar road, lies the Eco Retreats camp. Here you will find a peaceful sanctuary to rest weary minds and souls and unwind from the stresses and strains of modern-day living. As our camp is completely off-grid, we offer a unique opportunity to "switch off" from electronic devices and reconnect with nature, with yourself and with each other. The river yurt is situated on the banks of a sparkling river offering opportunities to paddle and relax to the sounds of the rushing water – great for couples and families. Simple, authentic, rejuvenating forest living.

~Margaret, Owner
One Night Hobbit Hole Break in The Lake District
For dreamy Lake District views and a cosy abode, burrow underground with a one night Hobbit Hole break. Energy efficient and well equipped, you'll while away a cosy night in the hobbit hole before waking refreshed for barbecues, hill hikes and spectacular views.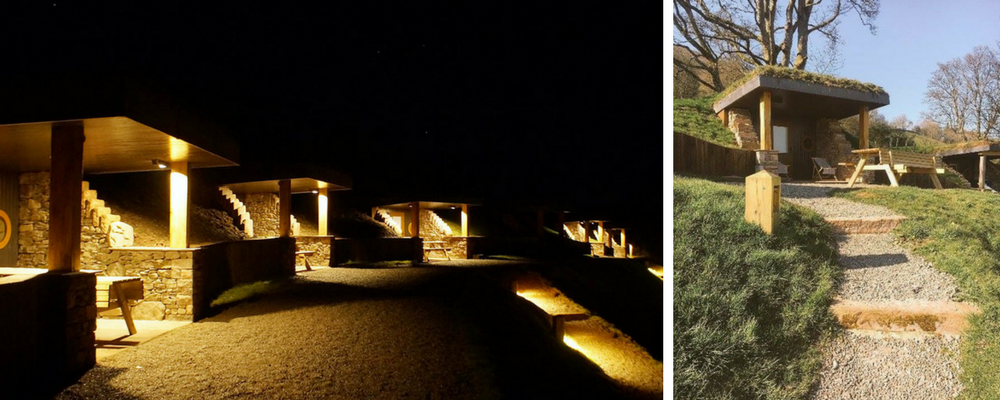 Our most popular day out is the circular walk from your Hobbit Hole to the waterfalls at Aira Force. The views are absolutely stunning. The waterfalls are 1/2 way through the 8-mile walk. You can eat at either the waterfalls cafe or the popular Royal Hotel at Dockray where you will receive 10% off food.

~ Daniel, Owner
Click 'play' below for an ethereal glimpse of the Quiet Site at sunrise.
Two Night Midweek Rockhouse Retreat for Two
This short break guarantees envy-inducing Instagram snaps. With this Rockhouse Retreat for two, you'll stay in Britain's first 21st century cave house. It is steeped in history, having been occupied for 700 years and refurbished by the current owner in 2015. Enjoy the wood fire, rainforest shower and underfloor heating. Venturing outside, the world is your oyster. Pay an extra fee and get involved with guided mountain bike tours, meditation or seasonal foraging or cider making.
The Rockhouse Retreat is the perfect hideaway for a couple of nights with your beloved caveman or lady! The romantic Worcestershire escape is tucked away in a beautiful and natural setting where you can truly enjoy the simple pleasures of life. Sip wine by the wood burning stove, star gaze as you cook on the outdoor grill and indulge in long lie-ins. Most guests just love staying home to soak up the experience of living in a cave but if you do want to head out, you can walk into the historic riverside town of Bewdley, explore the ancient Wyre Forest by foot or mountain bike, or go visit a number of historic and cultural sights.

~Angelo, Owner
Are you a Luxury Lover, a Wild and Wacky Wanderluster or an Outdoorsy? If you've been on a short break that really stood out, let us know in the Comments section.
Want some recommendations for places in the UK to visit? Transport yourself to our Travel Guides for all the best tips tailored to our favourite counties and cities.
Images courtesy of Daniel at The Quiet Site, The Rockhouse Retreat, Danielle at West Usk Lighthouse, Gemma at St. Ermin's Hotel, Margaret at Eco Retreats, Living-Room, Lance Asper on Unsplash, Rudding Park, The Oxfordshire and Bristol Zoo