Day Trip to the Isle of Wight
RLD's very own Kim and her boyfriend Unsal headed for their first ever trip to the Isle of Wight, and attempted to hold onto the last of the summer sunshine during their visit. We find out how they got on.
Kim recently treated herself and partner Unsal to Red Letter Days' Isle of Wight day trip. The Isle of Wight is England's largest, most well-known and second most populated island and a destination known for its sunny climate, breathtaking geographical features and wildlife. Kim and Unsal spent the night before their main trip in Portsmouth, to take in the local sights and so that they were close by the port to catch the hovercraft in the morning. Kim was very impressed by the quicknes of the hovercraft "Just 10 minutes to the Isle of Wight to be precise and very comfortable!"
As soon as Kim stepped off the hovercraft in Ryde, she grabbed some fresh doughnuts and had a browse in some of the souvenir shops. The couple arrived in Ryde to see an impressive scooter convention along the sea front. "There were lots of Vespas racing along the streets, the bikers had cool outfits on and some of them had come from as far away as America".
As it was such a lovely day, the two of them took a stroll around the high street "Up the steepest hill ever!" They stopped for a coffee, took in the beautiful sea view and even managed to fit in a game of crazy golf by the seaside! 
Lunch is included as part of the experience, held at the acclaimed Three Buoys Restaurant, 10 – 15 minutes away from the harbour and overlooking the beautiful bay of Appley. The couple described the food and the romantic setting as "Perfect, including a stunning view across the sea to Portsmouth".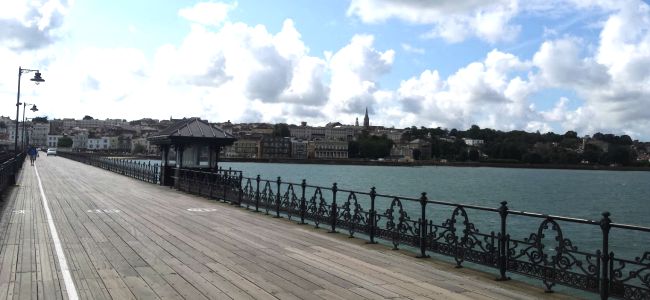 Kim thought the food on offer at The Three Buoys was sublime! She has spiced squid with a light lemon salad for starter and lightly battered fish and lemon salted chips with minted pea hash and tartar sauce for main course. The main was a unanimous favourite with the pair and they were in full agreement that it was the best fish and chips they had ever had. Their dinner was finished off with a tasty dessert of coconut and lime pie, pineapple and mint. Kim and Unsal also tried some of the restaurant's cocktails and highly recommend the mojito.
Full and after a day of fun in the sun, Kim and her boyfriend headed back to the hovercraft, tired but very happy.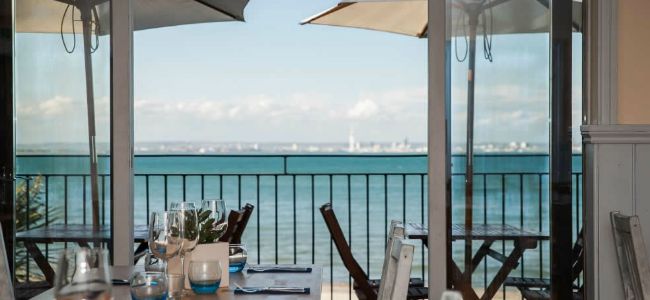 If reading about Kim's trip has got you wanting to head on a short break of your own, head to the site to find out what other staycations and British days out we have available.
Images all: RLD