The Perfect Romantic Short Break in a Spa Hotel
A colleague was lucky enough to recently enjoy a long weekend away. She and her husband visited Bannatyne Charlton House Hotel in Somerset. Rupal kindly shares her thoughts and pictures of this stunning spa hotel.
Hi Rupal, thanks for sharing information on your romantic weekend with the readers. The personal touch is always nicer than reading promotional material. What can you tell us?
As soon as we came into the grounds of Charlton House, we knew we were in for a treat!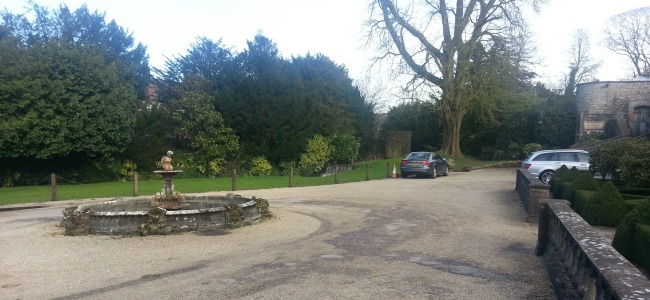 We drove right up to the entrance which looked pretty grand!
Check in was smooth and we were made to feel welcome and important by the receptionist. This helped us feel immediately relaxed.
Our room was a delightful space, full of character and with double doors leading out to a wonderful courtyard. Beyond the courtyard was a big expanse of greenery. No wonder the setting is so often used for weddings.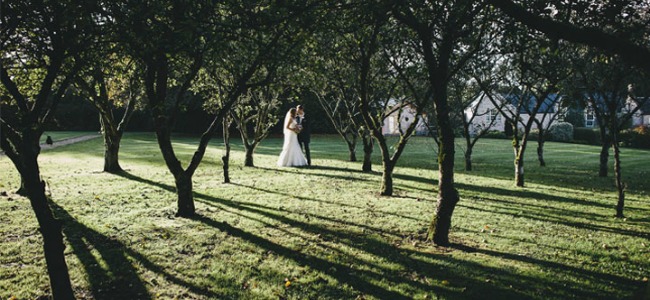 After a quick tour with the receptionist, we wasted no time in using the facilities. First stop was the gym, albeit small, it had the necessary equipment needed for a workout. AND it was helpfully equipped with a large television (a must for a soap fan like myself).
After our workout, we returned to our room to freshen up. Did I mention how great the room was? Definitely the perfect setting for a romantic break away, with a queen size bed, roll top bath, twin sinks, theatrical curtain displays and mood lighting.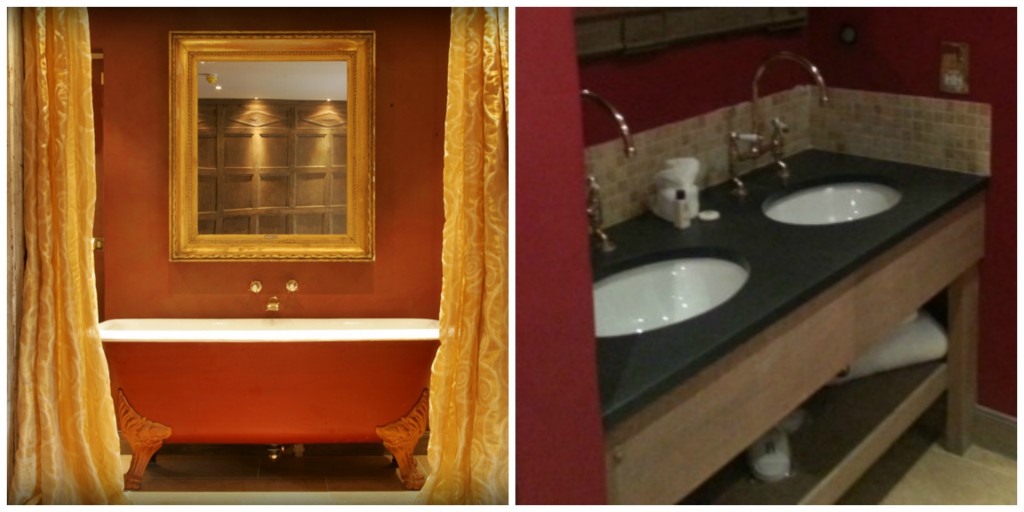 Ahem, please excuse our bags and camera cluttering up the Grand Suite :-)
We decided to spend the rest of the evening relaxing and ordered room service. The food was presented as though from a Michelin star restaurant and I can't recommend the apple and pear crumble enough, it was divine!
Day 2 started with breakfast in the conservatory – equally well-presented and with an outstanding view. What didn't they offer? There was English breakfast, croissants, cornflakes, locally produced yogurt and fresh fruit. We tried everything.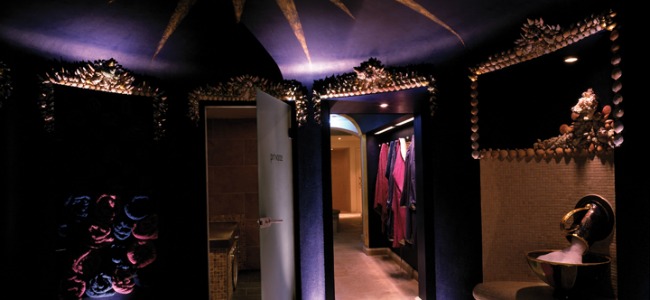 After digesting it was time for the treatments we had booked ourselves – an Elemis facial and full body massage each. The rooms were low lit and played soothing music.
We both nearly fell asleep as the massages were so relaxing and the therapists applied the perfect amount of pressure. The facials that followed were refreshing and left us ready for the spa.
We made the most of the swimming pool, outdoor hot tub, steam room, sauna and relaxation room. All the areas were well laid out, clean and quiet.
In the evening we dressed to impress for our romantic candlelit dinner. Once again we felt like we were in a five star restaurant, with ambient lighting and relaxing background music. Both vegetarians, we were really impressed by the excellent food and service throughout our stay.
We ended our last morning with a scrumptious breakfast and a romantic stroll around the beautifully maintained gardens.
The whole weekend was a lovely getaway from the hustle and bustle of London. We also had perfect weather on our side which helped.
I would definitely recommend this spa hotel to any couple looking to go away and enjoy some time alone. It is the perfect place to relax, rejuvenate and de-stress.
Thanks Rupal for sharing! Readers, please tell us about any wonderful short breaks you have enjoyed.