Fun Ways to Get Fit (No Gym Required)
Let me guess… You over-indulged throughout the Christmas period and vowed come January to transform yourself into a true picture of health? Yet, by the time new year came around, you had remembered that green juices were actually quite revolting and the mere thought of entering a gym sent chills up your spine? Thought so!
Well, you're certainly not alone. Approximately one in five of us set 'getting fit' or 'losing weight' as a new year's resolution each year, yet only half stick to it. We think it's time for this to change! If you're the kind of person who'd sooner master the science of time travel than keep up a gym routine, be real with yourself. The gym isn't for everyone and there are so many other ways to become active that may suit you better than spending hours on a treadmill.
In a bid to keep you on the straight and narrow when it comes to healthy resolutions, we've come up with some unique and fun ways to get fit, without a gym membership in sight!
Make a splash
Crank up the adrenaline levels and dive headfirst into some water sports for a healthy dose of excitement in 2018! Not just the reserve of beach holidays, water sports are tonnes of fun AND provide a full body workout.
Wakeboarding is great for building strength, as it takes power in both arms and legs to hold your grip, while simultaneously taking control of the board. Core strength is also a key component of the sport, necessary for maintaining good balance out on the choppy water. New to the sport? Learn all the essentials with an introduction to wakeboarding lesson.
For something a little more leisurely, give stand up paddleboarding a go. As the nation's fastest growing watersport, paddleboarding shares similarities with surfing and kayaking, and consists of balancing on an oversized board, while guiding it through the water with a single paddle. Much like wakeboarding, it engages the core and ensures a fun full body workout. Give it a go on one of our paddleboarding experiences.
Enter the combat zone
Unleash that competitive streak and head into battle for a workout with a difference. Being so focused on the mission, you'll barely even notice you're doing exercise!
Paintballing takes speed, agility, strategy and most of all teamwork. Crash through the undergrowth dodging exploding paintballs, hide in bunkers and spy on the enemies, in order to be crowned the victors at the end of the battle! Combine exercise and social life by taking mates along to share multi-player paintballing experiences.
Alternatively, give battle archery a go and perfect your aim, while carrying out battle style missions. A cross between paintballing, dodgeball and archery, the brand new craze will keep you fit without it feeling like a chore.
Saddle up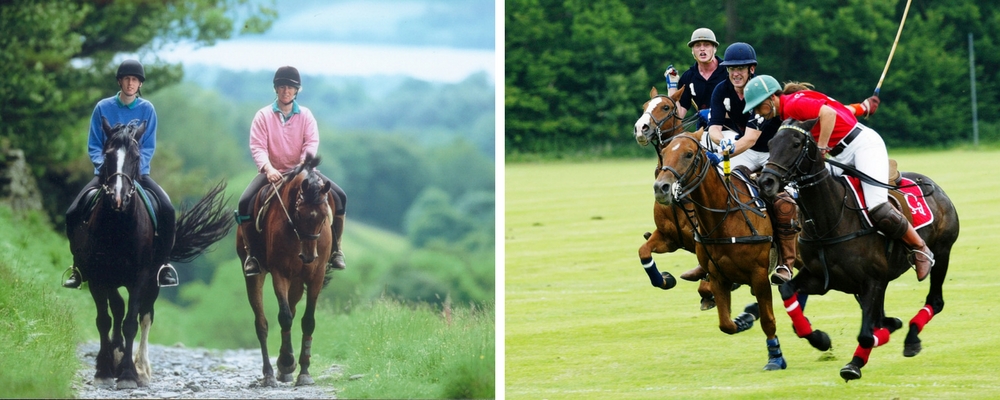 Quit horsing around and saddle up for some outdoorsy fun! It's a common misconception that it's the horse that does all the work during horse riding, but this is far from the truth. It takes serious core-strength from the rider to keep balanced and stable in the saddle, which in turn also improves posture. Not to mention the inner leg workout that riding provides, as a squatting position is often maintained when riding at faster speeds.
Whether you're an experienced rider or a beginner looking to give it a go for the first time, our horse riding experiences combine gentle exercise with the chance to be immersed in the picturesque British countryside. What better way to get active?
For the advanced rider, step it up a notch by getting involved in the illustrious horse-back sport, polo. Our introductory lessons are perfect for getting to grips with the sport, with expert tuition from top coaches. Much like ordinary horse riding, playing polo has both cardiovascular and muscle conditioning benefits, making it a fantastic source of exercise!
Master your swing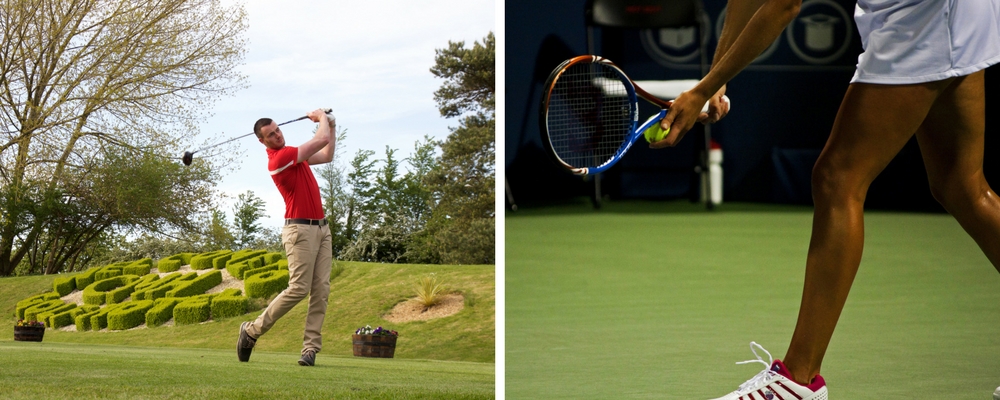 Swing your way to fitness by taking up lessons in golf or tennis.  Though a slightly more traditional take on fitness, getting stuck into a new sport feels much more like a fun hobby than a wearisome workout.
Golf may not sound like the most energetic sport going, but believe it or not, walking 18 holes while carrying a bag can help burn as many as 2,000 calories. Spending time outdoors is also great for mental health, with fresh air and green spaces proven to relax the body and reduce stress. Check out our golf experiences, to book a round on a famous golf course or even a masterclass with a PGA pro.
For something a little faster paced, why not make like Andy Murray and test your hand at tennis? Who knows, you could have what it takes to be a future Wimbledon champ! Tennis is a fantastic full-body workout and works wonders for aerobic and anaerobic health while burning tonnes of calories. Even seasoned players looking to brush up on court skills benefit greatly from a full professional tennis coaching day.
Embark on an adventure

Add a touch of danger to a workout by embarking on an adrenaline-fuelled adventure and make staying active that bit more exciting!
Give coasteering a go and navigate the rocky coastline by swimming, climbing, jumping and diving (all done safely of course!). Coasteering is demanding, exciting, great for fitness and is quickly becoming one of the UK's most popular watersports. It's the perfect activity for the outdoors enthusiast.
Alternatively, take it underground and journey deep into the heart of a Welsh mountain to take on Go Below's ultimate underground adventure. Tackle tough traverses, cross decaying ancient bridges, climb unspoiled rock faces, whiz down the world's longest and deepest underground zip line and brave the world's first underground freefall. What a rush!
We have proved that the gym is definitely not the only option for anyone looking for fun ways to get fit. And there are many exciting challenges available which also tick the fitness box – which one will you choose?
Are you a blogger on the hunt for a challenging adventure to face your fears? Get involved in our latest campaign and make 2018 the year to #LiveaLittle!
Image credit: Red Letter Days and Pexels