Easy ways to practice self-care and wellness at home
If self-care was low on your list of priorities last year, you're not alone.
But, with a new year comes new opportunities to commit to a healthier, more fulfilled you.
Self-care is about so much more than sneaking in a bubble bath. It can be anything you do to nourish your body, mind and soul, whether that's meditating, taking at-home fitness classes or simply pouring yourself a cup of tea and reading your favourite book.
Practising self-care is vital to our physical, emotional and mental wellbeing. It not only reduces stress, improves mental health and prevents diseases, but it also ensures you're in a healthy space to manage work commitments, family responsibilities and personal relationships.
Wondering how to do self-care at home? We've rounded up some simple and effective self-care activities perfect for the current situation – and beyond. Whether it's indulging in some opulent spa treatments, doing yoga or learning how to focus on mindfulness and meditation, here is how you can find happiness and inner fulfilment this year.
Pamper days at home
When it comes to hitting the reset button, a spa day never lets you down. But with spas closed as we stay safe inside, how about replacing your spa day with a therapeutic pamper day at home?
Our pamper packages and experiences can give you all the restorative benefits of the spa, without ever leaving the house.
Try this pick-me-up pamper package, which will help you unwind and relax while treating your skin to some tender loving care with an ultra-deep cleansing clay mask. While you're at it, complete your at-home spa experience with the healing power of some aromatherapy by lighting the fragrant candle that comes included.
You can also choose to cleanse from within with this luxury three-month subscription box, filled with candles, healing crystals, bath salts and incense, as well as guides on affirmations and visualisations. This box is designed to assist you with draining away negative energy, leaving you feeling cool, calm and collected.
If your idea of self-care means getting out of the house, there are lots of experiences you can book and enjoy in the future. Proven to relieve tension, aid relaxation and alleviate stress, massages are a fantastic way to treat your aches and worries. And this massage experience at the Massage Company will leave you feeling good as new. Choose from a deep tissue massage, sports massage, Swedish massage or maternity massage. The thought of an upcoming day out with 50-minutes of pure bliss is sure to lift the spirits.
You can also plan a day of rest and rejuvenation with one of our spa and pampering experiences. Take a visit to a luxurious city spa and look forward to qualified therapists easing all the knots and tension out of your back and shoulders. Not to mention our spa break experiences, which will give you the opportunity to spend a couple of days nourishing your body and soul away from the hustle and bustle of the city.
Get moving
The ancient practice of yoga is without a doubt one of the best tools for self-care. In fact, research has proven that spending time on your mat not only benefits your body, but can also improve depression and lead to higher levels of happiness.
Our online yoga classes and retreats when the time is right are the ideal way to embark on this journey towards inner fulfilment and serenity.
Choose from a selection of virtual classes suitable for all skill levels. Test your flexibility, or relax with a session designed to promote clear mindedness, calmness and positivity.
Mindfulness and meditation
If you're looking for something a little more holistic, you can always try online meditation classes, which will teach you techniques to tackle stress, combat anxiety, promote creativity and inspire imagination.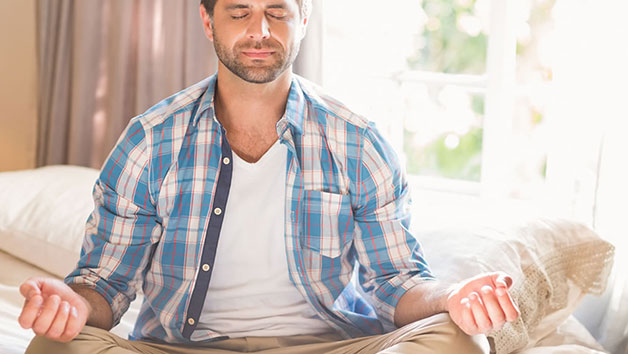 You can also plan to go on a mindfulness day retreat at a later stage. Look forward to a gentle yoga class, guided meditation and sound healing, all coupled with a delicious lunch. You'll leave feeling re-energised, reinvigorated, and renewed after this peaceful escape.
Reconnect with nature
There's no denying that spending time in nature can significantly impact our peace of mind and sense of wellbeing.
Embrace the wonders of eco-therapy with this guided forest meditation. Take a stroll through the wild Coombe Woods in Sussex and learn how to reconnect with nature by engaging all your senses.
Or master the ancient art of creating your own little space of tranquillity and serenity with an online Zen gardening course. Learn from the comfort and safety of your own home and enjoy a little piece of calm for many years to come.
In a year of uncertainty, there's never been a better time to start making some positive changes by intentionally focusing on your mental health and wellbeing. When you treat yourself or someone you love to a gift from Red Letter Days at this time, we offer contact-free gifting, instant eVouchers and validity for a massive 20 months. You can start planning your self-care experience right away, or treat someone else who could use a boost by gifting them with an experience they can enjoy.