Red Letter Days loves London Pride
Pride in London boasts a long and colourful history – since its birth in 1972. Starting as a small gathering of 2,000 people, it has snowballed into an international success and attracts hundreds of thousands of visitors each year. In 2016 alone, a record-breaking one million supporters flocked to the capital to champion equality and watch the famous, and fabulously flamboyant, parade.
If you've ever taken part in London Pride you'll understand what the hype is about. An impenetrable technicolour crowd sweeps through the winding city streets, charged with such a dynamic energy it's as if the collective has one booming heartbeat. The message is loud and clear: "We are here, and we won't be ignored".

 HIGHLIGHTS: Pride is known for its glittering annual parade and this year it promises to be bigger, better and brighter than ever! With more than 300 groups marching through Central London, it's one of the largest celebrations of LGBT culture in the world. Visit Pride to find out more!
A curious mix of culture and club, revellers can enjoy everything from queer art exhibitions and theatre to saucy Soho tours and camp cabaret. Leaving no brightly-coloured stone unturned, the organisers have put inclusivity at the core of the campaign, making a conscious effort to create a programme which has something for everyone to enjoy.
 HIGHLIGHTS: Head to Tate Britain for its first ever exhibition dedicated to queer British art – find out more by visiting the event page at Queer British Art 1860 – 1967.
London is about to host its largest and most energetic Pride yet – promoting its 'Love Happens Here' campaign. The campaign marks 50 years since the decrimalisation of homosexuality within the UK (we know, why on earth did it take so long!?) and three years since England and Wales legalised gay marriage.

The LGBT + community has come a long way in those 50 years and, although there's still plenty of work to be done in order to achieve global equality, we want to take a moment to commemorate some of the pivotal moments that have bought us to this point.
 HIGHLIGHTS: It's a well-known fact that the LGBT + community is aglow with star-studded talent and, after all the trials and tribulations faced in the past half-decade, this hard-earned confidence deserves a golden stage on which to be celebrated. That's why we were particularly excited to watch this year's Pride's Got Talent final – a showcase of new and emerging talent including sensational singers, speed-defying dance acts and daring drag performances. Congratulations to the brilliant Toby Corton who was triumphant and will support the headline act in Trafalgar Square and perform on the main stage at the closing night of World Pride in Madrid on Sunday 2nd July.
Also, watch out for our next Pride instalment where we talk to prominent LGBT + community bloggers, activists and organisers.

 Timeline 
1967 – The Sexual Offences Act 1967
It seems strangely symbolic (or bitterly ironic?) that The Sexual Offences Act 1967 passed through the House of Commons at 5.50am, surreptitiously, before people woke up for their morning coffee and papers.
It's in this style that many gays were forced to live their lives – secretly and in the shadows, without any of the undisguised demonstrations of love and intimacy that heterosexual couples enjoyed. Before the act passed, loving the wrong person could make you a criminal.
The new law decriminalised homosexual acts in private between two men over the age of 21 in England and Wales (it's worth mentioning that this wouldn't apply to those in the Navy or military for another 33 years!). So while this was an incredibly important first step, it was ONLY that. Between 1967 and 2003, 30,000 (yes, you read that right) gay and bisexual men were convicted for behaviour that would not have been a crime with a partner of the opposite sex.

   The Sexual Offences Bill 1967 was sponsored by Labour MP Leo Abse in the Commons.
1969 – The Stonewall Riots occur in New York City
"We, the people, declare today that the most evident of truths – that all of us are created equal – is the star that guides us still; just as it guided our forebears through Seneca Falls, and Selma, and Stonewall." – Barack Obama, 2016
The events that occurred at the Stonewall Inn went on to mould the future of LGBT + community rights in America and the venue has since been resurrected as a symbolic monument celebrating gay and human rights.
Although the 60s are often cited as a time of sexual liberation, where people could shake off the straitlaced shackles of the 50s, this wasn't a luxury afforded to LGBT individuals. Dancing with the same sex, or dressing as another, had serious repercussions that cost some their lives. Shunned by mainstream culture, LGBT individuals began searching for a place they could really be themselves – they found it at the Stonewall Inn. Underground and under kept, the inn was in poor condition, with overflowing bathrooms and cheap watered down drinks. However, it soon gained notoriety as being New York's leading gay club and welcomed everyone including drag queens, homeless gay youths and runaways.
Due to its growing popularity, the police were desperate to shut it down and the venue was raided one morning in June. Officers arrested customers and employees, using excess force and taking cross-dressing patrons aside to forcibly check their sex according to the state's gender-appropriate clothing statute. Fed up of the constant harassment and violence, members of the LGBT + community rose up in defiance and a tremendous riot broke out that lasted five days and now has its place in gay history.
The riots marked a shift in LGBT political activism in America and lead to the formation of many gay rights organisations, including the Gay Liberation Front.
1972 – The first British Gay Pride rally was held in London…
…with a thousand people marching from Trafalgar Square to Hyde Park (a far cry from the overt and opulent celebrations of today!).
Although homosexuality had been decriminalised, the taboo was still there. In a world that demonised same-sex partner kissing in the street, this very public demonstration was a huge deal and pioneered a new form of LGBT + community activism. Despite an oppressive police presence (nothing like a man in uniform to raise everyone's spirits), the march was a success and has since ballooned into a global event.
1978 – The rainbow flag is first used as a symbol of homosexual pride
The colours reflect the diversity in the LGBT + community and the flag is often used as a symbol of gay pride during LGBT + rights marches. Originating in Northern California, and created by Gilbert Baker, it's now used proudly worldwide.
1984 – The first openly out homosexual politician in the UK parliament
Chris Smith, newly elected to the UK parliament declares:
"My name is Chris Smith. I'm the Labour MP for Islington South and Finsbury, and I'm gay."
…making him the first openly out homosexual politician in UK parliament. Since then a string of high-profile and influential politicians have joined him, including Ruth Davidson, Angela Eagle and Iceland's first female Prime Minister, Jóhanna Sigurðardóttir.
1990 – Homosexuality no longer an illness: The World Health Organization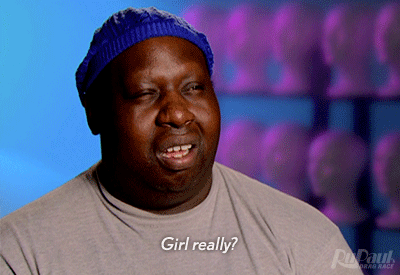 (That's literally all we have to say on the matter).
2000 – End of ban on gay people in the military in the UK
This long overdue step took place after a string of stories highlighted the discrimination and sexual harassment of gay men and women within the armed forces. Military same-sex couples are now afforded the same rights as their heterosexual counterparts, including marriage.
2001 – The Netherlands is the first country to legalise gay marriage
Since the Netherlands became the first country to allow same-sex marriage 12 years ago, many countries have followed suit including Belgium in 2003, Spain in 2005 and Norway and Sweden in 2009. Ireland in 2015 became the first country to approve it with the popular vote – that was special, well done Ireland.
2002 – Gay couples within the UK are granted equal rights to adopt
The particular milestone means more children than ever can be given the opportunity to grow up in caring and stable homes, with loving and devoted parents (no matter what their sexuality).
As part of our Pride campaign, we spoke to Kate and Sharon from Lesbemums – a same-sex family, who have written extensively about LGBT parenting, culture and issues. Kate said
'It means so much to us not only as a couple but as parents. Raising a son as a minority group is a scary thing – we don't know how people are going to treat us or our son – but with laws changing every day and news reports showing positive progress for the LGBT community (George Montague more recently), not to mention books, film, and TV being more inclusive, it gives us hope that our son won't feel like a minority.'
We'll be featuring more of this interview in our following blog.
2013 –  The legislation to allow same-sex marriage in England and Wales was passed
The law was passed by Parliament in July 2013 and came into force on 13 March 2014, and the first same-sex marriages took place on 29 March 2014.

Image credits: Michael Dean, Filmmaker (@FilmmakerMike), Pride in London, Giphy, Visit London, Polari Magazine, Wikimedia Commons, Wikimedia Commons, Flickr, Goodfellow Air force Base and Joint Base Langley-Eustis.