How Do You Pronounce 'Scone'? (And Other Afternoon Tea Debates)
The enduring popularity of the traditional afternoon tea isn't down to the taste of the scones, the freshness of the tea or the elegance of the china; it's the whole package. Greater than the sum of its parts, it's the time-honoured ritual that's all about slowing down time to treat yourself whilst relishing the quintessential British charm of tea, sandwiches and sweet treats shared with good company.
Thanks to the many variables, afternoon tea enthusiasts all over the country put their own spin on the treat. What is the correct etiquette? Why is it so? And does it really matter if you don't adhere to the rules? We've delved into the matter more deeply than anybody before us to bring you the facts. As well as looking at data from national surveys, we carried out our own poll here in the Red Letter Days office. We also took to the Twittersphere to find out where our followers stand on the debate.
Here are a few of the ways that the country (and our office) divides itself:
Is it pronounced 'scone' or 'scon'?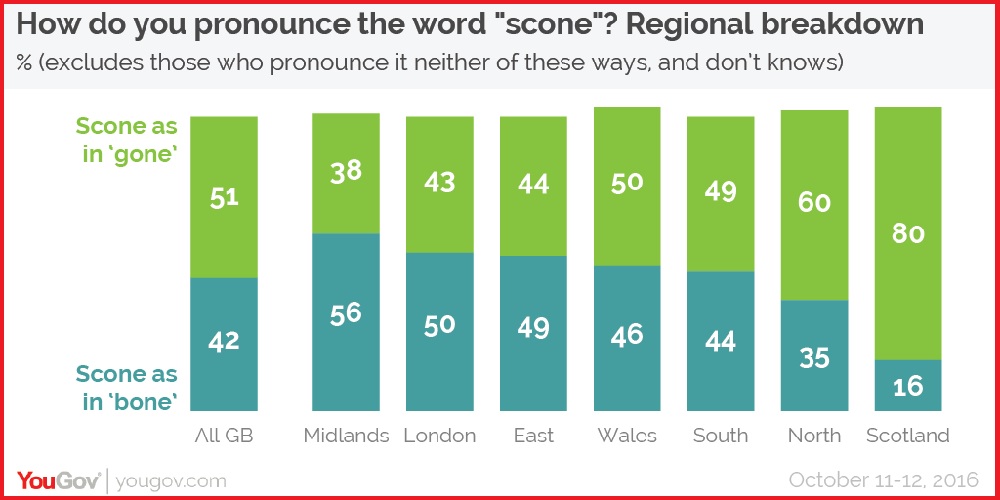 A new YouGov poll has shed light on the way Brits pronounce this most contentious of words. It's a close call. 51% say scone to rhyme with 'gone'. 42% believe it should sound like 'bone', with a longer vowel sound. Then what of the other 6%? Half of the remainder confessed they didn't know while the other half said they pronounced it another way. We'd love to know what this third option is, but the poll didn't elaborate.
Another insight: the further up the UK you travel, the more likely you are to hear the 'gone' pronunciation.
But what did our Twitter followers say when asked to add in their two cents? Well, 54% answered that they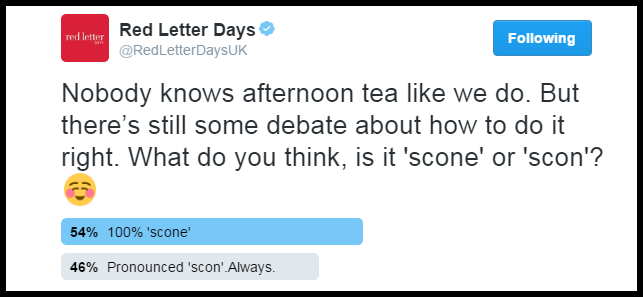 pronounce the word as 'scone' while 46% went with 'scon'. It was a very close call, much less definitive than we had expected.
And here's what we thought about it at RLD HQ:

61.3% say scone to rhyme with 'bone'
38.7% say scone to rhyme with 'gone'.
Our office is in London, so this result is consistent with the idea that, in the south of the UK, we are more prone to using the 'bone' pronunciation.
Cream or jam first?
Do you like to start with a base layer of fruit jam, or is dolloping thick cream onto your scone the first thing you do to get the party started? The YouGov poll found that 61% of respondents prefer to start with the jam, while 21% opt for cream first.
The traditional Cornish cream tea method is to add the jam before the cream. The Devon cream tea method, however, sees the cream added first.
If both options sound a little tame to you, perhaps you've worked out that adding jam, then cream, then jam again (or vice versa) is the best method of all. Why choose? Let's call it the 'Cornish-Devon Cream Tea'.
At RLD HQ:
52.5% put cream first.
42.6% put jam first.
A small number of people chose an unspecified 'other'. We can only assume these people mix their cream and jam first together and then add it, or only have one or the other. Unthinkable.
Tea or milk first?
The questions just got trickier. When pouring from a pot of tea, is it proper to pour the tea first, then the milk? Or should it be milk first followed by tea? Let's look at some pros and cons. Pouring the milk in first means that the tea mixes in much better, meaning there's usually no need to stir afterwards. On the other hand, pouring the tea first allows the pourer to ascertain how strong the tea is by its colour.
As for which method is considered proper in polite society, consider ye olde days.
Servants and the working classes were more likely to use cheap clay cups which could crack when subjected to boiling water. Adding the milk before the tea protected their tableware. The upper classes, therefore, would make a point of pouring their piping hot tea into their high quality bone china cups.
For Earl Grey drinkers, the proper accompaniment is lemon and sugar instead of milk. Add the slice of lemon and the sugar cube or spoonful of sugar first, then pour tea over them.
A note on stirring: Don't let the spoon touch the cup as you stir to avoid unseemly clinking, and don't leave the spoon in the cup afterwards.
All the above only applies to the afternoon tea setting, of course, which assumes you'll be pouring your tea from a fancy teapot. If you're at home on your lonesome brewing a teabag in a solitary mug, different rules apply.
At RLD HQ:
14.5% add milk first.
79% pour the tea in first.
That's a whopping majority of people in our office who pour the tea in before the milk. 6.5% said 'other', which we think means that they like to change it up regularly, or perhaps that they drink their tea black.
Currants or plain?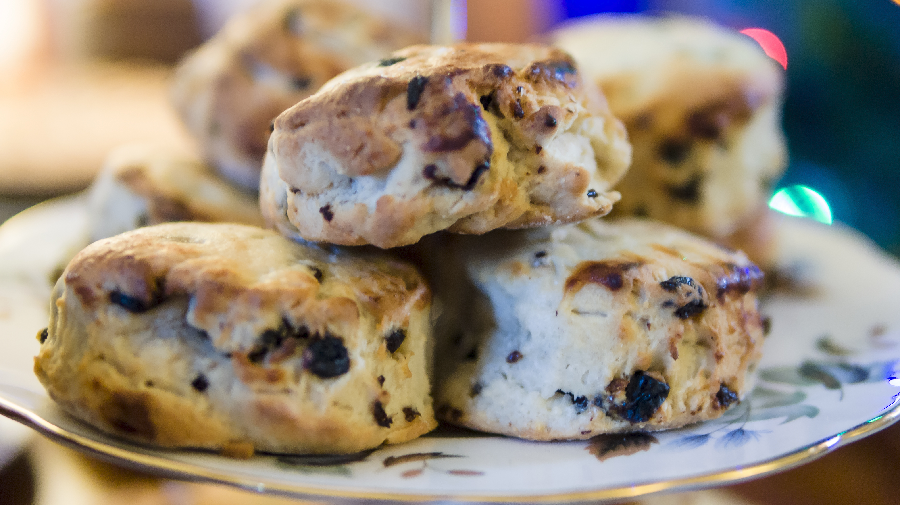 It only takes a flip through a recipe book or a speedy Google search to understand how many scone recipes are in existence. Cheese, chili, fruit, even Marmite scones exist. It's a versatile and easy-to-bake item so the flavour possibilities are pretty much endless. The most common kinds you'll find in the supermarkets, however, are fruit or plain.
Our research shows that plain scones are slightly more common in a traditional afternoon tea, but either is acceptable.
At RLD HQ:
48.4% like currant scones best.
46.8% will always pick plain.
Clotted or whipped cream?
Should you crown your scones with whipped double cream or with clotted cream? A Devon or Cornish cream tea is traditionally made with clotted cream. For an afternoon tea, either whipped or clotted can be used. Some prefer the pleasing fluffy peaks of whipped cream, while others like the density and subtly different flavour of clotted cream.
The best clotted cream should be smooth and thick with a firm crust on its surface. Then there's Devonshire cream, which is simply clotted cream that is produced in the county of Devon.
Squirty cream is a no, as is pouring cream. Neither of these have the density required and will lead to a sub-par scone.
AT RLD HQ:
77.4% go for clotted.
17.7% prefer whipped.
One scone half at a time or scone sandwich?
We salute the diner who can fit a whole scone (that's two halves on top of each other) into their mouth. As impressive as it is, you're going to lose a lot of filling via side-squirtage and you're going to have to deal with a lot of disapproving looks at The Ivy.
At RLD HQ:
83.9% eat one half at a time.
14.5% make a scone sandwich.
We can't imagine what the other 1.6% do…
Sweet or savoury first?
With such an array of goodies laid out before you, what do you choose first? Etiquette dictates that the savouries such as sandwiches are eaten first, followed by the scones and cakes, much like dessert follows dinner. That said, it can seem counter-intuitive to leave freshly-baked, warm scones to go cold while you polish off the cold sandwiches.
We reckon this is one of those rules you can take with a pinch of salt. Just dig in.
At RLD HQ:
77.4% think you should eat the savoury things first.
19.4% think you should start with the sweets.
Teabags or loose leaf?
Teabags are sufficient for a brew at home, but are they special enough for the fine china? Loose leaf tea gives the freshest and fullest flavour. As afternoon tea is an exercise in sophistication and indulgence, loose leaf is the way to go. Letting the tea leaves infuse the hot water in a teapot with a strainer is all part of the ceremony of tea, and adds to its unique charm.
And how long should you let your tea brew? This is completely down to personal preference. A study for charity WRVS in 2013 suggested that 3% of Brits like their tea weak and milky while 9% take it super strong. The most popular strength, favoured by 35% of Brits, is mid-brown in colour.
At RLD HQ:
62.9% went for teabags.
32.3% opted for loose leaf.
English breakfast tea or something posher?
You'll usually be offered a choice of tea. Options might include Assam, Darjeeling, Earl Grey, Lapsong Souchong and good old English Breakfast. It's completely up to you what you go for. It's not about healthy fruit teas, though. Save them for your next detox. Afternoon tea is about the comforting powers of hot, well-brewed tea with milk, but elevated to the status of special occasion.
A 2014 poll by YouGov showed that English Breakfast tea is preferred by 52% of Britons, making it the winner by a landslide. 22% favour Earl Grey, making it the next most popular choice.
At RLD HQ:
72.6% are English Breakfast fans.
24.2% think something posher is in order.
Pinkie finger in or out?
An Afternoon to Remember posits that the raised pinkie finger came about thanks to the eating habits of Ancient Rome. Cultured people, they say, used 3 fingers to eat while commoners used 5. The raised pinkie finger became a way of proving that all 5 fingers were not being used while eating or drinking. Other tea drinkers believe differently, saying that an outstretched pinkie finger aids balance. Although this is an enduring habit, it's usually considered a sign of elitism. Keep your pinkie in unless you want to look pretentious.
At RLD HQ:
31.7% stick their pinky finger out while drinking tea.
66.7% keep their pinky firmly in.
Sit outside or inside?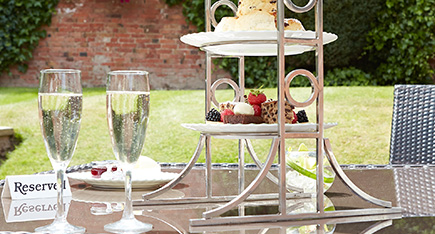 In the warmer months, many venues offer conservatory or outdoor seating. Afternoon tea is a ritual which isn't hampered by seasonal concerns such as the weather. It's just as suited to a warm hotel lounge as it is to a garden or patio.
Red Letter Days' afternoon teas span a huge range of settings. You can choose to dine on a Thames river cruiser or aboard a moving train, to name but a couple of our more adventurous settings, and we cannot recommend them highly enough. Scones and adventure? A match made in heaven.
At RLD HQ:
74.2% prefer to sit indoors.
24.2% like to be outside.
Strawberry or raspberry jam?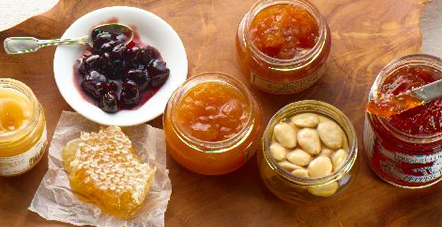 Or blackcurrant, gooseberry or apricot? Is marmalade acceptable? Time and time again, surveys have proved that strawberry jam is the nation's favourite. Bonne Maman's jam sales see strawberry as number 1, completely eclipsing its next 3 most popular: apricot, raspberry and blackcurrant. So it's the UK's favourite, but does that mean it's not special enough for an occasion? After all, a posh brunch is a world away from the toast and conserve you munch for breakfast every morning.
If you're interested in branching out, try blackcurrant for a tarter taste, providing more contrast with the mildness of the cream.
At RLD HQ:
70.5% favour strawberry.
27.9% prefer raspberry.
1.6%said 'other'.

Time of the day?
We have Anna, the seventh Duchess of Bedford, to thank for the invention of Afternoon Tea. Way back, in the year 1840, she began taking a snack of tea, bread and butter and cakes at 4pm to fill the gap between lunchtime and her household's fashionably late dinnertime. This became a tradition and she would invite friends to join her. As the idea spread, upper class women would adjourn to their drawing rooms for tea between 4pm and 5pm.
Most of the afternoon teas offered by Red Letter Days are flexible so you can choose to dine from midday onwards. You could even have an afternoon tea for every meal of the day. Why limit yourself? If anybody tells you it's too early in the day to be piling cream and jam onto a scone, tell them where to go.
At RLD HQ:
38.7% would choose to take afternoon tea early in the afternoon (between 12pm and 2.30pm).
61.3% would take theirs later in the afternoon (2.30pm or afterwards).
One friend or a group?
The majority of afternoon teas we offer are for one or for two people. We think two is the perfect number as it means a good old 1-on-1 chat and plenty of treats each. That said, there's nothing stopping you from sharing your scones with a group of friends or family.
Incidentally, the largest cream teas party ever held (logged by the Guinness World Records) was in Shanghai in June 2016 and involved 735 participants.
At RLD HQ:
49.2% prefer a group of friends.
45.9% like a one-on-one encounter.
4.9% said 'other', which could include dining alone.
…Hungry yet?
So there you have it: our two cents on how to create the optimal afternoon tea. Now that we've got you salivating over the thought of creamy, jammy scones (we're right there with you), perhaps you'd like to take a look at some of the more unusual afternoon teas on our site. With experiences for one, for couples and for groups and with a huge range of locations, we know you'll find something to tickle your fancy.
Luxury afternoon Tea for Two at Buddha-Bar London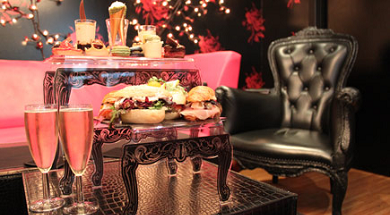 This one's a little bit special: an afternoon tea with an Asian-inspired twist. Treats include duck hoisin steam bun sandwiches, crispy wonton cod and Vietnamese summer rolls, alongside more traditionally British desserts. Make sure to check out our first-hand account of our visit there by reading this blog post.
Afternoon Tea with a Twist for Two
While dining, watch demonstrations and learn a little about cookery from the focaccia chef.
Luxury Champagne French Afternoon Tea for Two at Cake Boy (pictured, left)This is a chance to discover the luxury of the legendary Eric Lanlard's boutique patisserie. Not only is each morsel a beautiful creation, it comes topped off with a glass of Champagne.
Tempt a foodie to unwind with an afternoon tea – a lovely treat for friends or family; looking to spend quality time together and to relax. Take a look at some more of the afternoon teas we offer. Spoiler: there are a lot…
Images: YouGov, Max Pixel, Pexels, Wikimedia Commons, Pixabay, Red Letter Days