Our Top 10 Famous Birds (the Feathered Kind)
From falconry fun to penguin encounters and owl evenings, it's fair to say we've got a bit of a soft spot for experiences of the feathered kind around here. With so many British birds of prey roaming our skies, we're a nation that loves watching our birds.
And we're not the only ones – while the internet as a whole seems to have a fascination with owls, it turns out that a lot of our best-loved fictional characters and famous sidekicks have been birds. It's no surprise that so many people want to get up close to these animals in person, be they famous birds or not.
So whether you're watching children's TV or a box office smash, here are some of our favourite famous feathered friends from over the years…
1. Ed the Duck (BBC Children's Television)

Ed the duck did a great job as Andi Peter's co-presenter in the early 90s. Though he couldn't talk in any language we could understand, it takes a certain confidence to pull off a green Mohawk on live TV.
2. The Crows (Dumbo)
As this footage demonstrates, these birds have certainly got the vocals and the moves to match.
3. Babs (Chicken Run)
Voiced by Jane Horrocks, larger than life Babs is a knitting chicken with some fab one liners, including my personal favourite, "I don't want to be a pie….I don't like gravy". Indeed.
4. Jareth the Owl (Labyrinth)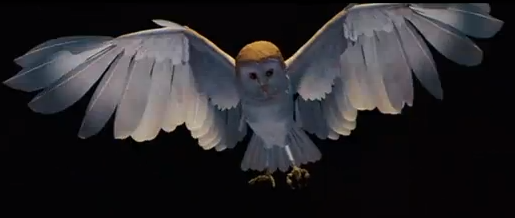 Strictly speaking, this owl was actually David Bowie in feathered form – but from the opening credits of Labyrinth to the end of Sarah's journey, Jareth is the main star of this (slightly odd, in hindsight) Jim Henson film.
 5. Zazu (The Lion King)
Though at times more than mildly annoying, Zazu the wise Red-billed Hornbill was an integral part of one of the greatest Disney films of all time. Voiced by Rowan Atkinson; it's probably the only time you'll hear the man behind Mr Bean sing 'I've got a lovely bunch of coconuts'.
6. Hedwig (Harry Potter)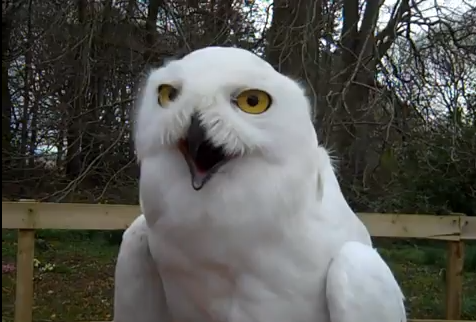 Snowy Owl Hedwig proved a valuable companion to wizarding pro Harry Potter right up until her untimely demise. And like all good actresses, being an owl proved no barrier to having a full range of facial expressions (see above).
7. Big Bird (Sesame Street)
Big Bird is a central part of the partly educational and wholly entertaining institution of children's television that is Sesame Street. This super friendly, giant yellow beast was even used by Obama against Mitt Romney in his election campaign – quite an achievement.
8. Dancing Penguins (Happy Feet)
A list of brilliant birds wouldn't be complete without penguins. The stars of Happy Feet might have been CGI versions, but what's not to like about a super cool troop of dancing and singing birds?
9. Tweety Pie (Warner Brothers)
This cute little canary teased Sylvester the cat for an eternity. Though he has the ability to seem innocuous when needed, full-of-fight Tweety has done for birds what Jerry did for mice – proving that sometimes the little guy can win.
10. Donald Duck (Disney)
Because everybody loves an under-duck! One of the original Disney characters, Donald has been in constant competition with the more popular Mickey Mouse his whole life. His continual failings and quirky quack voice made us giggle, even if it was odd that he only dressed from the waist up.
Which famous bird would you most like to meet? Check our website for information about our birds of prey experiences.
Images courtesy: YouTube