Q&A with Roy Fitter of Zombie Boot Camp
It's Halloween next Saturday and to get into the spirit, we caught up with Roy Fitter, the brilliant mind behind zombie boot camp – voted the UK's best zombie experience since 2011. Take a look at our Zombie experiences if you dare…
Hi Roy, could you tell us a bit about yourself?
I just have an amazing imagination and never stop thinking about the next idea. I've been a soldier for 32 years and this experience has made me the person I am today. I'm confident that we've just only scratched the surface with our zombie boot camp and what we can do in terms of immersive horror – so watch this space.
A zombie boot camp is very original to say the least. How did you come up with the idea?
I left the regular army with a wealth of experience in training young soldiers to shoot and fight; I decided to use these unique skills to offer civilians a glimpse into this world. Initially we ran combat training days for stag and corporate groups, then one day I read an article about a theatre production company who ran an interactive comedy horror show called How to Survive A Zombie Apocalypse.
I remember thinking how cool would it be to teach civilians how to fight zombies – and zombie boot camp was born. We are the first (and original) company to offer a fully immersive zombie experience and we're still going strong.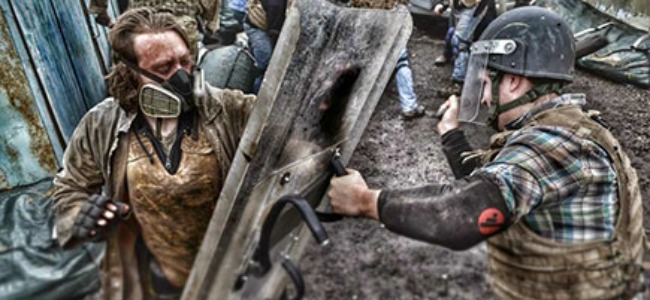 Would you say a zombie boot camp is tougher than a regular boot camp?
What is regular about an ex-soldier shouting at a group of city workers outdoors at 5am? We train civilians to fight zombies. Battling some of our zombies in the dark in a confined space is tough – everyone leaves sweaty, battered and bruised, but wanting more.
You must have seen a lot of things since launching this experience. Do you have any amusing tales to tell?
To date, 33,000 recruits have turned up to do one or more of our events. We have seen tears, anger and utter despair. Some of our weirdest tales are a little too dark to talk about and we must guard our customers' confidentiality, but I can assure you, there are some real creepy people who seem to take the whole zombie genre a little too seriously. We had one person who booked the whole event just for herself and wanted to be hunted down over a 12 hour period. We've also had customers asking to bring their small children along to prepare them for the imminent zombie apocalypse!
What is your favourite zombie movie?
28 Days Later. This film, directed by Danny Boyle, has a very believable theme as the infection is based on rabies. The zombies are hyper aggressive, but still have an element of normal body function. Rabies throughout the ages has always terrified us in Europe and it's probably the most legislated against disease – just try taking your pet to the continent without the relevant documentation.
The film also follows a number of believable human outcomes: the survivors are belligerent. Also, the perception of how the army would behave is turned on its head with a rag tag platoon led by Christopher Eccleston. Their behaviour initially seems honorable and professional, but very quickly displays a tyrannical, almost pirate-like attitude.


And last but not least; do you have any spine-chilling plans for Halloween?
Not really, we're just going to keep doing what we do best and train civilians to fight zombies.
If all this talk of fighting the undead has got you in the mood for a good fright, check out our list of Four Frighteningly Good Zombie Flicks.
Images: RLD and CAIO SCHIAVO via Flickr