Vive la gin revolution. No longer mother's ruin but connoisseur's tipple, the spirit is enjoying the unbridled adoration of the nation.
And where better to enjoy this juniper-enthused pick-me-up than on an open air boat, sailing down the river under blue skies? Thanks to our experience Mermaids Gin and Jazz Cruise we were able to do just that. And so can you. And so you should.
Along with bloggers-slash-gin aficionados Sophie, Tanya, Liza, Sara-Jayne and Ami, we embarked on our gin cruise one sunny afternoon down the River Hamble in Southampton. It was just the tonic.
Blue Box Sailing, who run the sailing event, threw in an extra treat for us: a gin masterclass with Isle of Wight Distillery co-founder Xavier Baker.
If this tasty combo isn't your thing, we have plenty of other experiences that might tickle your fancy. For gin without the boat we have plenty to choose from among our Cocktail Making and Spirits experiences. For more boat and less gin check out our Sailing and Yachting activities.
Jono, co-founder of Blue Box Sailing, piloted the boat while Xav got down to chatting about and pouring gin. We were blessed with sunshine and gentle breezes as we took in the sights.
The antique Betsie Jane boasts a rich history. Commissioned by Lord Ebbisham and built in 1938, she was used to cruise the Solent and the French canals in the summer. Then came WWII, and Betsie Jane found herself re-purposed as a military vehicle. She was involved in the Dunkirk evacuation, during which she was used to tow smaller craft thanks to her powerful engine.
Now fully refurbished, the Betsie Jane offers a taste of the past, all gleaming varnished wood and jaunty flag.
Xav from Isle of Wight Distillery comes from a brewing background, while co-founder Conrad Gauntlett used to make wine. The distillery has vodka and whisky on the go too, but this day was all about gin.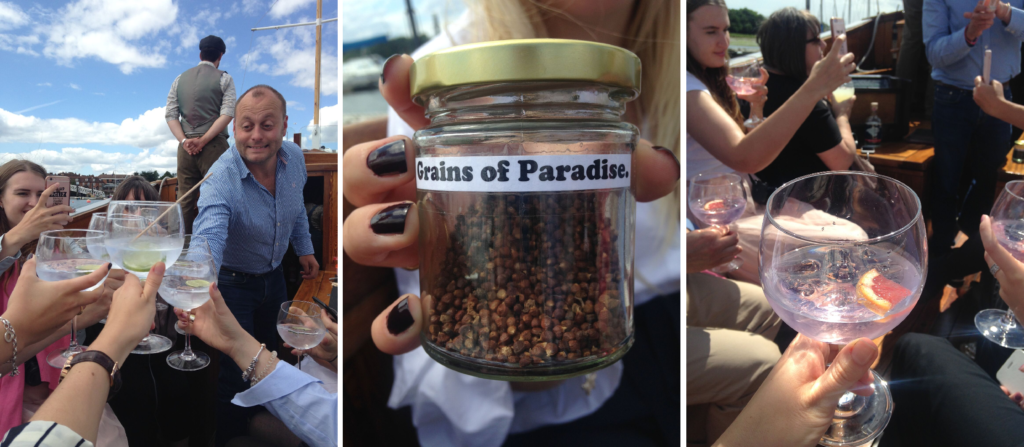 Mermaids Gin is coming up to its two year anniversary. Fresh, slightly sweet and easy to drink neat, it's infused with carefully selected botanicals. We learned that it was one of the first gins to use rock samphire, which is harvested from the cliffs once a year. The juniper berries are fair trade and hail from Macedonia. Other botanicals include coriander, lemon zest, grains of paradise, liquorice root and more. A more unusual addition is the hops (surely a homage to Xav's brewing background). Then there's elderflower, grown locally, to boost the flavour.
Next up was HMS Victory Navy Strength Gin, which is exactly the same as Mermaids but cut to a different strength. At 57%, it's known as a navy gin; because of its alcoholic strength, it's gunpowder-proof. You can actually set it alight.
Also pictured is Rock Sea Vodka. Each spirit comes in a beautiful bottle, making them ideal as gifts for tipple-sippers.
For a soothing day of sailing, serene sights and gin tasting, you can't beat our Gin & Jazz Cruise. A maximum of 10 guests can share the evening on board, and the cruise lasts for 1.5 hours. We can't recommend it highly enough.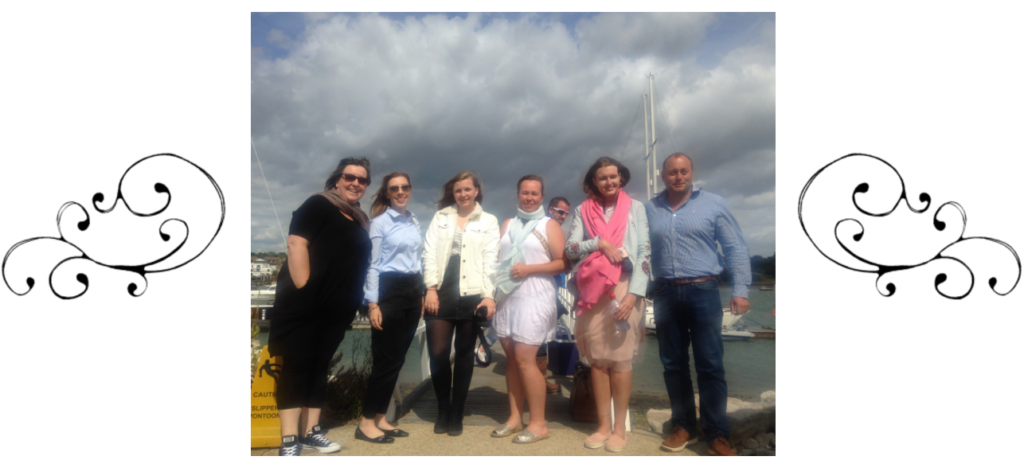 Thanks Jono and Xav for a truly memorable afternoon.
Surprise a music lover with a river cruise experience, accompanied by great gin, amazing views and live jazz music.
Red Letter Days loves a good social event. Did you catch the last one, Our Third Blogger Event at Paradise Wildlife Park?
Images: Red Letter Days