Days Out in London: Cocktail Making and Cooking Experience
Last week, Red Letter Days and a few friends went into central London to L'Atelier des Chefs to improve our cooking and learn a bit about cocktail making. To make it a bit more fun, we split into two teams to compete for the Red Letter Days cup – a prestigious and legendary prize.
The Cocktail Making
Under the guidance of an expert mixologist, we shook, rattled and muddled our way through, learning how to make a mojito and a virgin cocktail called a slap and tickle.
The mojito is a classic, refreshing cocktail and the slap and tickle was unlike anything I had ever tried before as it contained chilli to give it a bit of a kick. You could add as much or as little as you want, shaking the drink to personal taste. It was so much fun learning how to make the drinks from scratch and after all that shaking and stirring, of course we got to enjoy our creations – arguably the best bit of the process!
The Cooking
Next it was time to enter the kitchen. We chopped and blended a deliciously spicy gazpacho soup for the starter, accompanied by seared tuna for the meat eaters. Then we got onto making roast beef (and vegetable parcels for the veggies) with rosemary potatoes and ratatouille.
The ratatouille was surprisingly easy to make, with even the most inexperienced among us (namely me) feeling confident that we could whip up the same in our kitchens at home – success!
After all the savoury stuff was prepared, it was time to move on to sweeter things – dessert. Luckily the difficult task of making pastry was already done, so we just needed to make vanilla cream, chop the fruit and create the mojito drizzle to go on top of the mille feuille.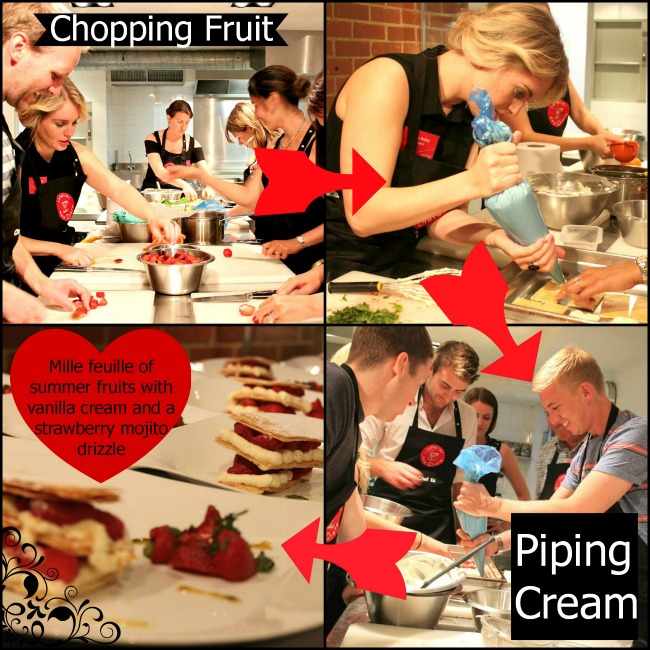 The sauce was chock full of gorgeous flavours (rum, white wine, mint and lime) but the best part of making dessert was definitely the piping. Piping has always looked like fun to me, whether it be chocolate, icing, fondant potatoes or in this case – vanilla cream. And believe us, it was as fun as it looked! Things did get a little messy and we got the giggles but in the end the dish looked incredible. We were very proud of the finished article.
The Eating
We all sat down to tuck into the meal we had created – by that point we had definitely worked up an appetite. Over dessert the chef congratulated us on our great work in the kitchen and announced who had worked together the best – awarding Team 1 the coveted winner's cup.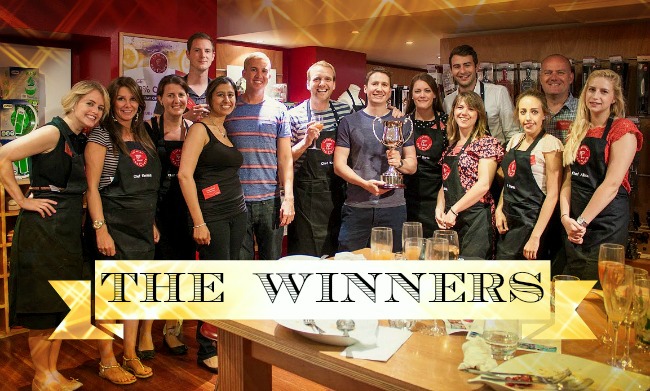 Being on the losing team, I was pretty miffed that we didn't win and we begrudgingly raised a glass to the winning team while drowning our sorrows in wine accompanied by a cheeseboard (they don't do things by halves at L'atelier des Chefs!). It was a brilliant day and perfect for experienced foodies and clueless cooks alike.
Check out our cooking courses and cocktail making experiences if you fancy trying something like this yourself.
What's your kitchen speciality?