What Happens on an Indoor Skydiving Experience?
Recently, one of our colleagues went out and about to take the plunge with a spot of indoor skydiving. Sevda Salih was brave enough to step into the void with Airkix in Milton Keynes. We've even got the video to prove it a little further down!
So once she was back on solid ground, we sat her down to ask her all about those wind tunnel antics. Get ready to fly…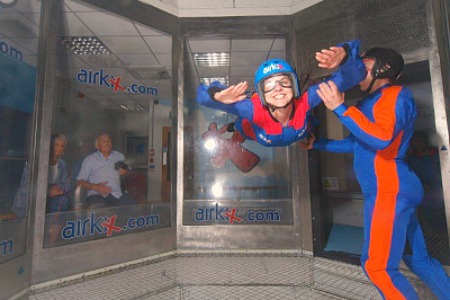 So Sevda, how was the journey? 
The drive to Milton Keynes was quite pleasant and only a short distance from London. The experience is definitely worth travelling for.
What happened when you got there? 
Staff were very welcoming and friendly. The instructor really made everyone feel at ease, as some people were initially a bit nervous.
We can imagine! Did you know what to expect?
Before the flight you got the opportunity to see others flying, which made me both excited and apprehensive. We had a pro-skydiver practising his moves in the tunnel before us and it was truly amazing to see all the different tricks he was able to do. He made it look so easy!
How many others were there? 
There were six of us in our flight group and we all chatted. Everyone was very eager to get the body position right (as we'd been taught) in order to get the best effect out of the wind tunnel.
What did you have to wear?
A very attractive body suit! But practically, it really did the job as I was very inappropriately dressed in a dress and shoes. They offered trainers for hire and kitted everyone out in a helmet and ear plugs because of how loud it gets.
So, how did the training go? 
Before our flights they played a short video on training tips and hand signals the instructor shows you during the flight, in order to get you to amend your body position. Then we practised the correct body position on a foam board top table.
Did you look down at any point and see how far down the tunnel went? 
Yes… this was a bad idea! Not only because of the fear factor, but also because the minute you tilted your head downwards you took a dip, making it harder to get back up again.
On a scale of 1 – 10, how scared were you before and after you did it?
 I was really excited watching everyone else have their go and couldn't wait for my turn, however when it came round and I stood up and looked into the tunnel the jitters set in (so the fear factor was close to 10!), but the minute you are in the tunnel, any fear literally flies away. You're in such good hands and the instructor is with you the whole time.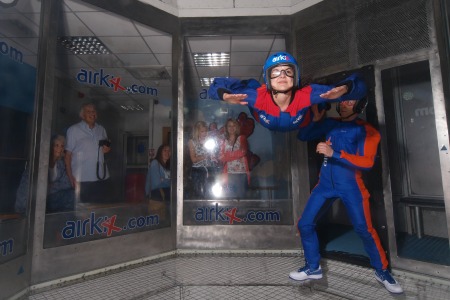 Would you recommend the experience?
Definitely! I am not an adrenaline junkie so this was quite out my comfort zone. Even though you are contained, you do get the 'what if' scenario in your mind but once you are doing it, it's not scary at all.
Thanks Sevda – we're glad you enjoyed it!
If you fancy trying indoor skydiving, take a look at our experiences and let us know how you get on.
Images courtesy of RLD