Our Fourth Blogger Ambassador Event – MyChocolate
So far this year we've gone from beautifully decorating cupcakes at luxury cake boutique, Cake Boy; to attempting gravity-defying stunts at indoor skydiving centre, iFly and meeting the fierce big cats at Paradise Wildlife Park – talk about variety! Each unique #RLDTasters event has been a tremendous success and it has been fantastic to involve so many wonderful bloggers.
So, when it came to planning our fourth (and final) blogger event of the year, finding something that would trump previous events wasn't an easy feat. Fortunately, a little birdie let us in on a secret –  the way to a bloggers heart is with CHOCOLATE – who knew?! Taking this on board, we decided to team up with the expert chocolatiers at MyChocolate for an evening of cocktails, prosecco and, most importantly, lots of chocolate!

The Experience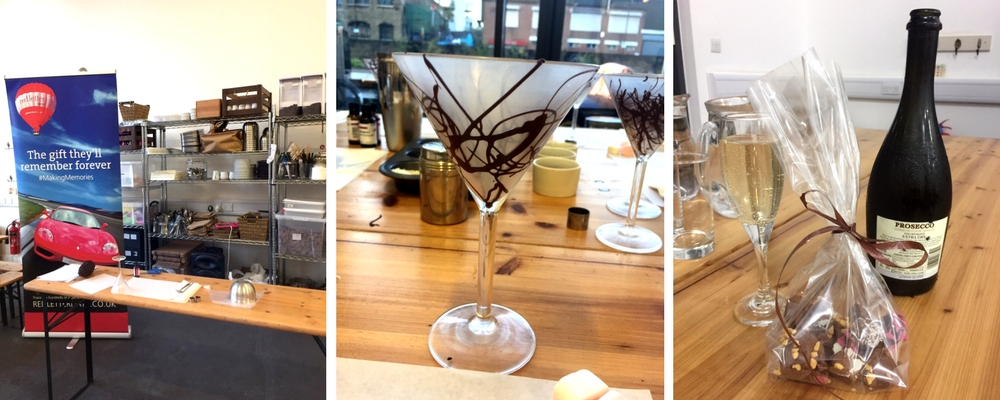 A popular choice among those with a sweet tooth, The Luxury Chocolate Workshop provides chocolate lovers with the opportunity to make their very own chocolate masterpieces, as well as tasting some scrumptious varieties of chocolate and enjoying a glass or two of refreshing bubbly (to cleanse the palate, obviously!).

The Chocolate Making

First on the agenda were chocolate martinis. Supplied with a cocktail glass each, the group were presented with the task of artfully decorating their glass with melted chocolate, using a drizzling technique demonstrated by head chocolatier, Melissa. While we waited for the chocolate to set, it was on to the important bit – shaking and mixing the ingredients to create the perfect chocolate martini!  Our chocolatier had pre-prepared a combination of cream and melted chocolate to use as the base of our indulgent cocktails. To this, we added some vodka and chocolate liquor, before shaking vigorously in a cocktail shaker along with some ice to blend the ingredients. Finally, we served them up in our beautifully decorated martini glasses. Chin-chin!
Next up was the group's chance to create giant chocolate buttons, moulded into the shape of their choice (freedom of expression and all). A relatively simple process, this involved scooping melted chocolate (dark or milk depending on preference) onto a sheet of parchment paper and then shaping it with the back of a spoon. To decorate, the group were taught a chic marbling technique, which involved drizzling the creation with contrasting chocolate and swirling it through the surface.
Finally, the intricacies of truffle making! Mixing melted chocolate and cream, we formed a thick ganache paste, which we piped into small truffle sized mounds using a piping bag (some more successfully than others). Dusting our fingers with cocoa powder to avoid the mixture sticking, we rolled each portion into a small ball, before coating in melted chocolate (dark or milk chocolate) and decorating with an assortment of flavoured embellishments, including sea salt, honeycomb, coconut flakes, white chocolate curls and raspberry flavouring. And voila, we had ourselves some mouthwatering truffles!

The Chocolate Tasting 

As an expert in the field, our wonderful chocolatier gave us a brief lesson in the fascinating world of chocolate. We learned where it was invented (Britain FYI!) and where the cacao bean grows (Africa and South America). We also took away some interesting nuggets of knowledge regarding how different varieties of chocolate are made. For example, the process of producing milk chocolate and white chocolate is vastly different to that of high percentage dark chocolate.
We were amazed to learn there are over 400 flavour notes in chocolate (apparently much more than in wine), meaning the job of a chocolate connoisseur isn't quite as easy as some may think. Time to give it a go for ourselves!
We were each given a variety of chocolates to taste, varying for high-quality dark chocolate (for many of us in the room, it was the first time we'd ever tried 100% chocolate!), to cheaper variations of milk chocolate. With each piece, we were advised to smell, observe the feel and texture of the chocolate and test how easily it snapped before popping it into our mouths and allowing it to melt on the tongue. Of course, those with a higher percentage of cacao had the stronger, richer flavour, while some variations had been infused with flavourings, which we were asked to detect for ourselves.
The evening came to a close with extra prosecco and by packaging up our ready-to-eat chocolate buttons (which had been left to set as we enjoyed our tasting) and scrumptious truffles, to take home and enjoy (or devoured on the train journey home). The cellophane and curled ribbon packaging did a fantastic job of disguising my somewhat messy creations, however, some of the guests' chocolates were true works of art!
Thank you MyChocolate for a deliciously indulgent evening and cheers to the fantastic group of bloggers who joined us for another wonderful event!

Got a sweet tooth? Check out our mouthwatering selection of chocolate experiences.
Images: Red Letter Days, Pixabay and Nicole Edmondson