Our First Ambassador Event – with Cake Boy
We recently announced that we'd started working with 5 blogger ambassadors, including Kip and Louise (more about them here.) For the occasion of our very first bloggers' event, the pair help us bring together 9 other bloggers from all corners of the blogosphere, resulting in an eclectic mix of writers on fashion, crafts, technology, family, cuisine and more besides. We could think of no better host for this special event than Eric Lanlard (aka Cake Boy), one of our favourite partners. Cue a full day of cake-based revelry beginning with a Q&A session, then a cupcake decorating class and ending with a luxury afternoon tea.
Afternoon tea is a subject close to our hearts. We can't recommend Cake Boy highly enough; the boutique and the activities it offers make for an exceptional celebration.
(And if London is too much of a trek for you, don't forget that we have the finest and most comprehensive range of afternoon tea experiences across the UK, if we do say so ourselves. Have a browse.)



Master Pâtissier Eric Lanlard is the talent behind Cake Boy, the uniquely stylish boutique patisserie that celebrates sweet treats. His dessert creations – innovative, gorgeously presented and mouth-wateringly delicious – have earned him an international reputation and a sparkling set of A-list clients. If his face is familiar, it's most likely thanks to his role as presenter on the Channel 4 TV series Glamour Puds as well as Baking Mad with Eric Lanlard, and you might have caught his appearances on The Great British Bake Off and Masterchef: the Professionals.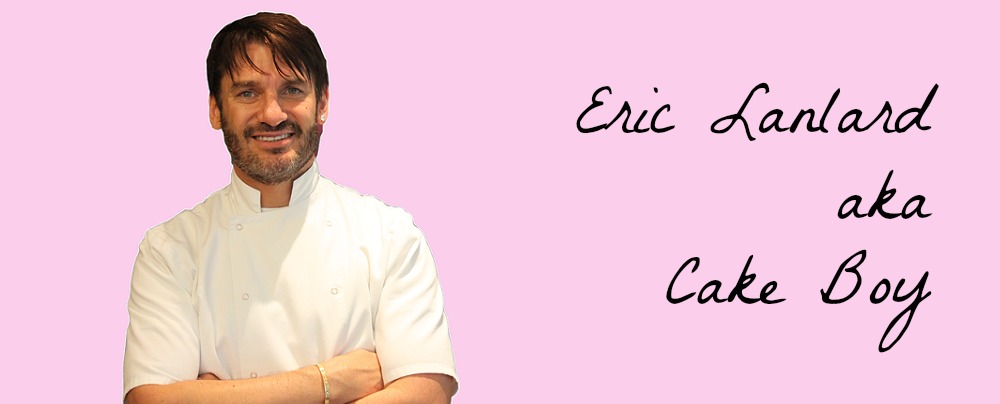 He's also a rather prolific author with 8 books to his name, including the wonderful Afternoon Tea. Eric learnt his trade in France, but relocated to London and became head pastry chef for Albert and Michel Roux at the tender age of 22. In 2005 he opened his boutique, Cake Boy.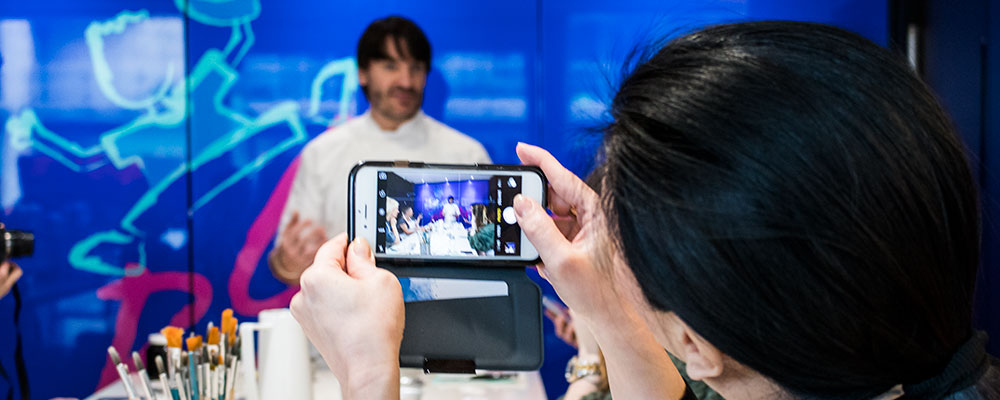 Set on the river in South London, Cake Boy is a destination café, cake emporium and cookery school that offers first-class food and group classes, which makes it popular for parties. With its bright, bold style and its counters laden with ribbon-wrapped treats, it's the perfect reflection of its charismatic owner.
Both the class, Cupcake Decorating with Eric Lanlard, and the Luxury Champagne French Afternoon Tea for Two described below are available from Red Letter Days.


It's an abnormally bright day for our event and the sun beams through the glass front of the Cake Boy boutique. Eric sits with two of our ambassadors, Kip and Louise, on the sofa against a feature wall covered in pink fairy lights. Eric, ever breezy and smiling, conveys huge knowledge and love for the art of the dessert.
To kick off the Q&A, Kip asks Eric what he believes to be the key to the perfect cake.
"Any recipe should start with good ingredients," Eric replies. "My boss used to say while he was training me, 'rubbish in: rubbish out'. The other thing is to stick to the recipe and not be too ambitious, especially when you're starting out."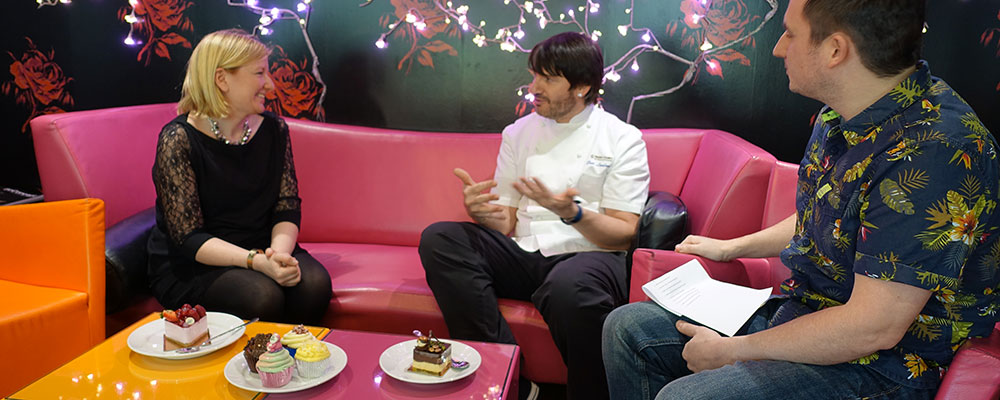 Louise asks what sort of cakes a beginner should try making.
"I would start very simple with brownies or biscuits. There are some great fridge cake recipes which are really simple for kids to do. Then you can build up to something bigger."
Next comes an important question: which cake would Eric be?
"If I was a cake I'd be my favourite dessert, tarte tatin. I love tarte tatin! It's like me: sweet, steamy and, do I dare say, juicy."
Oddly, Eric doesn't have a sweet tooth himself.
"I never had a sweet tooth, even when I was a kid. I'd raid the fridge for ham and cheese instead of sweets. What attracted me is the glamour and presentation of cakes. I love how rewarding it is. You start with simple ingredients and, before you know it you've got beautiful cakes in front of you."
But he does love chocolate, he tells us.
"As a kid I found it fascinating. I knew from early on that it was a complex ingredient. My mum says, 'trust you to choose the most expensive ingredient'. It's my guilty pleasure. And I'm not a snob; I eat the expensive stuff as well as the most basic stuff. But on the other side I also love citrus flavours."
Our blogger ambassadors ask Eric which celebrity appointment he is most proud of.
"I like to point out that all our customers are celebrities; we treat everybody the same. But I will mention that I did one for the Queen Mother. I went to deliver the cake and I met her, and it was out of the blue so nobody prepared me. She thanked me for the cake."
And what does he like to make, other than cake?
"I love simple cooking: something that can be done the day before and go in the slow cooker. It's terrible when you go for dinner at a friend's house and they're stressed in the kitchen all evening and you think, 'where is the host?' "
When Louise asks Eric about his travels, he tells us how he draws inspiration from the places he's been. To illustrate his point, he refers to the ornate cake on the table in front of them:
"These little pearls on top of the cake were something I saw in Sydney. In an ice cream shop. I asked them what they were. They're little pearls filled with lychee juice. So I came back to England and used them in my recipes. I never copy and paste. I pick a detail – such as a texture – and I include it in my recipe."
With the Q&A concluded, the rest of our blogger guests are starting to arrive…

The cupcake decorating begins. To throw in a little added pressure, Eric announces that the best decorated cupcake will earn its creator a cake stand from Lakeland. We are all setting our sights on the prize (a little competition never hurt anybody…).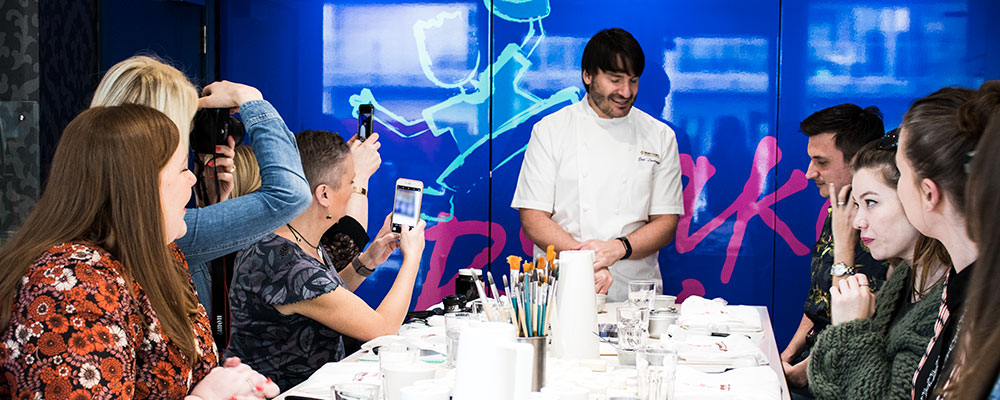 Our party of bloggers don their Cake Boy aprons and settle around the long kitchen table, where Eric explains how to create decorations using petal paste. Each person chooses five moulds. Along with the stars, hearts and traditional shapes lie templates for a gorilla, pug dogs, a male torso, lacy underwear and many more designs from the whimsical to the outright wacky.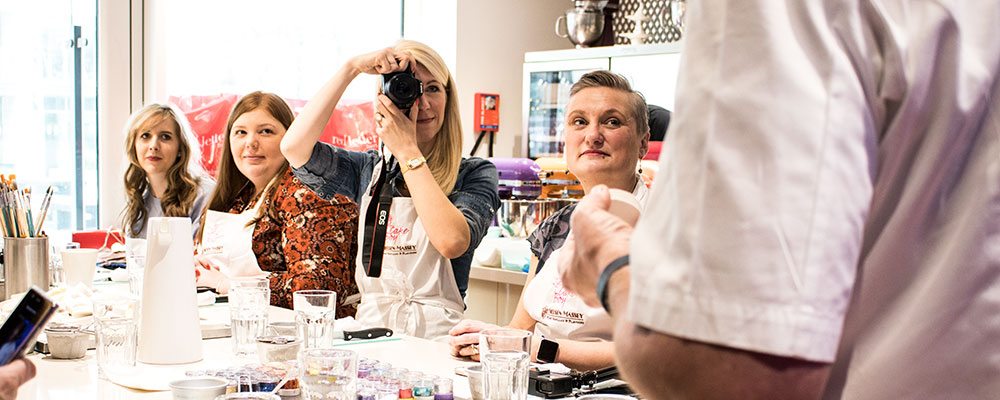 We learn how to coat the inside of the moulds with corn flour to prevent sticking. Then we fill them with petal paste, trim with a craft knife and push the creations out onto the table where they gradually harden.
Now for the messy part: paint and glitter application. Eric demonstrates with a moulded pair of lips which he paints crimson with food colouring, then douses with edible red glitter for a full-on bling effect. We do our best to emulate his technique. He's fooled us into thinking it's a doddle when in fact it's rather tricky to get the glitter in just the right place.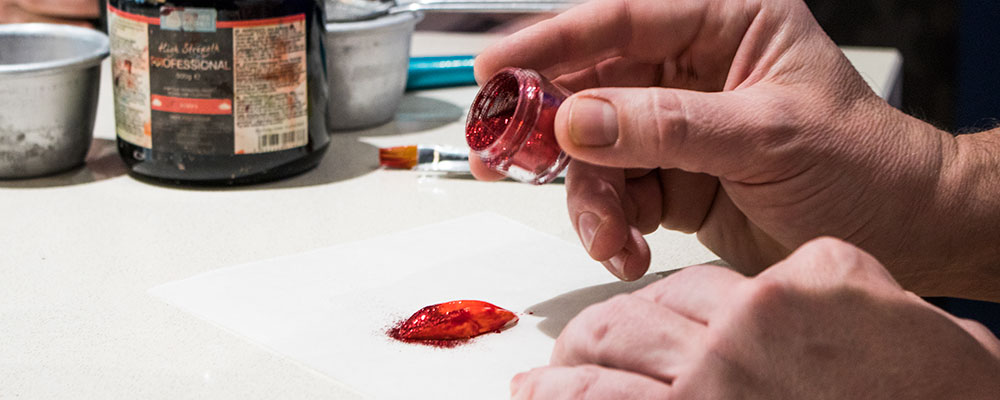 May's psychedelic glittery unicorn decoration is rather special, as are Hollie's bright yellow and black bra-and-knickers creation. The ever-stylish Dominique creates a red-soled Christian Louboutin high-heeled shoe; Sally's Mrs Potts-esque teapot is particularly elegant. Then there are Kip's two teddy bears with glittery red scarves: great to see cupcake-decorating bringing out his cuddly side.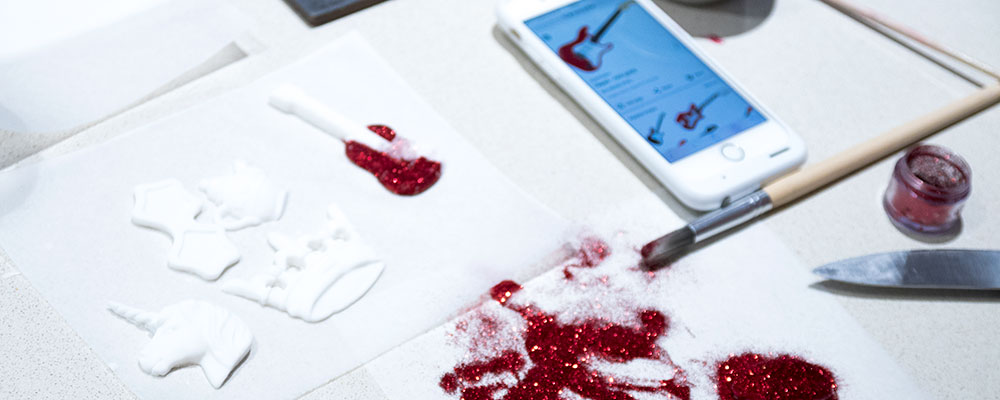 Four great bowls of buttercream and chocolate icing in various pastel colours are brought to the table and Eric shows us how to fill a bag and use it to pipe icing onto some ready-made cupcakes. We try swirling, spiking and dotting it to create different effects. Some of the bloggers are a dab hand at this. Once they're iced, we crown each cake with one of our petal paste decorations.
With the class concluded, there's not one of us that isn't stained with food colouring and dusted with glitter. Eric tells us that his staff and guests are always a little glittery, and the stuff particularly adheres to stubble.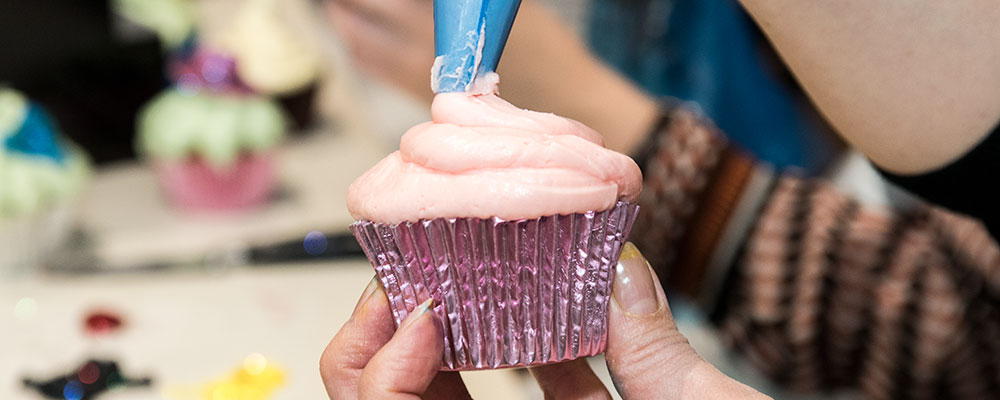 Make sure you check out some of the tweets from the day with the hashtags #CakeBoyLDN or #RLDTasters.

With the last of the glitter wiped from the table, we settle down to a sumptuous spread of sweet and savoury treats.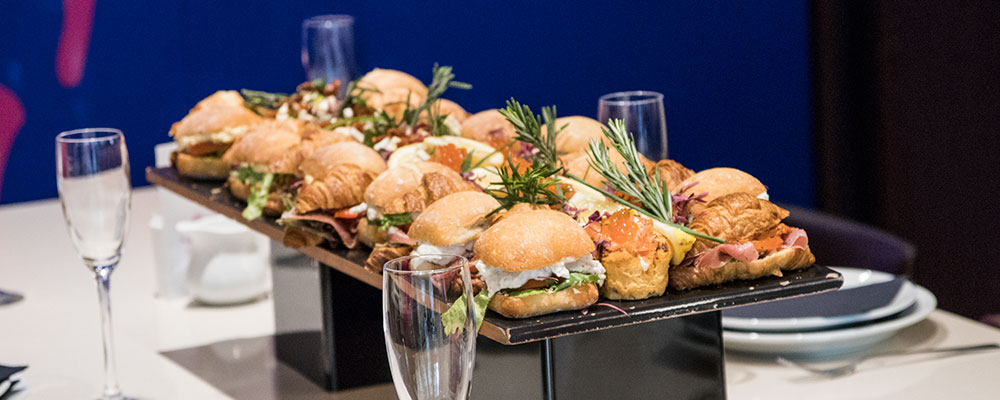 Hollie, a true afternoon tea fan, thinks Cake Boy's is a step above. It's a sophisticated affair, with filled mini croissants, french macarons in exotic flavours like Lime & Yuzu and a selection of ornate desserts.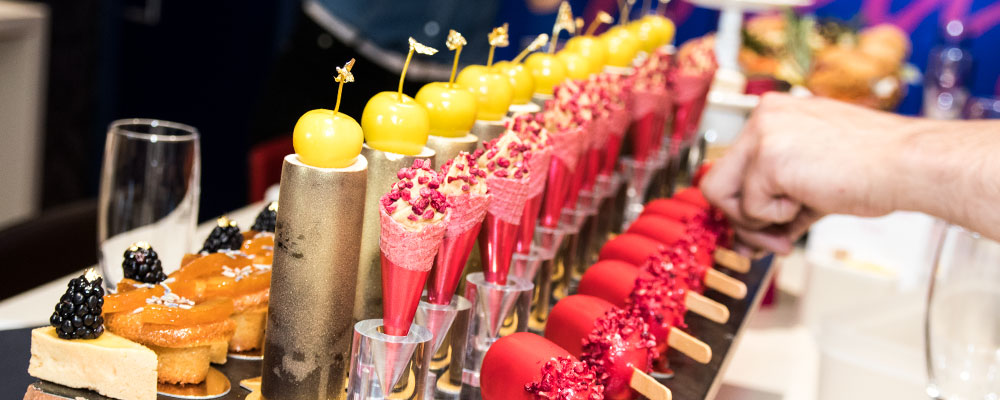 There is deconstructed tarte tatin topped with real gold leaf. There are bold red Magnums (little mousses shaped like the ice cream lollies), miniature ice cream cones and fruit-topped cakes. These are complemented by beautiful teas, either loose leaf or in posh fabric teabags. Glasses of champagne all round boost the party atmosphere.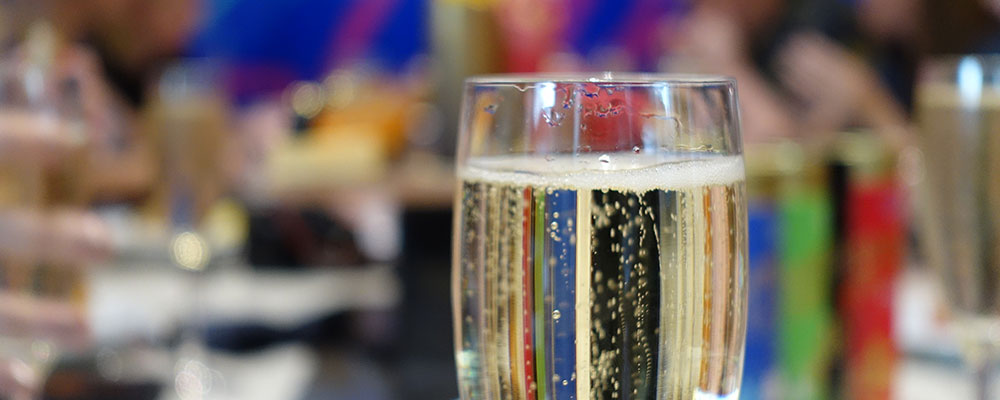 This is a wonderful chance to speak to the bloggers and find out what makes them tick. It's a great privilege to have so many interesting and creative people around one table. Afternoon tea is the perfect combination of indulgence and socialising. Red Letter Days has pretty much written the book on it, and Cake Boy's luxury champagne version ticks all the boxes. In case you were wondering, these are the boxes, outlined in our How Do You Pronounce 'Scone'? (And Other Afternoon Tea Debates) post.

There are some stunning cupcakes laid out at the end of the class. Louise's rainbow-maned unicorn is a highlight, as is Afra's regal red and gold aesthetic. Nadia's pouring teapot deserves a special mention. But there can be only one victor. Click the image below to reveal the winning cupcakes.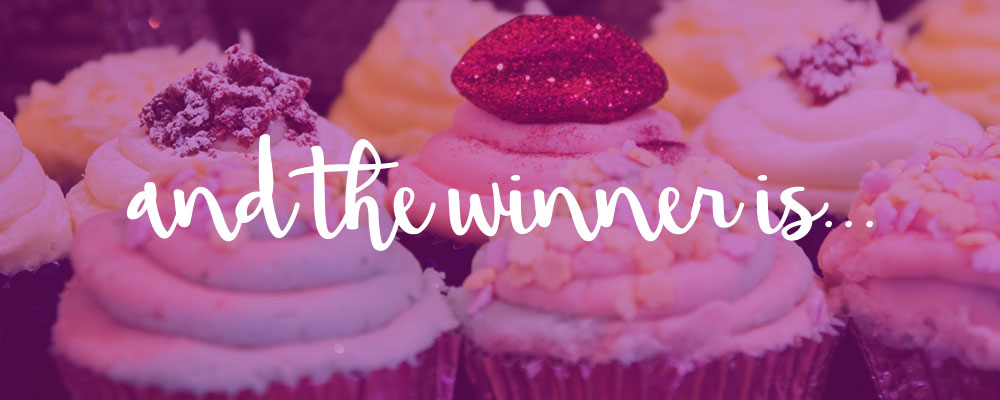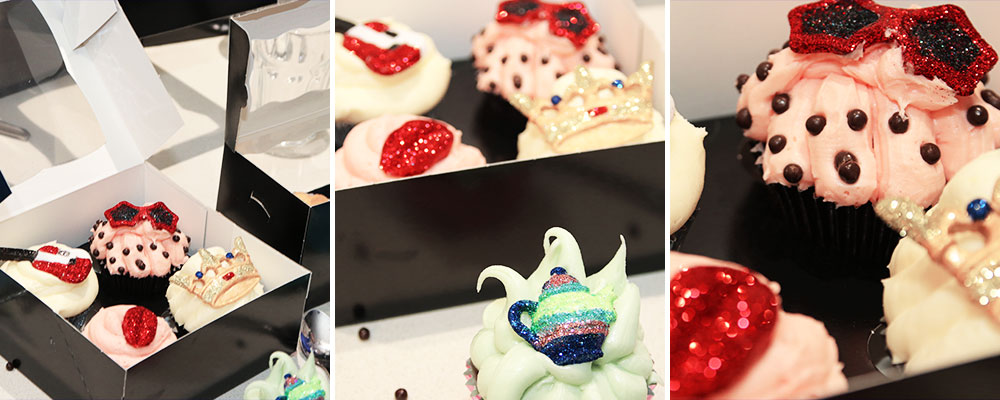 When it comes time for Eric to select a winner, the prize goes to the highly deserving Donna Vallance (LikeLoveDo.com). Her decorations are intricately coloured in and her icing is masterfully executed. Hers is a glamorous, rock 'n' roll collection that includes star-shaped sunglasses, a crown and an electric guitar. Donna is a keen scrapbooker and craft-maker, so it's no surprise she's got the skills to make award-winning cupcake designs.
It's been a sugary success of a day. Everybody files out with a signed copy of Eric's Afternoon Tea book and their cupcakes in boxes.
We're very grateful to the inimitable Eric Lanlard for hosting our first ever blogger ambassador event.  Soon we'll be planning the next one, but it's going to be a very hard act to follow.

Thanks to Dan and Eva for the photography.