Alice Fearn – An Interview With Wicked Star Actress
In celebration of Wicked's 11th anniversary, Red Letter Days caught up with the lovely Alice Fearn who stars as Elphaba, the Wicked Witch of the West. We found out what sort of things have gone wrong during performance, the kind of feedback she receives from fans and whether she thinks a witch's broom or a giant bubble would make the best form of transport.
"It's about friendships, how they create who you are today and how you can fight through adversity and come out the other side."
Weaving together clever storytelling, epic musical numbers and an unabashed riot of colour, Wicked has been putting audiences under its spell for over a decade. It puts a twist on the beloved film The Wizard of Oz, but has already succeeded in becoming a classic in its own right. September 2017 heralds its 11th year in London, proof that we just can't get enough of this tale of magic and all-conquering friendship.
You can be part of this star-spangled phenomenon thanks to our Meal and Top Price 'Wicked' Theatre Tickets for Two. Tuck into a pre-theatre set meal at a choice of restaurants before settling into top price seats to witness the show that everybody's been talking about. It's just one of Red Letter Days top-drawer London Theatre experiences.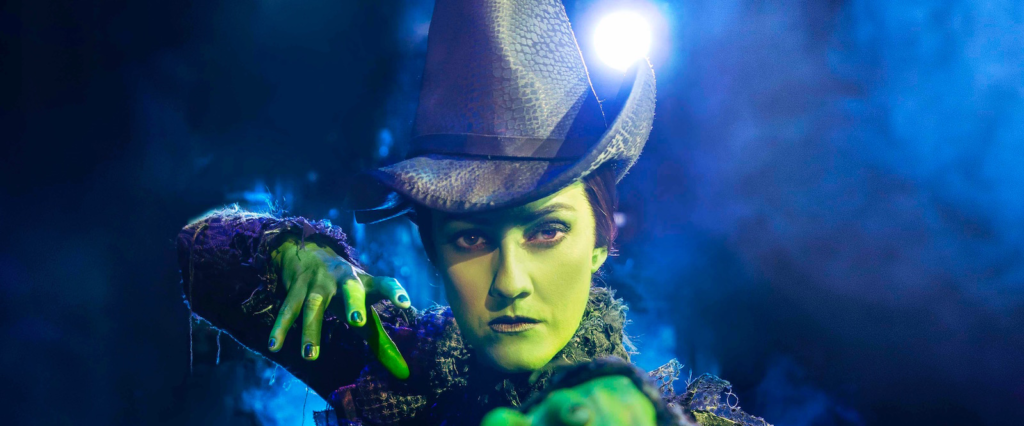 An Honest Interview with Alice Fearn
Hello Alice. Wicked is celebrating its 11 year anniversary in London. What's the secret to its enduring appeal?
It's a great story that a lot of different people can connect to. It's also incredibly interesting to see the pre-story of The Wizard of Oz, so you're seeing these two characters you think you know growing up and being what they were before. I remember when I first got the script and my dad picked it up and read it in an hour and said, "Oh my God, I love this. It's going back, it's making sense of things you didn't think needed making sense of." And for youngsters I think it connects because it's about problems they're going through today, like that element of bullying. It's about friendships and how they create who you are today and how you can fight through adversity and come out the other side of it.
Do you think Wicked sounds better in an English or American accent?
I always thought before that I connected best to it in an American accent. Now, doing it in an English accent, I think American sounds weird! I think it works really well in an English setting although it doesn't matter too much either way.
Galinda changes her name to Glinda in an attempt to impress Fiyero. What's the silliest thing you've ever done to get someone to notice you?
There's no doubt I've done plenty of things. I think I've told a couple of fibs like, "Yeah, I've done that," or "Yeah, I loved it" when I have no idea what they're talking about. I'm definitely one of those people.
Do you have a favourite character besides Elphaba?

Yes. I really, really love Madame Morrible. She's fabulous and has a great little journey throughout the show. I've always been interested in characters that have an underlying intention. I'd love to have a chance of playing her one day.
Who was playing your role the first time you saw Wicked?
It was Rachel Tucker, the first time she did it, a couple of years ago. Weirdly enough I was standby to her last year so it's all gone 360.
Could you tell me some of the things that have gone wrong in a performance?
How long have you got! I've been left onstage. Someone didn't make their entrance on time so I had a good 20 seconds on my own wandering, 'What's going on?'; my mic stopped working during the song The Wizard and I not long ago; we've had scenery and set not come on when it should.
How do you deal with that?
I say to myself, 'this is bound to sort itself out in a minute'. You've got to not let the audience know that something's gone wrong. The majority of the time the audience don't actually realise and it's you that feels it the most. There was a problem with one of the lifts and Glinda couldn't get onstage on time and I was left wandering around the stage. It felt like a lifetime for me but in reality it was 10 seconds.
Would you rather travel by broom or by bubble?
It's got to be the broom. Bubble's a bit too much for me.
Why should people come to see the show?
The way I see the show and its story is that we can get taken on a ride, thinking people are a certain way. This show is about that: the society of Oz are convinced Elphie is a certain type of person but actually you see that she isn't at all, and that people can see through all that and believe in her regardless. And that rings true in the world at the moment. You're taken down the path with things that aren't true, with fake media. Wicked's a wonderful story about a wonderful friendship. And of course it's two leading ladies in a show. After everything they're put through, friendship is the most important thing.
How long does it take you to greenify before each show?
I have to get in a bit early and it's done in two segments. I do 25 – 30 minutes at first getting all the green on and then go down to warm-up, then I come back for another 20 minutes getting everything finished. And then in the interval there's some upkeep and we go a bit further – the eyes get a bit bigger – so that's another 10 minutes. It's a constant battle to keep it on.
In 'As Long As You're Mine' how difficult is it to keep a straight face when you have to sing into Bradley (Jaden)'s face?
Me and Bradley know each other quite well because we were in Shrek a couple of years ago; we've known each other for 5 or 6 years now. Bradley's brilliant because he's so dedicated to his character and he very rarely loses his cool so if you're playing the story you don't see Bradley you see Fiyero. So we manage to keep our cool on it. We do get the odd smattering of 'whoops' that happen during that song, though, and that makes it hard to keep a straight face!
Is there anything actually written in the Grimmerie or is it just squiggles?
The pages are full of strange, weird writing that I couldn't pronounce, full of spells. They're not the same spells as I say but it does look really good.
What's the atmosphere like backstage?
I've got a really isolated track and don't get to see many people. I'm always running around different parts of backstage. But during warm-ups and the interval it's great, everyone just loves it. The majority of the cast have always wanted to do Wicked because it's the show that, over the last ten or eleven years everyone's thought, "Yeah, that's one show I really want to do", so as soon as you get a new cast in, you just find everyone's absolutely thrilled to be there so that energy comes on stage too. We all have such a blast being part of it.
Can you remember some of the best audience reactions or tweets or post-show comments?
The ones that mean the most to me are when I get private messages from people who really connect with Elphaba and what she goes through, and that they feel in some way that their life has been on a similar sort of track, and that it makes them feel accepted. It tells them it's alright to be different. That's an amazing thing.
How does it feel to first see yourself on posters around London, all greened up?
I'm still getting used to it. It's always a dream to get on a poster. It's been one of those 'yep, tick, did that' moments. I keep showing it to my mum and she goes, "that must be the most amazing feeling'". Cloud nine is where I'm sitting currently.
Thanks, Alice!
In the mood for another interview? Have a read of The Woman in Black: An Interview with Actor Stuart Fox.
Images courtesy of Wicked the Musical and Michael Wharley. Special thanks to Amelia Coleby for supplying the questions.