A Christmas Interview with a Celebrity Santa
Christmas is almost here and even though he's mega busy at this time of year, our celebrity Santa was kind enough to have a quick chat to us about the lead up to the big day. Read on for more on Christmas cheer, mince pies – and TV game shows…
Hi, how are you? Can you tell us how long you've been a celebrity Santa for?
I'm really good, thanks for asking. I have been Santa since Christmas 2010. It happened completely by accident, as every Christmas in my adult life, I had always done pantomime and that particular year it got cancelled at the last moment, so becoming Santa Claus was very last minute.
Has Christmas always been a big passion of yours?
I always loved Christmas as a child and being a Santa has stirred up the festive cheer in me all over again.
Being Santa must be a big responsibility. Do you cram everything into the Christmas period or do you work at it all year round?
Due to shopping centre Santa's always being a disappointment as a child, I find it a huge responsibility to be the magical man that I always wanted to meet. You have to bear in mind that you are dealing with childrens' (and adults) dreams and imaginations; that's why I created a genuine character who is both credible and real.
Something that I never realised is that Santa would be busy all year round. I often appear at festivals and on TV as Santa during summer holidays – I filmed a TV Christmas special this year in June and the weather was scorching!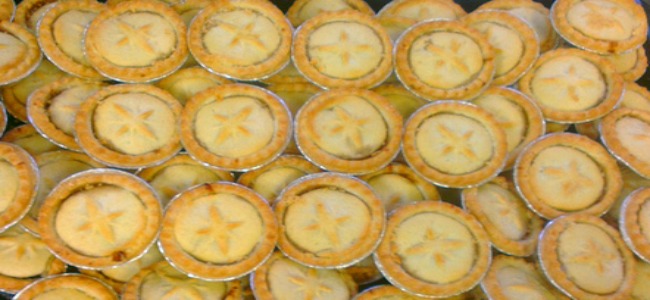 How many mince pies would you say you usually consume in the month of December?
To be honest I lose count every time, but it must be in the hundreds. When I'm filming an advert or TV special early in the year, apple pies are used as a substitute as mince pies are never available – they're just not as nice. Basically, I love mince pies!
What would you say is the very best part about being Santa?
It really is fantastic being Santa as you get to connect with people on a whole new level. It's a powerful thing to be able to make people happy in an instant; money can't buy the joy you can spread with just a few words.
…and the most challenging?
The most challenging is meeting seriously ill children throughout the year who want to meet Santa as one of their wishes. I meet such inspirational children and it's always heart breaking, but, it's a gift to be able to bring happiness to people at such a difficult time – I really am very lucky.
Over the years, what would you say is the best gift you've ever given?
A huge cheque for a children's charity that they weren't expecting!
Not too long ago you appeared on the TV game show Pointless. How did you find it?
I absolutely loved it. They didn't know what to expect and I gave Alexander Armstrong plenty of stick, plus Richard Osman loved the banter with Santa! I soon found out that it's a lot more difficult to be on TV doing a quiz than sat at home in an armchair, especially with the added pressure of being Santa Claus.
Recently I filmed a new quiz with Stephen Mulhern called Pick Me, which was great fun – and all three celebrities were absolute gentlemen.
If Rudolph and co were tired and unable to finish their festive rounds, which mode of Red Letter Days style transport (e.g. hot air ballooning, Ferrari, Tiger Moth, Segway etc.) would you use to save the day and why?
Definitely a Segway as there would be no need to land on roofs – I could just whizz straight to everyone's front door with my magic key. Segways are also good for the environment (no carbon emissions).
Finally, would you like to send everyone a Christmas message?
Whoever you are, wherever you are, have a peaceful and a joyous Christmas.
If you love Christmas, you can join in with Santa's Sing-a-long Christmas Countdown.
We would like to say a huge thank you to Santa for speaking to us and wish him the best of luck with his rounds this year.
If you still have some festive shopping of your own to do, check out our full range of Christmas gifts for the whole family and have a go at our festive Christmas quiz to find out if you are on the naughty or nice list!  
Images: RADARSMUM67 via flickr, CREATIVE COMMONS GOOGLE IMAGES SEARCH and NIGEL HARVEY