5 Urban Beaches to Make Summer Swing
The Great British Summer time can only mean one thing; it's time to fill up a cooler, pack up the car, and head to the coast for a day of fun in the sun! However, city slickers know all too well that finding the time to get down to the beach can be pretty hard. If you're struggling to get away, this post is for you! Read on to discover a selection of urban beaches that will soon see you soaking up the rays with a piña colada in hand and the sand between your toes.
BeachEast
Four years after hosting the world's biggest celebration of sports, the Queen Elizabeth Olympic Park in Stratford now celebrates all things tropical. Tucked away between Westfield Shopping Centre and the impressive Olympic Stadium, BeachEast is a little slice of paradise in the East End of London. Whether you sun yourself on the sand or cool off in the shade with a beer from Pub Tropicana, a day of laid-back bliss is guaranteed.
Camden Beach
Everyone knows that Camden is famous for its vibrant market stalls and quirky residents, but this summer it'll also be home to its very own coastal retreat. Hosted at the iconic Roundhouse near Chalk Farm tube station, there are myriad ways to sit back and relax here. There are ping pong tables available and of course lots of sand for creating sculptures and castles; there will also be a barbecue selling succulent meaty meals. Best of all, entry to the beach is completely free!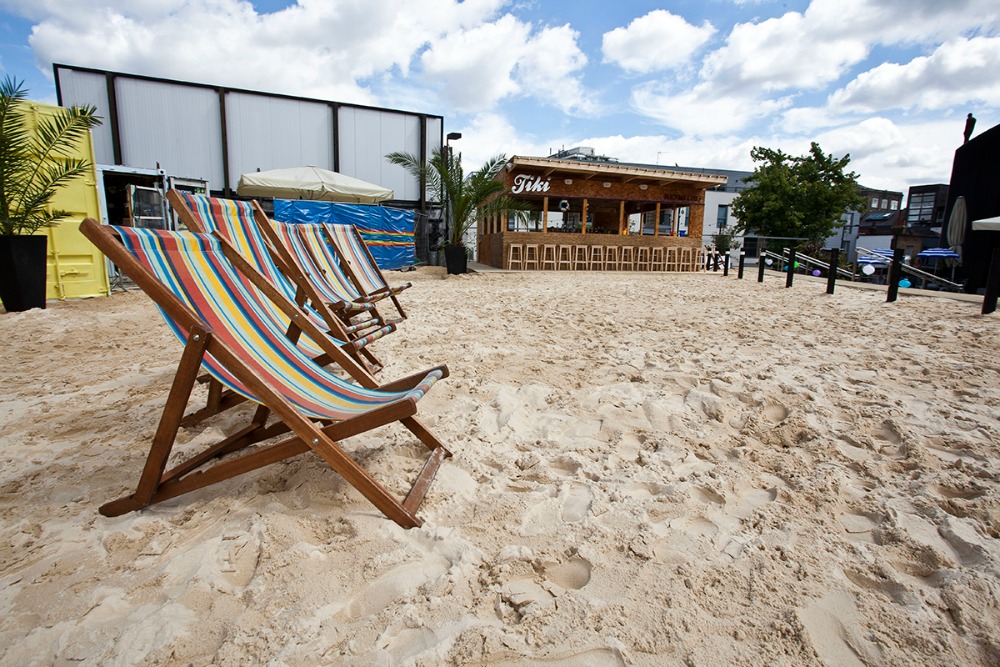 The Beach at Brent Cross
Brent Cross has long been a Mecca for shoppers looking for a liberal dose of retail therapy, but this summer it's sure to become a favourite place of pilgrimage for sun seekers too. More than 300 tonnes of sand have been shipped to the famous shopping centre, just in time for summer. There will be a host of rides as well as a plethora of shows, including Brazilian dancers and jugglers, to keep you entertained. There's even a paddling section for those who want to soak their feet.
Nottingham Riviera
Why should Londoners get all the fun? Returning for its eighth year, this much loved event has become a staple of the Nottingham calendar of summer festivities. The promenade is filled with rides, shops and eateries serving a host of delicious treats. A visit provides the whole family with activities to get stuck into including pony rides, bungee trampolines, and classic seaside game hook-a-duck. A full schedule of live entertainment is also planned with a host of local talent on show.
Costa Del Solihull
In the West Midlands, Birmingham's very own beach bonanza takes place at the ingeniously named Costa del Solihull. All of the hallmarks are here for a wonderful day, from samba dancers through to drumming workshops. Get yourself to Touchwood Shopping Centre between 9 July – 4 September to get a taste of exotic sands without having to travel too far.
With beaches popping up in the most unlikely of places this summer, you'll always be able to find a golden stretch of sand. Even if you live in the heart of the city!
Looking for something to fill your summer days? Check out our website and find a huge choice of fun days out.