Winter Warmer Recipes: #MeatFreeMonday Edition
With winter well and truly knocking on the door, it's time to prepare with nights tucked up on the sofa, hot chocolate and fabulously fluffy socks. After all, who wants to be out in the Christmas chill? There are plenty of ways to stave off pending ferocious frosts (hot toddy, anyone?) but surely a tummy-thawing meal is top of the list. From roasts and casseroles to family-friendly one pot meals, festive recipes are notorious for being cheery, carby and chock-a-block with hearty ingredients!
In honour of #MeatFreeMonday, in the first of two recipe posts, we want to share our top vegetarian winter warmer dishes (because it's important to keep your strength up when the elements are against you!). This time we're including tasty ideas from one of our illustrious cookery schools and some favourite foodie bloggers, so read on for ideas to ignite your culinary creativity. Our top tips for perfect meat-free cooking mean that this Christmas, you can properly impress foodie friends and family with a variety of vibrant vegetarian fare. You're welcome!
While this isn't a traditional Christmas recipe, the chilli running through these fragrant pakoras is certain to get the blood pumping and temperature rising! Easy to eat and packing a flavour punch that beguiles their size, they also make superb festive party food. If this recipe tantalises your taste buds, then why not visit the Seasoned Cookery School for some expert culinary lessons? They run some fabulous classes, including a One Day Baking Masterclass and Best of British Cookery Course.
Makes 12 
Preparation time: 20 minutes
Cooking time: 20 minutes
75g gram (chickpea) flour
½ tsp ground cumin
½ tsp turmeric
½ tsp ground coriander
pinch of garam masala
¼ tsp garlic paste
¼ tsp ginger paste
¼ tsp chilli powder
Small handful of fresh coriander, chopped
½ fresh green chilli, finely chopped (optional)
1 courgette, diced into 1cm cubes
1 small potato, peeled and cut into 1cm cubes
Small handful of green beans, chopping into 1cm pieces
Salt to taste
Up to 100ml of warm water
¼ medium onion, finely sliced
Vegetable oil for frying
In a large bowl mix together the flour, spices and paste then stir in the fresh coriander.
Add the vegetables to the bowl and mix together.
Slowly add a little of the warm water to the bowl to form a batter that coats the vegetables well (batter should have a similar consistency to double cream) then set the bowl aside.
In a heavy-based frying pan add enough oil to cover the base by an inch and put on a high heat. Drop a small amount of batter into the oil, if it starts sizzling instantly the oil is hot enough. Reduce pan to a medium heat for cooking the pakoras.
Add dessert spoonfuls of pakora batter mixture carefully into the oil. Only cook a few at a time. Overcrowding the pan will make the oil temperature drop and the pakoras won't cook as well.
Fry gently, turning over occasionally until golden brown in colour. This usually takes about three minutes.
Remove the fried pakoras with a slotted spoon and place on kitchen paper to drain before transferring to a serving dish.
Either serve straight away with a chilli yoghurt dipping sauce or keep warm in a low oven (80°C) until ready to eat.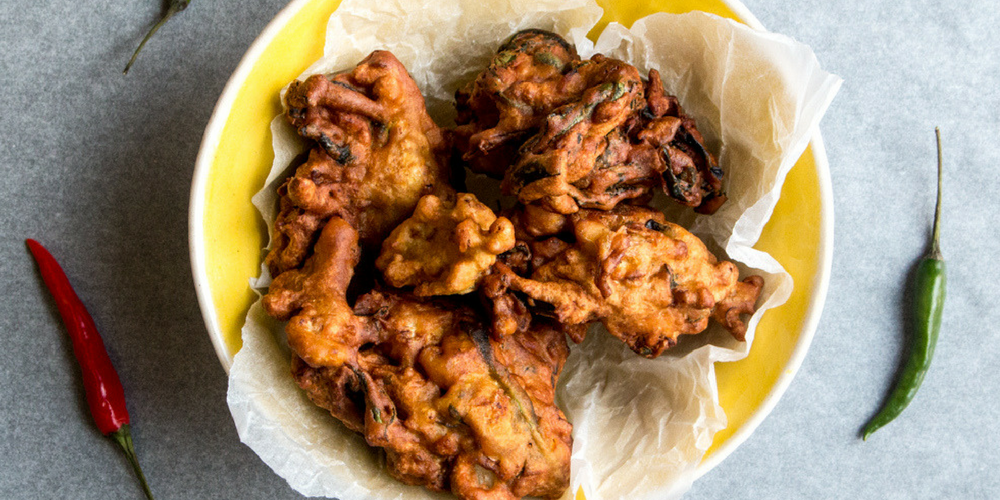 BLOGGER FAVOURITES
After perusing the web and doing some in-depth, very serious research (and by research, we mean drooling over photos of food on Instagram for half a day – don't tell our boss) we pulled together some of our favourite vegetarian recipes. Created by some talented foodie bloggers, each dish is the ultimate Christmassy comfort food.
Izy Hossack, founder of Top with Cinnamon, features plenty of delicious recipes on her mouth-watering blog, including vegetarian, vegan and gluten-free meals. Her top tip for making plant-based dishes really pop is to…
Include lots of different textures and flavours to make things interesting e.g. sprinkling on toasted nuts or croutons to add crunch.
Her advice is evident in her own gorgeous dishes, particular our pick, her Creamy Cauliflower, Mushroom and Kale Pasta Bake! With breadcrumbs on top and a sprinkling of parmesan, it's both crispy and creamy; perfect festive food.
Because pasta is life (don't argue), we also feel a very strong need to shout about this deliciously hearty Roasted Vegetable Lasagne from Charlotte's Lively Kitchen. Charlotte advises to…
Roast the vegetables as it gives them lots of flavour and adds a different texture to your dish.
If you liked these recipes, part two is coming soon! Meanwhile, we even have tips on what to do with your Christmas leftovers and a delicious alternative Christmas cake recipe. For those who are thinking further ahead, check out our very own detox ideas for January (perfect to off-set the festive indulgence).
Tune in next Monday for our Winter Warmer Recipes: part II!
Image credits: Seasoned Cookery School, Top with Cinnamon and Charlotte's Lively Kitchen.