Alternative Christmas Cake Recipe from Seasoned Cookery School
For many, one of the integral elements of Christmas is the Christmas cake; however, its safe to say that not only does baking a Christmas cake take a lot of time and effort but a traditional Christmas cake is not always a hit with everyone! Last year, during our Christmas taste test, the Christmas cake was the least favourite of the Christmas treats we tried. To make sure you've all got a popular Christmas dessert this year, we spoke to Seasoned Cookery School about a delicious alternative Christmas cake and their clementine cake sounds like the perfect treat!
Clementine Cake
Serves: 8 – 10 people
Preparation Time: 2 hours
Cooking Time: 45 mins
Ingredients:
6 clementines
50g of butter
50g  of light brown soft sugar
6 large eggs
1 teaspoon of baking powder
220g of caster sugar
250g  of ground almonds
To decorate (optional):
The seeds of 1 pomegranate and spiced berry cordial
Method:
1) Take 3 clementines and pop them in a saucepan with cold water, bring them up to a simmer and cook for 1 and a half hours. This may seem like a long time, but the smell will be lovely and the result is well worth it.
2) Drain and then blitz in a food processor to form a smooth pulp.
3) Pre-heat the oven to 180 degrees and line a cake tin with baking parchment (ideally use a loose bottomed tin).
4) Slice the remaining 3 clementine's into slices and arrange them in the bottom of the lined cake tin.
5) In a small saucepan, melt the 50g of butter and the light brown sugar until a soft caramel forms, this should take approximately 2 – 3 minutes. Remove the saucepan from the heat and allow contents to cool slightly, before pouring the mixture evenly on top of the clementine slices in the cake tin.
6) When the clementines are ready, add all the cake ingredients to the clementine pulp and blend in a large food processor. If you don't have a food processor and are chopping the clementine by hand, simply beat the eggs, add the sugar followed by the almonds and baking powder. Finally add the blitzed clementines.
7) Spread the cake mix into the tin, on top of the beautifully sliced clementine and the caramel.
8) Bake the mixture in a hot oven for 45 minutes to an hour or until a skewer comes out clean.
9) Remove the cake and allow it to cool, before inverting onto a wire rack or a cake stand.
10) When the cake is cool, decorate with pomegranate seeds and heat a bit of the spiced berry cordial (if desired) and pour on top to really bring out the colour.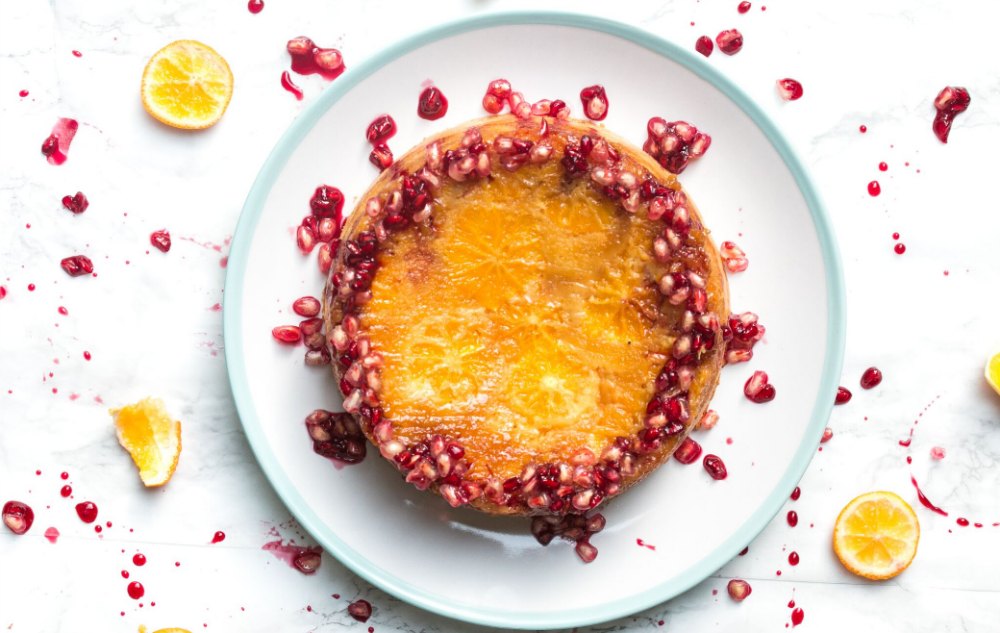 What is your favourite Christmas dessert? Fancy having a go at making this Clementine Cake, why not share your creations with us on social media!