Red Letter Days Goes Piaggio Ape Racing
It's no secret that we're mad for motors. The roar of a supercharged engine accelerating out of a corner or the mental gymnastics of negotiating a quad bike trail are our idea of nirvana. Which is why we offer around 500 Driving Experience Days.
But as the gifting experts, we also know the importance of the niche, the unique, the intriguing. That's why we are proud to offer Piaggio Ape Racing. Go-karting is exhilarating, but ape racing is something completely different. After a go in one of these charming three-wheelers, you'll have a new story to tell, a fresh perspective on track driving and a brand new notch on your motoring tally.
An intrepid team of us took to the electrifying Rye House track to try out these singular vehicles. Among our number were Tom Howard aka The Gentleman Racer, and car superfan and TV/radio personality Emma Walsh.
What is a Piaggio Ape?
An export from our stylish Italian cousins, the Piaggio Ape (pronounced ap-ay) is a lightweight, three-wheeled vehicle that uses a scooter engine. The Ape has enjoyed continuous production since its first incarnation in 1947.
Elsewhere, these beguiling little vehicles have been renovated in pretty pastels and put to other, more sedate uses: selling burgers, ice cream or prosecco at festivals or on-street.
For the Rye House experience, a fleet of Apes has been upgraded to racing specification and each boasts the addition of stabilisers, which prevent them from tipping over when taken a little too over-zealously around a corner. A driving licence is not required to drive one around a track and it's relatively easy to pick up the controls.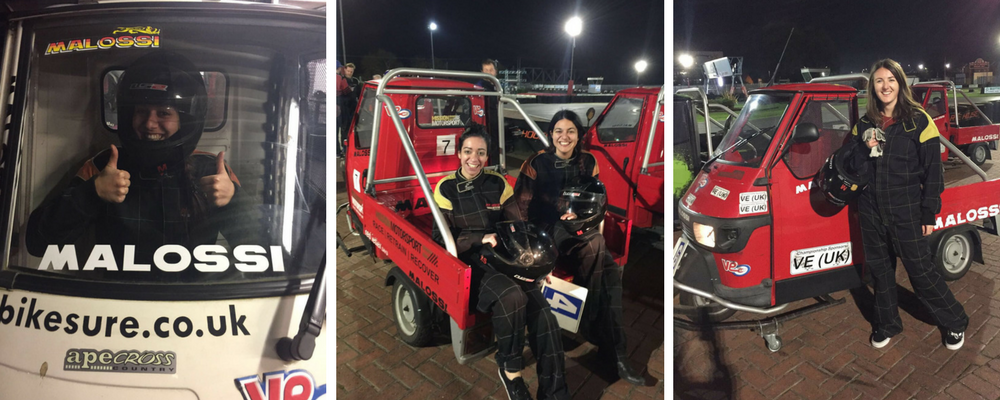 What's it like to drive?
The Piaggio Ape has a top speed of 35mph. That said, with so many of them navigating the track's twists and straights at once, it seems a lot faster.
We split into teams of 2, took to the floodlit circuit and proceeded to perform our practice laps for 20 minutes, getting to grips with the scooter handlebars, clutch and gears. Those of us who didn't pick up the knack right away found that we ended up stalling a lot, but that things improved tenfold once we were on our way. Then it was time for a proper Le Mans start, with the starting drivers running across the track, jumping into their designated Ape and setting off down the track towards victory. The second driver in each team of 2 waved a placard when they were ready to take over, and driver #1 headed back to pitstop to swap over.
Corners were a little hairy, until we realised that the stabilisers around the front and sides prevented the Ape from falling over.
Then there was the noise. It's no wonder that 'ape' means 'bee' in Italian. The buzzing that filled the track, intensifying with each gear-up and acceleration, sounded exactly like an angry swarm.
Who won?
The chequered flag waving and the race complete, it was time to head upstairs to check the scoreboard and hear the final results.
Dan and Eva took third place with 23 laps and a time of 1 hour, 12.05 seconds. Jon and Martin were incredibly close runners-up with 23 laps in 1 hour 13.468 seconds, but they were pipped to the post by petrol heads Tom and Emma, with a super-speedy time of 1 hour 13.461 over 23 laps.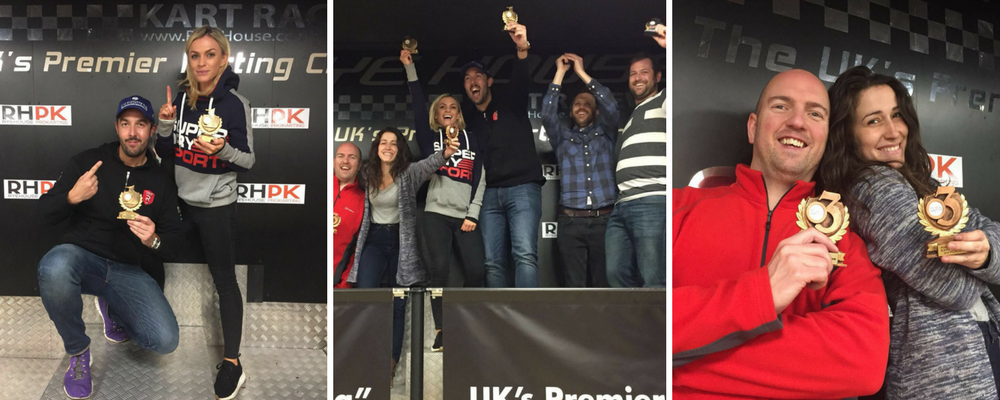 The heroic six received their trophies and took their places on the podium to rapturous applause.
I've driven all sorts of supercars, 4x4s, quads and even a fire engine, but nothing compares to the fun of jumping in an Ape and launching it around the Rye House circuit. This is proper bumper-to-bumper racing and all the drivers had Cheshire cat grins the entire race. We all can't wait to do it again!
– Jon
What else is important to know?
Minimum age is 16.
Minimum height is 4′6″and maximum height is 6'6".
Maximum weight is 18 stone.
This experience is unsuitable for anyone with back or neck complaints or for pregnant women.
It lasts around 2 hours, with a total of 1 hour on the track (30 minutes of hands-on driving per driver).
Unlimited numbers of spectators are welcome to cheer you on and can use the cafe and clubhouse facilities on-site.
A racing suit and helmet are provided on the day. Please wear flat shoes. Scarves are prohibited when driving.
For a more detailed look at what this unique vehicle can do, take a look at our video below.
Liked this? Let the little ones in on the action with Junior Karting at Rye House: mini folk in mini go-karts; mega speed.
Still want more? Check out our blog post on A Silverstone Single-Seater Experience chronicling blogger Adam's white-knuckle track day at one of the UK's most iconic circuits.
Images courtesy of The Gentleman Racer. Others are Red Letter Days' own.