Red Letter Days is counting down to our annual Willow Week which starts tomorrow, in support of longstanding charity partner, Willow. You can get involved by buying one of our experiences in the famous red box and for every box sold, we shall donate £1 to Willow.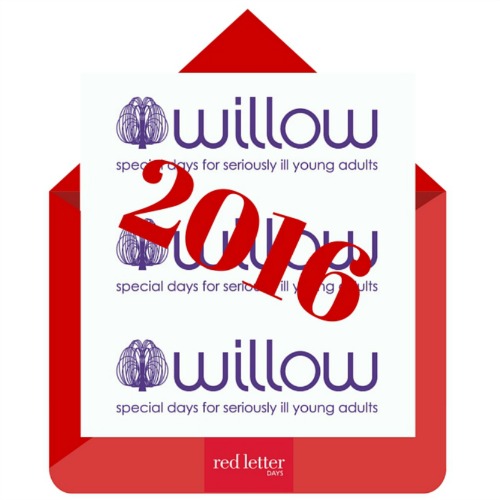 Who is Willow?
Willow is the only UK charity providing life changing Special Days to seriously ill 16 – 40 year olds
Willow has provided 12,325 Special Days
For more information on Willow and the great work it does, check out this short video
  Red Letter Days and Willow
Our charity partner since 2011
The amount of money we have raised (so far) for Willow is £20,702.00
This year for Willow, we have teams competing in Hertfordshire 100 bike ride, Willow Warrior mud run and the Willow 10K annual run around Hatfield House
Donate to Hertfordshire 100 bike ride
Donate to Willow Warrior 2016
What is Willow Week 2016?
Tuesday 26th April – Tuesday 3rd May is our official Willow Week for 2016, now in its 5th year. We'll be donating £1 to Willow for every red box we sell this week. We always give you a choice of packaging, and envelopes and eVouchers ARE still available. But the red boxes are the stars this week so please consider this gifting option to join in with our cause.
What makes it all worthwhile? Seeing the results!
Help us to make Willow Week 2016 as big a success as in previous years, by visiting our website and buying an experience in our famous red box!