Whisky Tasting at East London Liquor
Bringing spirits production back to London's East End after more than a century, we are reinstating an industry back to its roots.
~ East London Liquor Company
Whisky: revered by some, misunderstood by others. Cradled in the hand of many a movie villain before a roaring fireplace; quaffed with Coke by teenagers; prescribed by grandmotherly types for everything from pain management to digestive aid. What is it that sets 'water of life' apart from other spirits and what are the secrets to appreciating it? One of our most engrossing gift experiences, Whisky Lover's Tour and Tasting at East London Liquor Company, seemed the right place to start in our pursuit of answers.
Just one of our many legendary Food and Drink Experiences, this whisky tour takes place in Bow, London, and offers options for one or two people. It's a unique chance to become immersed in the whole whisky-making process, from grain to finished tipple, and to learn some out-of-the-box trivia at the same time.
A select three from Red Letter Days were invited along to experience things for ourselves. It was a tasty and educating eye-opener we'd heartily recommend.
A Warm Whisky Welcome
Arriving at the distillery, we were met by tour manager Alex, the chap who was to show us around and lead our tasting session. He invited us to take a seat in the brass-trimmed bar room where we got things started with an Old Fashioned cocktail. The copper stills of the distillery, in all their curvaceous splendour, were visible through the glass behind the bar.
The Brewing Room
Whisky making begins a bit like beer production, with the brewing of grains and the addition of yeast. We began our journey in the brewing room (a brand new section of the tour), where rye and malted barley fermented in vast tanks. We were able to climb ladders to peer into the tanks and see the wort within (the liquid extracted from the mashing process).
Alex gave us each a sampling of 'Brewer's Breakfast', just fermented grains and water, so we could taste the product at this stage. Straw-coloured and opaque, it tasted very sweet and was really rather quaffable. A little like a crude beer, Alex explained, ranging in strength from 8 – 10%.
The Distillery Room
Next stop, the distillery room, where the towering copper stills claimed most of the space. The brightly sheened vessels act like kettles. The steam jacket fills with steam and the spirit within evaporates. Distilling essentially means 'separating'. East London Liquor Company completes this action twice, creating a twice-distilled spirit.
The copper material isn't just used because it's attractive (although it really is very pleasing on the eye); it's important as it strips out sulphate. This has a massive effect on flavour. (The shape of the still is also a factor in the resulting flavour.)
FUN FACT: IN SCOTLAND, THE SPIRIT LEGALLY HAS TO BE DISTILLED IN COPPER IN ORDER TO BE CALLED SCOTCH.
The liquid that comes out at the end of the distilling is known as low wine. It's not quite whisky yet…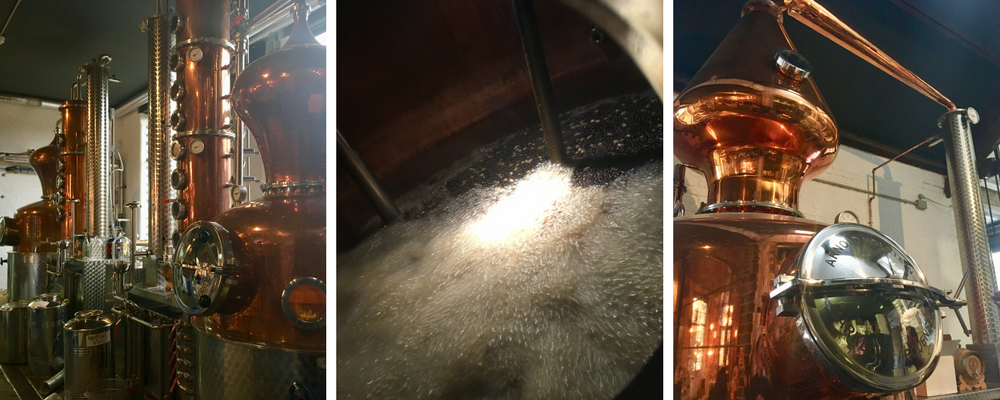 We tried some of East London Liquor Company's London Dry Gin during its making process, which was an eye-watering 80%, but still beautifully flavoursome. It had been distilled but not yet watered down; the completed process sees London Dry at 40%. The components of this spirit include 100% British wheat spirit infused with coriander, cardamom, grapefruit peel and more. We plunged our hands into a fragrant tub of dried juniper berries and had a good sniff of the raw ingredient.
The Maturation Room
Descending below the brewing and distilling rooms, we came to the maturation room. The quiet and cosy space was lined with casks, the whisky within gradually maturing and gaining colour, ready for an unveiling months or years in the future. We learned that the distilling process lasts for a minimum of 3 yrs in the UK and that every combined factor – from the age to the distillery to the type of cask – is chosen with care.
FUN FACT: A GOOD BARREL CAN LAST ONE HUNDRED YEARS AND MATURE FOUR BATCHES.
So what's the best way to drink whisky? Alex stressed that there's no wrong way, but appreciate it best neat, with a little water added if needed. He noted that whiskies can evoke different tastes for each individual, and we found this emphatically to be the case during our tasting session.
The range of whiskies on this tasting experience changes, but here's a peek into the ones we sampled.
We began with The English, a 43% whisky. Alex instructed us to take a first sip, swish it around our mouths and let it burn, even though that might be unpleasant. That way the palette is ready to really taste the whisky on the second sip. We warmed up the liquid to release the aroma by cradling the glass in our hands. Taking a second sip, Alex then performed a winsome impression of a fish as he demonstrated how to open and close the mouth to let the air in, allowing the flavours to show themselves.
Next was Teeling Whiskey, an award-winning Irish whiskey (hence the added 'e') at 46% alcohol content. After that: West of Kentucky Bourbon. This one was younger which contributed to its sweeter taste. We learned that Bourbon must be at least 51% corn and matured in new American oak (virgin oak gives the product a darker colour).
It's impossible to scientifically match the taste of whiskies, Alex tells us. Even the height of the stills they're distilled in is a factor, as are the casks, which come from individual trees. Learning this makes it easier to understand the sacredness that some ascribe to whisky: each bottle is unique and defies prediction.
Tasmania, India – plenty of countries are making whisky. But Japanese is one of the spirit's rising stars. Their whisky pays homage to Scotland, which explains why it's spelt without an 'e', as in Scotch whisky. The Japanese tipple we tried, Nikka Coffey malt whisky, was my favourite of the day's offerings. It was 45% and gave me hints of grapefruit. By contrast, Simon found it 'earthy'.
Sonoma County 2nd Chance Wheat Whisky is matured in a refill cask and is 47%. For Andy, its wheaty tones summoned memories of a day out strolling through fields of hay.
It was on a Sunday in August last summer when we decided to walk out of the house and explore the local fields (and play on the hay bales) that had just been harvested. It was just a beautiful summers day and the air was thick with a freshly cut wheat aroma, and the combines were still hard at it in the distance.
~ Andy Ling
We moved on to Sonoma County Rye, a 48% spirit from California, which was warm and complex. Next up was Octomore, the only Scotch of the day. All three of us found this the most challenging tipple. With more than 160 ppm (the measurement of phenols, which determines its peatiness), it was incredibly peaty. Even the bottle was imposing. Perhaps this is one I'll come back to when my whisky appreciation journey is a little more evolved.
To round off the eight-strong whisky smorgasbord, we sampled East London Liquor Co's London rye, their new-make blend. As it hadn't yet been put into cask it wasn't technically a whisky, and was completely clear in colour.
We learned that whisky tasting is a personal experience. The flavours and memories one person picks up may be completely different to somebody else's. And with so many whiskies being produced across the globe, there's potentially a perfect whisky out there for everyone. Our visit to East London Liquor Company was atmospheric and genuinely eye-opening. But it was tour manager Alex's energy, extensive knowledge and genuine passion for whisky-making that really made the outing.
As part of a tribute to Robbie Burns, we've published a delicious couple of whisky cocktail recipes though we say it ourselves. Why not give one a try?
What Else Do I Need to Know About this Experience?
Availability: The tour takes place on Friday and Saturday afternoons and evenings. It's best to book 4 – 6 weeks in advance to ensure that dates are available. All bookings are subject to availability.
Age restriction: Guests aged 18 and over are welcome.
Duration: Expect to spend an hour and a half on the full experience.
Dress Code: Sensible shoes are recommended.
We can't recommend our whisky tasting tours enough. But if wine's more your thing, you might like to read about our visit to Chapel Down Winery, otherwise known as A Lesson in the Art of Sabrage.
Images are Red Letter Days' own and courtesy of East London Liquor Company.