RLD's Top Five Healthy Cookery Courses
With Christmas now out of the way for another year, the last thing you may want to think about is cooking and eating, but here at RLD we've got a healthy new year start covered. Here are our top picks for healthy cookery courses.
Gluten Free Cooking and Baking at The Cookery School on Little Portland Street, London
Following a gluten-free diet or do you have a gluten allergy? The ideal experience for you is this special cookery class at the award-winning Cookery School on Little Portland Street. The class is filled with hints, tips, and a horde of great recipes that are full of flavour and most importantly free from gluten!
Create a host of succulent dishes including chickpea gnocchi, mushroom ragout, fish cakes and a spicy chilli sauce. Make impressive gluten-free desserts such as a hazelnut and carrot cake and an upside down berry cake and leave with a whole repertoire of gluten-free recipes. But, if all the new recipes alone aren't enough to tempt you, bear in mind guests sit down to a gluten-free breakfast and lunch.
Healthy Eating Dishes with Iain Baillie at SEASON, The Exclusive Cookery School at Lainston House in Hampshire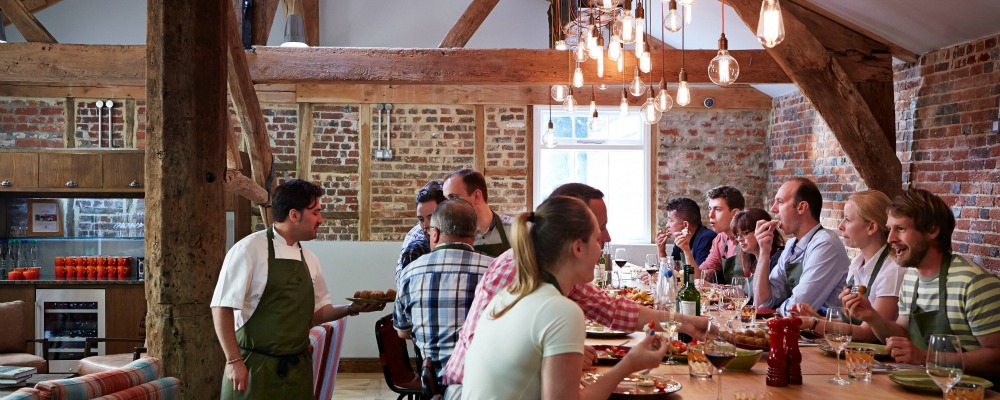 Head to the beautiful Lainston House in Hampshire and experience a cooking course with Season, The Exclusive Cookery School. This place of learning was born out of a passion for food and dining and prides itself on offering a fun and relaxed setting in which to learn new cookery skills.
Having welcomed in another New Year with the promise to yourself of a healthier diet, this healthy eating course is a great way to start. Prepare, cook and eat a three-course lunch consisting of leek, celeriac and mussel broth followed by baked breast of chicken piri piri with winter bean stew, and finish off with rhubarb and pecan crumble with yogurt ice cream. Interested? Healthy, heavenly food really CAN taste this good (and not a soggy sprout in sight). The healthy eating course offers culinary advice and creative ideas to prepare guests for a positive start to 2016. Course chef Iain Baille's ethos on healthy eating is very simple; use the best possible ingredients available to you and make sure they are nutritionally balanced with the correct measures of protein, carbohydrates and vitamins.
Knife Skills the Roux Way at Cactus Kitchens in London
Head to Michel Roux Junior's cookery school and test out your knife skills the Roux way. Taught by one of his in-house chefs, this half day knife skills class covers a host of essential techniques and is as healthy as cookery courses come!  Concentrate on learning the skills of two vital knives – a cook's knife and a paring knife.
Ciana from Red Letter Days has done this experience (can you guess which one she is in the video?), really enjoyed it and can now confidently chop, slice, cube and julienne any vegetable you put in front of her!
Vegetarian Cookery Class at Brompton Cookery School in Shropshire
Head to the
Brompton Cookery School
and take culinary skills to the next level. The expert tuition takes place in a really friendly environment, putting everyone at ease. A haven for vegetarians and meat eaters alike, discover some wonderful vegetarian options and be inspired by the chef with some fresh, new, different and delicious healthy dishes. The class helps expand your range of recipes and introduces some wonderful vegetarian meal options you may never have considered.
As well as enjoying chef demos, guests cook two or three dishes in the morning then sit down to enjoy the spoils.The healthy cooking continues and further tasty healthy creations can be taken home at the end for everyone to enjoy.
Health and Wellness Masterclass at Daylesford Farm in
Gloucestershire
Enjoy one of the health and wellness masterclasses at Daylesford Farm in Oxfordshire. Health and wellness  has always played a major role in the way that Daylesford think about food, whether it's simply choosing the freshest, seasonal vegetables from their market garden for an unforgettable salad or using our organic, free ranging chickens to make nutrient-dense bone broths. Daylesford Farm understand the importance of great food to support a healthy body and soul.
Enjoy one of the farm's three hour masterclassess including Bone Broths, The Raw Kitchen, Cold-Press Juicing, Cooking with Ayurvedic Insights and Cooking without Gluten and Sugar which all have a firm focus on health and wellbeing.
See? Being healthy doesn't have to be a hardship. If all this talk of cookery courses has got your tastebuds tantalised, head to our website to see our full range of gourmet courses.
Images and videos:  RLD.