We're Celebrating: 110 Years of The Tour de France
This year marks the 110th anniversary of the Tour De France. Just like its terrain, this coveted bicycle race has seen many ups and downs since beginning in 1903, making it one of the grandest and most anticipated annual spectacles in sporting history.
To celebrate the Tour de France's 110th birthday, we thought we'd share five interesting facts you may not already know about the race…
1. During the course of the tour, an average rider will burn a total of 123,900 calories (based on a 5,900 per day average, over 21 days of racing).
2. In 1947, cyclist Albert Bourlon achieved the tour's longest solo breakaway, leaving his fellow competitors behind for an astonishing 253 km.
3. Although recently steeped in controversy, the fastest average pace over a whole tour was attained by Lance Armstrong with a speed of 40.276 km.
4. The tour's worst ever number of finishers was in 1919: 69 cyclists started and only 10 managed to see it through to the end!
5. With a triumphant victory in 2012, our very own Sir Bradley Wiggins is the first ever track cycling Olympic gold medallist to have won the tour.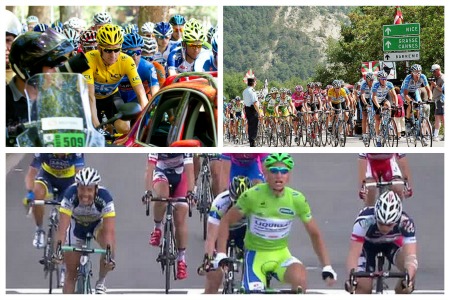 This year's Tour de France wraps up on Sunday and with that being said, we'd like to wish all of the remaining competitors the very best of luck on the final two stages of this gruelling event.
For more on two wheeled racing action, check out this post on the time we took part in Willow Bike Ride Hertfordshire 100.
Who is your Tour de France cycling hero?
Images: fxgeek, Joe Shlabotnik, scarlatti2004, Michael Ziemann and Robert King via Flickr.