Got a Head for Heights? Try These Sky High Experiences…
Ever since the Wright Brothers pioneered the first human flight in 1903, people have been taking to the skies in the name of travel, fun and a good old adrenaline rush.
In fact, 78 years ago today on 11th January 1935, the US pioneer Amelia Earhart started her flight across the Pacific from Honolulu in Hawaii to California, and in doing so, became the first ever person to complete the estimated 2,400-mile flight without a co-pilot. By this time, she was already the first woman to fly across the Atlantic – it's fair to say her story makes for a pretty inspiring read.
While flying across the Pacific might be something you'd rather leave to a jumbo jet, you can still get a taste of the high life without shelling out for a holiday or, well, your own private plane. So if you fancy viewing the world from above, here are some suggestions…
Play at Being a Co-Pilot 
Embark on a 30-minute flight in a two to four-seater training aircraft. With a qualified instructor to show you the ropes, not only will you discover new planes, but if the pilot thinks you're up for it, you might get the chance to control the aircraft yourself (goggles and scarf optional).
Leap Out of a Plane
If it was your New Year's resolution to be more adventurous, then this adrenaline-pumping skydiving experience should be high on your bucket list. You'll be securely strapped to a trained instructor before jumping from a plane at 10,000 feet. After 30 seconds of freefall, gently float through the air while taking in spectacular views of Wiltshire's lush countryside. You never know, it might even become a new hobby…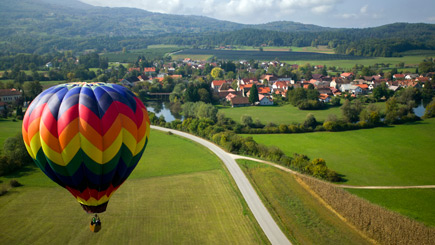 Fly in a Hot Air Balloon
Granted, falling to the ground at 120 mph isn't for everyone, and luckily there's a more relaxing way to get spectacular views – hot air ballooning. Your pilot will take you up to 3,000 feet, so you'll have plenty of scenery to soak up as you drift through the air. You'll also get a celebratory glass of champagne upon landing which should take the edge off any jitters.
Look Out Over London
If you like heights but still want to feel floorboards beneath your feet, you can now take a trip up Britain's tallest building – the Shard. From the observation deck on the 72nd floor, you'll be able to view London from a whole 'nother level (244 metres to be exact). After seeing the 360 degree view spanning for around 40 miles on a clear day, you can enjoy a leisurely lunch for two at Azzurro, an Italian restaurant nearby.
Have you tried any of these experiences? 
Images creative commons via Flickr: falconwriting, yaketyyakyak, sxc