Q&A with Emma Blackwell of Paradise Wildlife Park
31 years ago, ambitious businessman and former speedway enthusiast Peter Sampson, bought the site of Broxbourne Zoo (at the time, voted worst zoo in Britain) and turned it into Paradise Wildlife Park – one of the UK's most flourishing and celebrated animal attractions. We previously sent RLD's Rach and Jess to Paradise Widlife life and you can read all about their visit here.
We took a walk on the wild side with talented team member Emma Blackwell to find out more about training, entertainment and amusing animal moments…
Hi Emma! Can you start by telling us a little bit about your role at Paradise Wildlife Park?
My role is a presenter. I write and present all of the shows in the Jungle Theatre and help train the animals that appear in the shows. I also present the park's educational talks and our online series called Zoo News Monthly, which I also write for.
How long have you been working at Paradise – and have you always been a keen animal lover?
I have been at Paradise for just over two years now. Animals are a huge passion of mine, but my career path has always leaned towards children's entertainment. As a presenter, I care very much about quality entertainment and offering fun, engaging learning to kids. Working at Paradise Wildlife Park combines my personal skills with the love I have for nature and animals.
What would you say is a typical working day for you?
My typical working day at the park can vary, but this what an average summer's day might look like this:
9:00am – 9:30am: Train show animals
9:30am – 10:30am: Visitor tour
10:30am – 11:00am: Break, or the tractor trailer ride
11:00am – 12:00pm: Set up show; put on show, pack down and train animals
12:00pm – 1:00pm: Walk on the Wildside Tour
1:00pm – 2:00pm: Set up show; put on show, pack down and train animals
2:00pm – 2:30pm: Lunch
2:30pm – 2:45pm: ARC Encounter
2:45pm – 3:00pm: Prepare food for shows
3:00pm – 5:00pm: Set up, show, pack down and train animals
5:00pm – 5:30pm: Wash up bowls, and train and feed show animals
5:30pm – 6:00pm: End of day jobs to clean up the zoo for the following day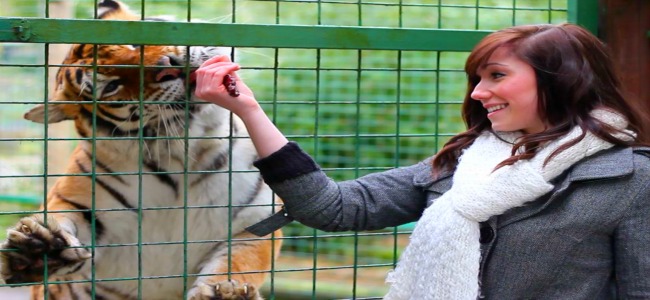 Paradise Wildlife Park is home to lots of weird and wonderful creatures. Do you have any funny stories about resident animals?
I guess all the animals are weird and wonderful in their own way and I am very fond of them all. As I work closely with the show animals, I find it amazing when they understand or pick up a new part of training. A great example of how wonderful our animals are would be our rats – they recycle to raise money for charity and managed to collect a total of nearly £600 last summer. I suppose one of the most amusing moments would have to be when an animal goes to the toilet mid-routine. For some reason, the audience love that!
If you could be any animal, what would you be?
It would be incredibly hard to choose an animal that I would like to be, especially as so many are endangered, due to us humans. However, I am very friend and family-orientated, so an animal that lives in a group or herd would be quite nice – maybe an elephant, gorilla or an otter. Having said that, I'd love to be mysterious and majestic, so maybe a jaguar. But the ability to fly would be great, so possibly even a bird like a Great Grey Owl.
If you could choose to try any of our Red Letter Days experiences, what would it be and why?
If I could choose a Red Letter Days experience, it would probably be your dolphin and whale watching experience. It's something I have never done before, and getting to share the experience with someone equally enamoured by wild animals and nature would be amazing. But, I wouldn't turn down a hot air balloon ride or a skydive either!
And last but certainly not least, what exciting things do you guys have lined up for the not so distant future?
Most excitingly for me, we are planning on building a brand new theatre. This will hopefully mean lots more show animals to train, a larger team, bigger shows and an even bigger experience for our visitors. I'm used to performing in big scale productions and would love to bring this magic to Paradise Wildlife Park, with our team and animals.
If this has made you want to meet the residents of Paradise Wildlife Park, or get a closer look at one of the world's more weird and wonderful creatures, check out our amazing range of animal experiences.
Images: Yannick Turbe via Flickr and Paradise Wildlife Park