Oxford vs Cambridge: 10 Facts About the Big Boat Race
Tomorrow, elite rowing crews from two of the UK's most distinguished universities will battle it out to claim ultimate victory in the 160th annual Oxford vs. Cambridge Boat Race.
Last year we offered you a glimpse into each city; this year we're going to tell you 10 quite intriguing things you may not already know about this world-famous boat race…
Did you know?
1. In 1912, both teams' boats sank due to poor weather and as a result, the race had to be rescheduled for the following day.
2. In 1978, the Cambridge team completely sank due to severe winds, leaving Oxford to win. This race won a place in Channel 4's rundown of 100 Greatest Sporting Moments.
3. Before the boat race, both club presidents toss an 1829 gold sovereign coin for the right to decide which side of the river their team will row on.
4. The 2012 race had to be stopped for 30 minutes due to protester Trenton Oldfield swimming between the two boats. He was jailed for six months.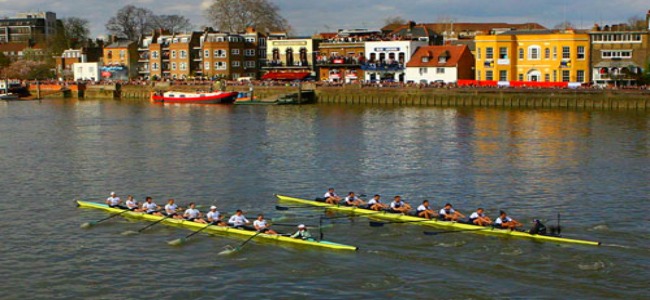 5. It's boat race tradition for the winning team to throw their own Cox into the river to celebrate their victory.
6. Every single crew member trains for around two hours for every single stroke in the race. That's colossal when you consider it takes around 600 strokes to complete the course!
7. The start and finish of the race is marked by two stones, labelled U.B.R (University Boat Race), on the South Bank of the River Thames.
8. Excluding World War I and World War II, the boat race has been held annually every year since 1856 (although it was officially started in 1829). Traditionally, the loser challenges the winning team to a rematch each year.
9. The record for the quickest ever course finish was set by Cambridge in 1998. The team finished the race in just 16 minutes and 19 seconds.
10. Comedian Hugh Laurie rowed in the Cambridge blue boat in 1980 and narrowly lost in a controversial clash of oars.
If all this talk of the big boat race has got you into the competitive spirit, take a look at our exciting selection of sailing and yachting experiences.
Who do you think will win this year's race?