Notting Hill Carnival Fever
Europe's biggest arts festival, Notting Hill Carnival, is back again this bank holiday weekend for yet another year. As carnival fever is starting to spread over London, we've delved into the carnival's history and found out some interesting facts. Here's a little look at carnival by numbers. Be warned: a LOT of chickens and goats help make up this west London event…
1966 was the year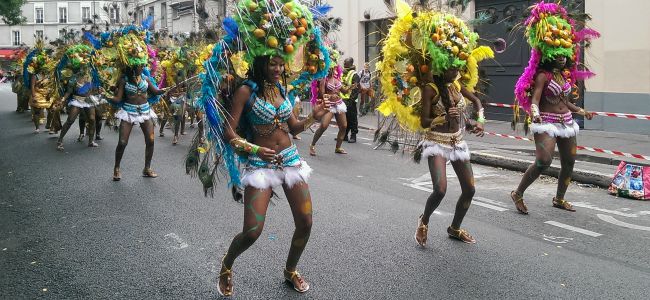 Almost 50 years ago a street party for children in nearby Ladbroke Grove was organised by local lady Rhaune Laslett. Laslett's party was joined by a steel band trio, who decided to take the party on a walkabout of West London. Lots of the community decided to join the procession and it was from there that Notting Hill Carnival, as we now know it, was born. The traditional starting point for the carnival was Powis Square in Ladbroke Grove.
5 Tons of Chicken and 400 Goats 
Did you know that over carnival weekend almost one ton of rice and peas, five tons of chicken and 400 goats are consumed. As well as that, 800,000 cans and bottles of drink are drunk to wash the food down with!
11 Glastonbury's
As the second largest worldwide carnival worldwide and the largest in Europe, it really is no wonder that the three-day event attracts over two million attendees, has 40,000 volunteers and 9,000 police each year, that works out to be the size of 11 Glastonbury Festivals.
15,000 Costumes
Every year the carnival Mas camps get Trinidadian designers to help them create handmade themed costumes – over 15,000 handmade costumes to be precise! It takes over one million man hours to make and then decorate them all. That is some dedication!
1.1 Million Views
This video of three policemen dancing at the 2013 Notting Hill Carnival  has had over 1.1 million views on YouTube. How is it possible for dancing policemen to go viral you ask? Watch for yourselves to see.
If you are heading to Notting Hill Carnival be sure to enjoy the parades, eat some jerk chicken and get involved with the dancing!