How to Make a Festive Napkin for Your Christmas Place Settings
We thought we'd help you make your own memories this year by giving you this handy guide to creating 'We Three King's' style crowns for your Christmas table settings. Not only will it enhance the seasonal spirit when you sit down for Christmas dinner, but it also makes for a cheap addition to the table décor.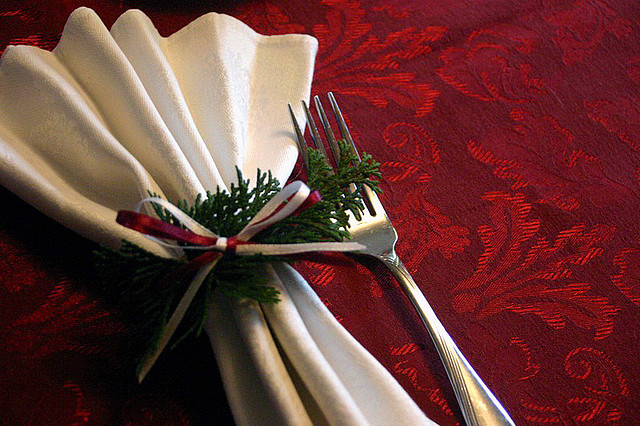 What you'll need:
– A napkin or serviette (paper or cloth). We'd suggest red of course!
– A table to fold it on.
Spread the napkin out completely so that it takes the shape of a square.
Fold the napkin once in half lengthwise (hot dog style) as opposed to halving it from the width.
Take the bottom right corner and fold it up to the top centre of the lengthwise rectangle so that it forms a triangle. Crease the fold to ensure it stays in place.
Take the top left hand corner of the original rectangle and fold it in the opposite direction of the first triangle (to the bottom part of the rectangle's centre), so it forms another triangle. Crease the fold to ensure it stays in place. At this point the two folded triangles should face opposite directions and should just be touching.
Flip the napkin over by taking your hands to the top of it, and turning it over towards you, so that the napkin is now flipped over, and placed down in front of you from there.
Take the bottom of the napkin and fold it over again, but this time to the very top of the napkin.
Flip it over to the other side once again by taking hold of the top of the napkin and turning it towards you before placing it back down on the table.
As you do this, arrange the triangles so that they are pointing up – one will be at the front right and the other one will be on the other side on the left, which means you'll have to fold it back.
Take the very left corner of the napkin and place it in the space near the centre. Fold so it stays.
Fold it over again by picking it up and turning it over to the left.
Take the napkin on the left hand side, and as you did in step 9, place the corner in the hole near the centre.
Pick it up and place it, so it's standing. You may need to 'fluff up' the inside to help it stand.
And voila! You should have your king's crown style serviette. We suggest putting one in the middle of each place mat – which should make a great conversation point as your guests sit down too.
For more napkin folding inspiration, check out our Vine below:
Did you manage to successfully fold your festive napkin? Let us know by leaving us a comment below.
Image: Justin Russell via Flickr