In the Clouds: Flying a Tiger Moth
The de Havilland Tiger Moth is an incredible aircraft with an intriguing history.
Not long ago, my colleague Ste and I were lucky enough to  experience flying a Tiger Moth in one of the few operational Tiger Moth's left in the UK.
Read on to find out more…
It was a fine, clear day when we arrived at Wiltshire's Old Sarum Airfield, perfect conditions for flying a Tiger Moth vintage plane.
We met Tom and our pilot David (who actually commutes to and from work by plane) for a pre-flight chat and before I knew it, I had donned a Biggles jacket and flight cap and was being introduced to their mighty Tiger Moth.
Walking across the wing and climbing into the open cockpit was like stepping back in time; I was secured into the front of the Tiger Moth with the craft's original leather harness to get ready for take-off.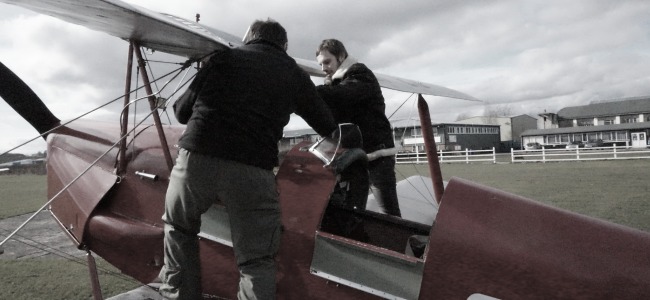 Tom manually wound the propeller, the final checks were carried out and then all of a sudden, it was chocks away!
We ascended rapidly and I could soon feel the wind rushing through the cockpit. It was a real buzz being up so high in the open air while hearing the trusty hum of Tiger Moth, something I won't forget in a hurry.
The views were absolutely stunning and, as we were hooked up to a dual radio, David was able to tell me interesting facts about sights from the ground below. He even let me have a go at flying the plane and, for a moment, I felt like a real pilot.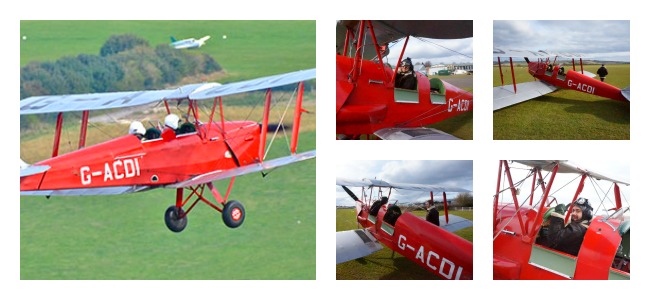 I'd say the most thrilling part of the flying experience was when we ascended into the thick of the clouds, it was surreal and like entering another world. Oh, and of course, the aerobatics were pretty amazing too: David took us for a loop, barrel roll and a most stomach churning off all, a stall turn. I have to say, it eclipsed any roller coaster I've ever been on, without a doubt.
Overall, it was a real privilege to fly in a Tiger Moth, and it was even more exhilarating than I thought it would be. I'd definitely recommend it to anyone.
Want to know more? Check out a video of the flight…
If this has got you in the mood to head to the clouds, take a look at our full range of sky high flying experiences.
Images: RLD