With Halloween just two days away, have you adorned your windowsills with the terrifying faces of carved pumpkins yet?
Don't worry if not. Read on for our recommendations on how to carve a perfect Jack O' Lantern as well as taking a look at some of the exciting entries we've had so far in our Halloween competition on our Facebook page. The competition has Red Letter Days' fans sending in pictures of their best pumpkin carvings, zombies and more for Halloween – and there's still time to enter.
Once you have found a good, healthy looking pumpkin of the right size, there are just a few utensils needed to ensure you end up with a good quality carved lantern. We recommend a sharp knife, a spoon, a nail, tea lights and a stencil.
OUR RECOMMENDATIONS FOR PRODUCING A TOP PUMPKIN LANTERN
Cut the top off the pumpkin, angling the knife inwards and cutting any excess from the inside of your lid
Scoop out as much of the inside flesh and seeds as possible (top tip – take the seeds and roast them in the oven for a yummy snack. Ensure the base is scraped flat so the lights can stand firmly later on)
Make sure the pumpkin is dry on the outside and attach your stencil with tape to the front of it. Using the nail, make small indents around the outlines of the picture, so the lines to be carved are clear when you remove the paper. (tip – there are lots of free stencils to be found on the internet, try our friends at Readers Digest who offer 27 great designs)
Using a sharp knife, carefully cut along the lines of the indents to expose the shape
Place lit tea lights in the base, put on the lid and stand back to admire your handy work!
Here are just a few of the fantastic entries to our Facebook competition we have received so far. Why not join in, for the chance of winning an overnight haunted supper experience for two?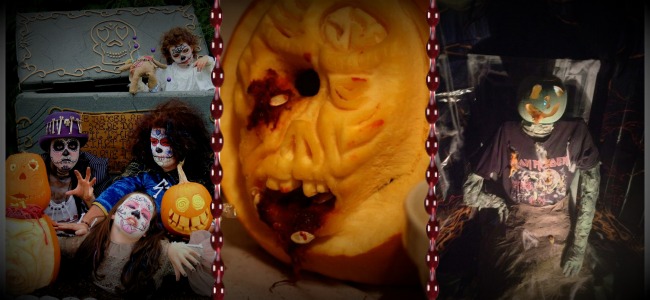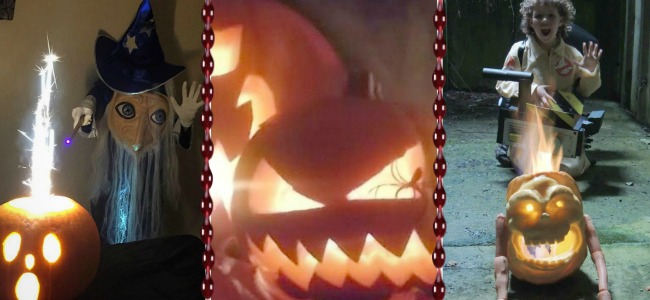 What face will you make on your Halloween pumpkin?
IMAGES: c/o RLD