The Christmas Sandwich Taste Test
With Christmas on the way, the team at RLD are trying to cram in as much Christmas food as possible before the big day on the 25th December. We raided Sainsbury's for three of their best Christmas sandwiches from the range to see which were our favourites and which shouted out Christmas is officially here.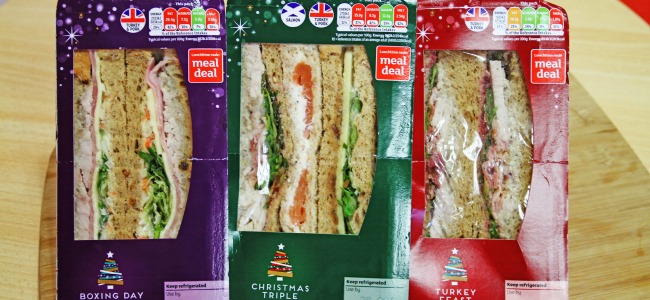 The Turkey Feast, The Christmas Triple and The Boxing Day sandwiches are all for anyone who, just like us, cant wait to get their quota of turkey, cranberry sauce and smoked salmon. We decided to see how closely this sandwich trio matched their actual Christmas counterparts.
The Turkey Feast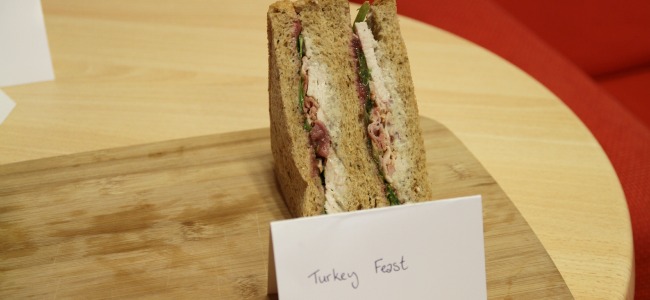 Cost: £2.50
Taste: 4/5
Festive Factor: 5/5
Fullness: 5/5
The turkey and stuffing combination is one that has withstood history and that tasty savoury Christmas duo is as delightful wedged between two slices of bread with some cranberry sauce and lettuce, as it is on an overloaded plate in December. With sliced British turkey breast from turkeys reared in barns in Norfolk and Lincolnshire, savoury chestnut and thyme stuffing, rashers of smoky maple-cured British bacon and a tangy apple and cranberry sauce sandwiched between slices of soft malted bread, this sandwich screams out Christmas time. Prepared to be as stuffed as the Christmas turkey after demolishing this sandwich, but that is after all the true feeling of the festive season. Can't wait until the big day to munch on the dream duo? Then this sandwich is for you.
The Christmas Triple
Cost: £2.50
Taste: 3
Festive Factor: 4
Fullness: 4
This sandwich trio combines all of our favourite elements of Christmas Day itself – the smoked salmon breakfast, the turkey dinner main, all the trimmings and the cheese board with accompanying chutneys to finish. Fulfill your entire Christmas lunch through this one sandwich! The triple, contains a lot of elements – the smoked salmon sandwich with soft cheese and lemon is refreshing and hits the spot. The turkey, bacon and stuffing main event is very rich but feels festive and really does remind you of Christmas. The last sandwich of cheddar and chutney, has been handmade and matured for eight to 12 months at Laurels Farm in Cheshire, and the care and time put in to making the cheese is evident.The sweet and tangy onion chutney complements the mature cheddar perfectly and made this sandwich slice our favourite of the three.
The Boxing Day Sandwich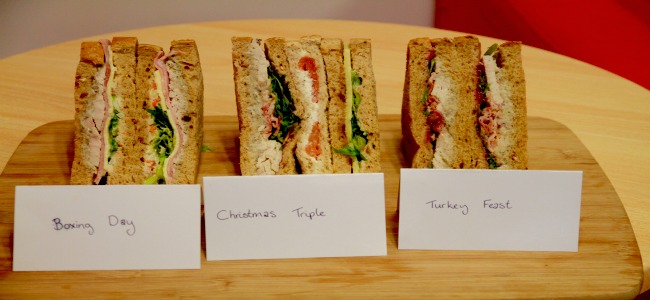 Cost: £2.50
Taste: 4/5
Festive Factor: 5/5
Fullness: 5/5
The Boxing Day sandwich consists of smoked British ham and turkey, mature cheddar, mayonaise, coleslaw, apollo lettuce, chestnut and thyme stuffing and white onion on malted bread. The plethora of ingredients really does capture that familiar Boxing Day feeling of serving up the best leftovers from an enormous Christmas Day feast. The sandwich is a pleasant surprise with a mix of flavours and textures, the crunchy slaw and tasty stuffing make for an interesting spin on the traditional turkey sarnie. A perfect antidote to any cranberry sauce overload and a smart lunchtime option to enjoy while browsing the Boxing Day Sale bargains.

These festive sandwiches are available now in-store until 4 January 2016 in the £3 meal deal!
Images: All RLD