Our very own Gemma, Affiliate Marketing Executive at Red Letter Days, took her partner Ross for a day of relaxation at Verulamium Spa in St. Albans recently. Read on to see what they thought.
Gemma knows the value of spending quality time with her partner and wanted to do something they would both enjoy. Red Letter Days certainly offer a massive range of experiences and, having made her choice, she thought she may have to talk Ross into going to a spa with her. But not a bit of it; he was excited at the prospect of kicking back and getting a massage. So she booked via the online form. If you want to find out about some of the other spa's we have on offer, check out our previous blog posts on our spas.
"Unfortunately their weekends were booked up months ahead, so I would recommend giving plenty of notice if you want to go on a Saturday or Sunday. We chose a Friday, which was fine as there weren't so many guests there on the day and it was just what we wanted".
We asked the couple what they thought of the place once they had arrived "The spa is set within a local leisure centre so we assumed it would be full of people and children, but that wasn't the case and it was completely separate from the main gym and swimming area. The venue itself was spotlessly clean – no outdoor footwear was allowed and they gave out slippers on arrival so outdoor shoes could be left at reception".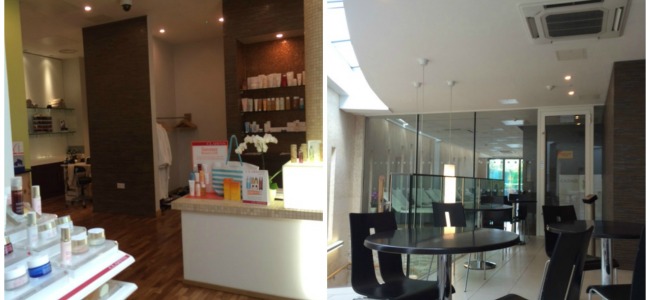 Gemma really wanted to tell us about their treatment/s " The aromatherapy massage!! It was the best massage I have ever had. If I couldn't hear Ross chatting in the other room I would have fallen asleep. They did offer us a couples room, which was a nice touch. I declined, which I'm very happy about because Ross's chatter would have ruined my heavenly relaxation time. He loved it too, although as I have mentioned, he talked all the way through – the poor masseuse!".
"We finished off with a late lunch, the portions were pretty big so we took our time".
Finally, any top tips for us? "Go early. You can arrive from the moment the spa opens (8am) and leave when it closes (9pm). However once you have used the spa facilities, had your treatment and then lunch (which they recommend after treatments) you don't feel like using the steam/sauna etc all over again".
Excellent feedback from what sounds like a fabulous spa, just an hour from central London. Do you have a favourite spa, take a look at some of the other spas we sell!
Images: Gemma at RLD