WIN Hot Air Balloons colouring book **THIS COMPETITION IS NOW CLOSED**
OUR COMPETITION CLOSED AT 10AM ON TUESDAY 9 AUGUST 2016. THANK YOU TO ALL OUR ENTRANTS, BOOKS ARE BEING POSTED TO 15 LUCKY WINNERS TODAY!
For a chance to win a brand new colouring book thanks to our friends at The History Press, we're inviting you to design a new hot air balloon for Red Letter Days. Get creative with pencils and pens, or go hi-tech with our creative competition to improve on the existing flying basket!
It's hot air ballooning month! The world record for the fastest round the world flight in a hot air balloon was broken on 22 July by Russian Fedor Konyukhov, the UK hot air balloon season is in full swing, Bristol Balloon Fiesta takes place from 11 – 14 August and, courtesy of our friends at The History Press, we have a number of  beautiful Hot Air Balloons colouring books to give away.
Spend hours engrossed in colouring in with over 45 illustrations to complete. Pages depict balloons floating over sunflower fields, powered by propellors, covered in butterflies, alongside the London Eye or a Tower Bridge, and many other inspiring scenarios. British publishing house The History Press publish over 500 books a year and specialise in all areas of history, local and specialist, social and royal, industrial and military and much more.
Be as artistic as you like with your entries – design on the computer, your iPad, or print off to draw by hand and scan. The 15 winners will be picked by The History Press over the next week and winners notified after the competition closes the morning of Tuesday 9 August, with winning books posted by the end of the week.
Simply click on the image to download, complete your design and send it back to us via email (competitions@redletterdays.co.uk) or to our social media pages (on Facebook or Twitter)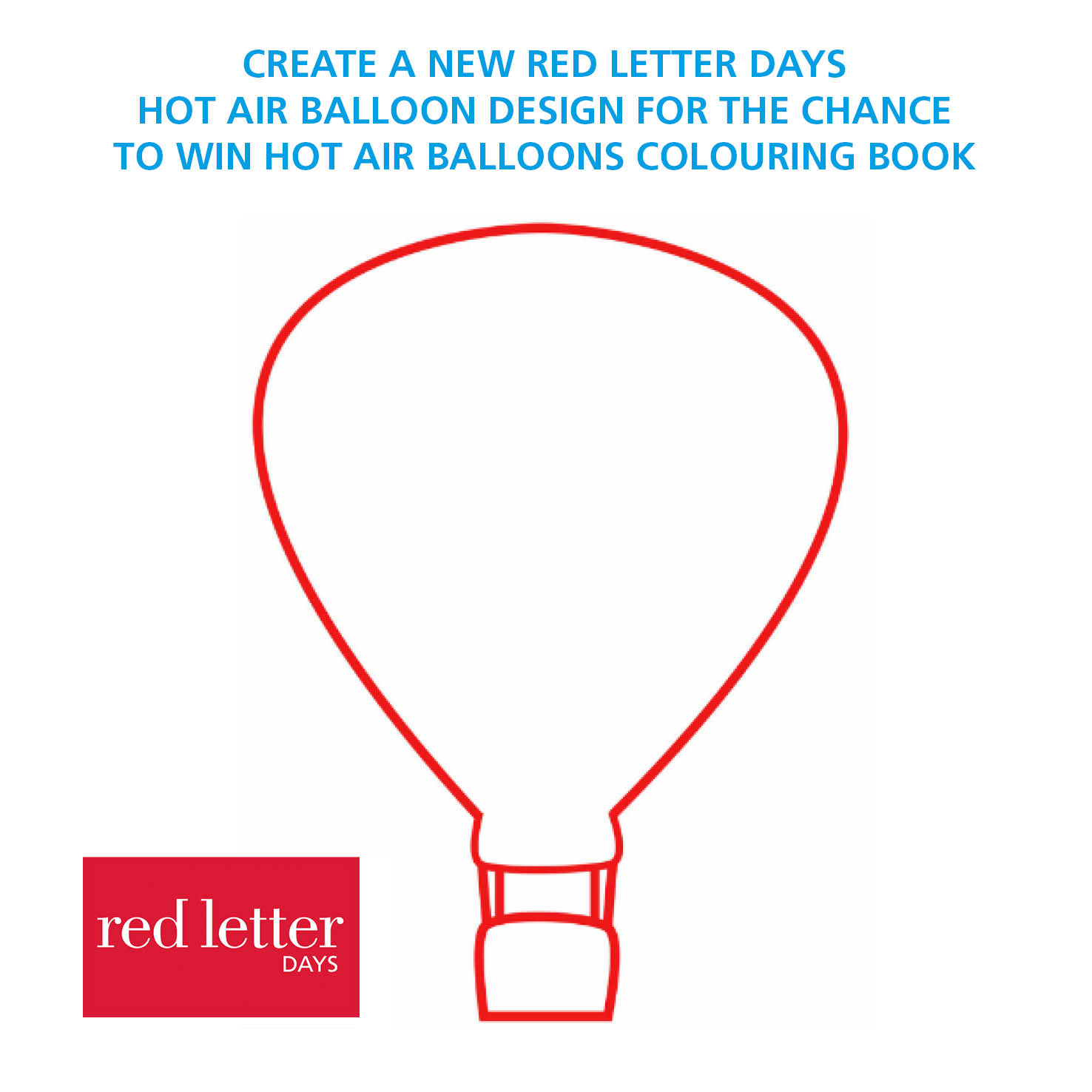 Terms and Conditions
By entering this free competition you agree to these terms and conditions

It is open to residents of the UK and Eire

The prize is a copy of The History Press' Hot Air Balloons colouring book

The prize cannot be exchanged and must be taken as offered

To enter please submit your balloon design, using the official template, and e-mail it to competitions@redletterdays.co.uk  or send it to one of Red Letter Days social media platforms (Facebook or Twitter)

The competition opens at 10am on the morning of Tuesday 2 August 2016 and entries must be submitted by 10am on Tuesday 9 August 2016

The History Press will judge their favourite 15 entries and winners will be announced on the Red Letter Days blog, Facebook or Twitter

Entrants can only enter once per email address

Any entry breaching the rules will automatically be disqualified

Red Letter Days accepts no responsibility for late entries, delayed entries or non-receipt of entries due to any reason, including technical faults or inability to access the internet

The winner will be notified via their entry email address, decision will be final. No correspondence or discussion shall be entered into

The winner's full name may be posted on the Red Letter Days social media accounts. Red Letter Days complies with the UK Data Protection Act to ensure that the personal information you provide is kept secure and processed fairly and lawfully. Red Letter Days will not share your information with any third parties for marketing purposes. For further details please see our online Privacy Policy at http://www.redletterdays.co.uk/Privacy

If the winner has not responded within the seven days following notification, then the prize is forfeited and a new winner will be selected

These terms and conditions shall be governed by English law and exclusive jurisdiction of the English courts

Red Letter Days reserves the right to cancel or refuse any individual entry or to postpone or cancel the competition in exceptional circumstances, including but not limited to circumstances where it is apparent that there has been fraudulent activity or access to the Internet has been prevented for a period longer than 48 consecutive hours due to technical problems beyond the control of Red Letter Days

Promoter: Red Letter Days, 100 The Grange, High Street, London N14 6BN