Valentine's Day Gift Guide
The 14th of February is an annual celebration of love, be it with someone new or your long-term partner. Each year, everyone wants to ensure their significant other has the best day ever, but it can be hard coming up with unique things to do on Valentine's Day that are romantic without being too cheesy. That's why we've put together a guide to our top Valentine's Day gift ideas for him and for her to inspire and help you make memories.
Valentine's Gifts for Him
Finding a Valentine's Day gift for your boyfriend or husband that's more interesting than novelty socks and isn't 'drink tokens' is easy, as long as you work with his interests. Is he a petrolhead? A gamer? A sports fan? Film or music buff?
Gifts for petrolheads
Let's start with sports cars. If it's state-of-the-art modern race vehicles like the Nissan GT-R, the Ferrari 458 and the Ariel Atom that get his motor running, why not try a supercar driving experience? Pick one, two, three or even five cars for him to drive, choose the number of laps, decide whether to add a terrifyingly quick professional passenger ride to it, and he's ready to rev!
Top tip when choosing supercar driving experiences: if it's a particular track he'd like to drive on, following in the rubber marks of his favourite F1 or British Championship driver, simply visit our flagship Driving page to simplify your selection and choose your favourite circuit.
Or, if he prefers to get muddy, why not treat him to an off roading experience? From jeeps to monster trucks, quad bikes to tanks, there are plenty of obstacles to be conquered in an astounding range of 4×4 and even 8×8 vehicles! You could even get involved with an off roading experience for two in Wales, where you'll get to take it in turns to drive a Land Rover Discovery along some of Wales' most picturesque mountain trails.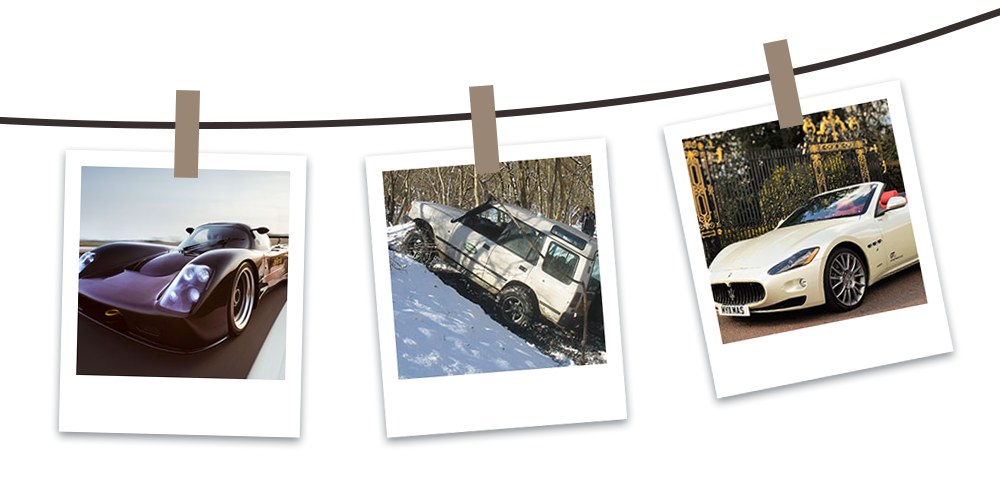 Top tip when picking 4×4 gifts for him: check licence requirements beforehand. At some venues, parents may even be able to combine the drive with a junio
r driving experience and treat the whole family.
For a truly luxurious driving experience, we can provide a day or a full weekend of swish car hire. From classics like the Morgan to pocket rockets like the Lotus Elise, you could spend the day together in a head-turning sports car, driving with the top down (filmstar headscarf and sunglasses non-obligatory) and yes, perhaps even doing a little showing off. Full weekend Ferrari hire doesn't come cheap, but 300 miles in a classic sports car is more affordable and a lot of fun. No less enjoyable, but for something completely different, take the helm of an 1909 or 1910 Stanley steam-powered car – the nostalgia is palpable!
Top tip for enjoying car hire for two: bring a selfie stick (yes, we know, groan) and get some epic snaps together. NOT whilst driving! Alternatively, bring a GoPro for spectacular footage you can speed up later and enjoy.
Gifts for gamers

Be it PC gaming, PlayStation, X-Box or similar, these gifts will give him a chance to really live the games he plays online. They also make good gifts for stag nights, as they can be enjoyed in groups of varying sizes, earning brownie points with his mates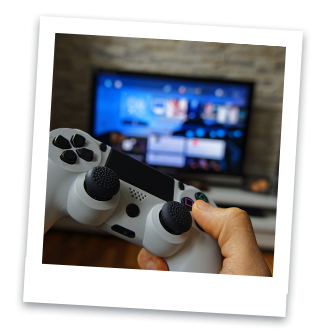 .
Fans of Call Of Duty and other post-apocalyptic games should try a zombie experience (see more in our Meet The Walking Dead blog). With settings ranging from an abandoned mental hospital to a military bunker, two people will get SWAT training from experts to prepare them for an onslaught of terrifying walkers, using real, dangerous weapons. Well, nerve and paintball guns anyway, so death won't 'do you part'! Professional actors are ready, waiting and absolutely slathered in make-up, ready to see if the boys have what it takes in person!
Top tip for surviving the zombie apocalypse: run!
We've got plenty more unusual activities and sports for him, too. How about a paintball battle in a miniature tank (pictured below). We guarantee he won't have tried it! Or, leaving out the shooting entirely, for a truly unique sport, why not send him DTV 'Shredder' driving? Part skateboard, part tank and part motocross bike, it's a lot of fun once you get the hang of it. If he prefers mystery or adventure games to action, we've got that covered, too: an escape room challenge for six, including a pub meal. This Crystal Maze-esque challenge sees a group locked into a convincingly-designed room or house filled with obscure clues, which they have to solve within a tight time limit or face being locked in forever!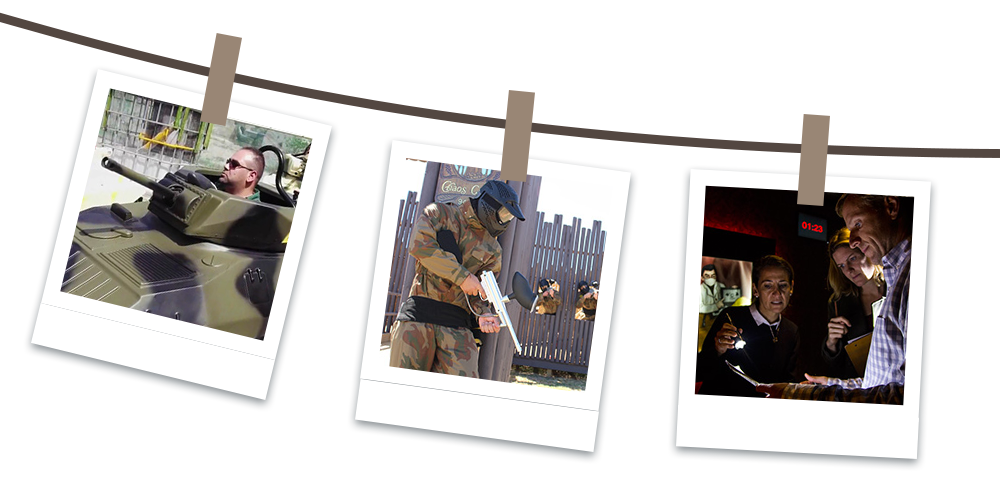 Top tip for picking gaming gifts: treat him to a real-life experience and perhaps that new online game he wants, too, so he can compare the two!
Gifts for sports fans
It all really comes down to two questions: which sport? Would he like to play it, or go behind the scenes? For those looking to get under the skin of their favourite sporting team, we offer a huge range of football, rugby, tennis and cricket stadium tours. Expert guides take groups around areas including changing rooms, players' tunnels and prestigious seating boxes explaining what takes place where and sharing fascinating anecdotes, plus there are unmissable photo opportunities to be had. For the passionate sports fan in your life, select the perfect, tailored gift they will certainly not forget.
For those who prefer to get more hands-on, we've got golf lessons with PGA professionals, clay pigeon shooting, deep sea fishing, white water rafting at some very famous rapids – we've even got zorb football. What's that, you ask? Well, it's a (daft and) exciting chance to play football with nine other players at a PowerLeague centre, all the while encased in individual zorbing balls! Bizarre? Perhaps. Forgettable? Absolutely not.
Top tip for giving sporting gifts: why not give him a personalised sports shirt with his name or that of his favourite player to wear during his experience?
Gifts for film and music lovers 
There are a surprising number of gifts to thrill film buffs or music lovers. Film fans will love our range of gourmet cinema ticket combos, which can include delicious meals or drinks. For those who prefer to see the action live, our range of theatre and musical experiences are always changing to include the latest and greatest, with options to pick top-price tickets or combine with an overnight stay for two in a swanky hotel.
Music lovers may appreciate a concert; from one-offs at The O2 Arena to the atmospheric Battle Proms for classical music fans, there's lots of choice and regular updates, so go ahead and browse our cinema and concerts page. Musicians themselves may prefer a unique online lesson with a famous musician. That's right: the chance to jam with and be given tips and tricks by a seasoned professional. Some have played with artists including Michael Jackson and Prince in the studio and on world tours, so there might even be a few quirky anecdotes included in the session!
Top tip for choosing a gift for a film buff: don't just look for the newest films to come out. Sometimes, big cinemas re-screen older films and your loved one's favourite cult classic may be among them.
Valentine's Gifts for Her
Finding a Valentine's Day gift for a wife or girlfriend can be nerve-wracking. Whilst getting roses and a cute card seems like the safe option and never goes unappreciated, it's not as hard to find a gift to suit her interests as many might think. Is she an animal lover? Does she enjoy an adrenaline rush? Love tasting gourmet meals or tasty cocktails? Would she appreciate a short hotel break?
Gifts for animal lovers
Furry, scaly or feathered, animals are all around us and there are lots of ways to thrill an animal lover. Why not surprise her with a sponsorship pack in her Valentine's Day card? She'll be thrilled to be helping keep a species safe and contributing to conservation work around the world.
If she's got a camera, there are several ways to get up close and personal with animals she may never otherwise meet and take some snaps worthy of the mantlepiece. We love our animal photography classes, which are suitable for all levels and include all creatures great and small, from tiny reptiles all the way up to Simba and friends. Alternatively, why not give her a chance to cuddle mischevious meerkats or handle fearsome birds of prey with one of our animal experiences? For budding zoologists, there are even a number of zookeeper days, where guests get involved in the fun (and the mucking out) side of caring for exotic animals.
Gifts for adrenaline lovers
If she gets a thrill out of trying something new or wants to face fears in an unusual setting, the UK has plenty to offer. Jumping out of a plane or bungee jumping is always amazing. Or if that's a little too scary, what about an indoor skydiving experience? It's actually a sport called body flying, which takes place in a tunnel where a (covered) F1 fan blows carefully controlled vertical winds at up to 120mph. This allows fliers to safely hover and experience a floating sensation that's completely unique, yet slightly less terrifying than freefall.
For a more romantic flight and one that can be shared, why not try a hot air ballooning experience? Available at sunset, sunrise and with champagne, it could be the perfect opportunity to ask The Question – or to apologise!
Top tip for choosing a flying experience for her: why not see if you can find a helicopter, balloon, plane ride or jump over her hometown? Very few people have ever seen their homes from the sky!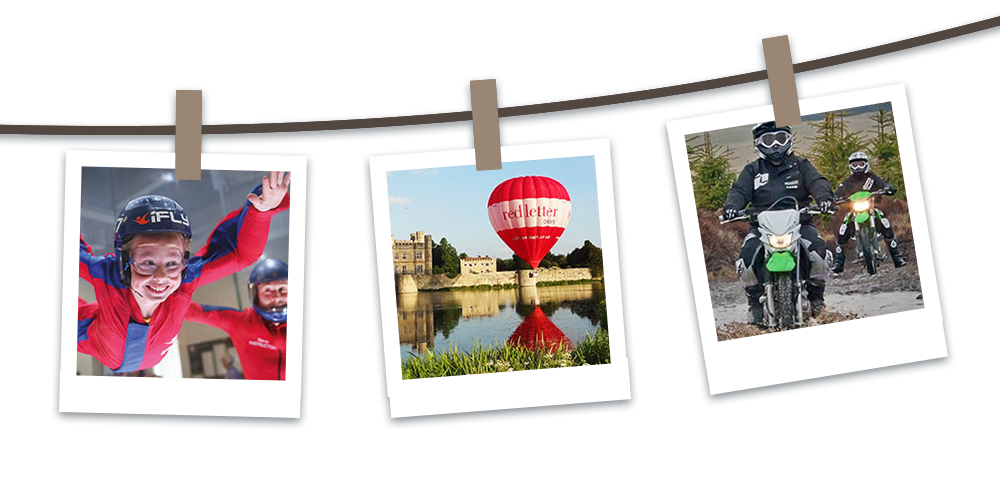 She may prefer to keep her feet on the ground (or close to it) in which case, how about getting the blood pumping with an off road biking adventure? It's ladies only, which means this stereotypically 'male' sport is taught in a way that appeals to lighter and much prettier riders! If you'd prefer to put her more than six feet under, a session at Bounce Below could be perfect. It's an intricate web of bouncy trampoline-like nets set between a number of 176-year-old caverns in a cave in Wales, spectacularly lit up with different coloured lights and just waiting to be explored!
Gifts for gourmets
Give her a taste of something special with one of our dining experiences. It doesn't have to be a basic breakfast, dinner or lunch – think live to eat not eat to live! An indulgent bottomless prosecco brunch at a Gordon Ramsay restaurant makes for a nice, tipsy treat and gives her a taste of Michelin-worthy flavours. If she's a fan of Spanish fare, how about seven courses of tempting tapas with refreshing cocktails on one of the city's most incredible roof terraces?
Top tip for choosing gourmet gifts: why not remind her of a recent holiday with Spanish, Italian or French food? And if she prefers to make her own, we've plenty of cookery classes too.
Back to British, and how much more British can one get than partaking of afternoon tea for two? Three tiers of sweet and savoury goodness washed down with hot loose leaf tea – and perhaps some bubbly – makes for a great start or finish to a day out almost anywhere! With venues including Blenheim Palace (famously almost royal), Hotel Gotham and a number of charming tea rooms and farms, simply pick the location and atmosphere that suits her best. Afternoon tea can even be had aboard a world-famous art deco train, for those with a bigger budget…
Short Break Gifts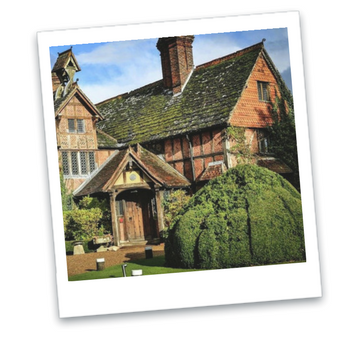 The best way to Feng Shui the stress away? Forget re-arranging furniture and changing the bedclothes – sleep in a bed you won't have to wash the bedclothes of! Short breaks are a great way to break the monotony of work, home, work, home and to relieve stress. And they don't all have to be straightforward check-in, check-out affairs, either.
If she likes a glass of really good wine, why not consider a Garden of England vineyard escape? Stay at a gorgeous country house hotel, take an inclusive vineyard tour, then share a bottle of champagne and a toast. For extra pampering, why not combine a hotel stay and spa treatments by staying at a spa hotel? We love Alexander House in West Sussex; this five-star, award-winning venue is set in private grounds and offers sumptuous garden-view suites with spa access, free-standing bathtubs, inclusive champagne… the list goes on!
If it's a city break and perhaps a night out on the town that would really be a treat, why not head to the lively country of Scotland, which is full of splendid hotels and exciting things to do
Top tip for choosing short breaks: very few hotels will have availability on Valentine's Day, and guests can often get much better value for money (and extras) during the week. If you are determined – book months in advance!
We hope you've been inspired by our Valentine's Day Gift Guide for Him and for Her.
Images: Red Letter Days