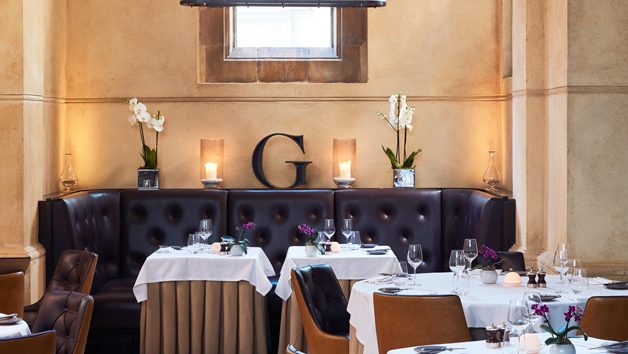 Go gourmet this summer with these mouthwatering Michelin-starred experiences
"Michelin is the only guide that counts."
Paul Bocuse, French chef and pioneer of nouvelle cuisine
Amazingly, the first Michelin guide was published 120 years ago. And, arguably, a recommendation in that iconic little red book means more to chefs now than ever before. In fact, it ignites the same amount of debate and passion year-on-year in France as the Oscars does worldwide.
But surely to dine out this well must cost a fortune? Not anymore. Many of the UK's most coveted restaurants are participating in the government's Eat Out to Help Out scheme. Not only that, a handful of culinary heavyweights have partnered with Red Letter Days to give diners mouthwatering experiences at appetising rates.
Get your glad rags on and those taste buds whetted. Here are our picks for eating out in style this summer.
Gourmet amuse bouche from Gordon Ramsey
Britain's most vocal chef was distraught when his New York restaurant, The London, lost its two Michelin Stars in 2013. So much so in fact that he became uncharacteristically weepy.
"I started crying when I lost my stars. It's a very emotional thing for any chef," he told Norwegian talk show Skavlan.
But despite still bearing the Ramsay name, these restaurants had very little of the iconic chef's input after 2009; unlike Petrus in London's upscale Knightsbridge.
This trendy restaurant has held one prestigious Michelin star since 2011; it's also been awarded 3 AA Rosettes. With this lavish experience, diners can savour bite-sized amuse bouche and Michelin-starred three course meal from a tantalising set menu. Try their succulent sea bream with salsify, leeks and mussel cream – ideal for a sunny day. Just save some room for their zingy lemon parfait; it's a perfect way to refresh the palette and cut through the richness. Well, their choice of perfectly-paired wine doesn't hurt either.
Supreme sunday fare at Galvin La Chapelle
Despite their first restaurant, Bistrot de Luxe, only opening in 2005, few chefs have done more to reinvigorate French bistro-style food in the UK than superstar chefs Chris and Jeff Galvin.
Quickly obtaining its Michelin Star within its first two years, Galvin La Chapelle is the third restaurant to be opened by the acclaimed duo. Now foodies can enjoy an extra-special Sunday Lunch with Bubbles for two at the Michelin Starred restaurant. Peruse the extensive menu while soaking up its elegant yet unpretentious atmosphere. Diners can enjoy familiar classics like roast beef and venison, elevated with exquisite trimmings such as pommes Anna, chanterelles and confit shallots. Finish your meal in style with a true french classic: the iconic apple tarte tatin and wash it all down with a crisp glass of champagne. Sundays don't get any more sacred than this.
Galvin's Parisian plant-based delicacies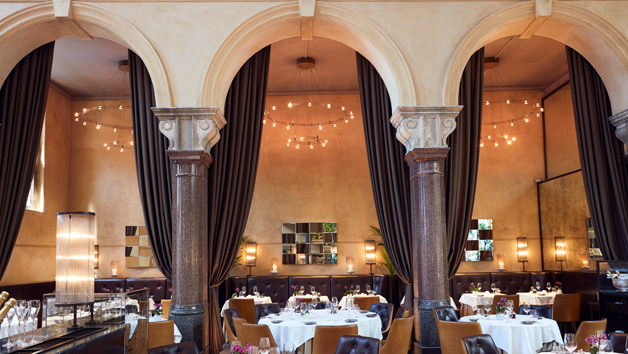 Anybody that says you can't enjoy French cuisine if you prefer it plant-based has never sampled the delights on Galvin's vegan menu. Treat yourself and someone special to seven vegan courses and bubbles for two at Galvin La Chappelle this summer. With exciting delights such as the invigorating velouté of fresh peas, herb gnocchi & chives or an intoxicating tagine of summer vegetables, you don't have to be vegan to be blown away by the food here.
Perfect for a celebration, dishes have been paired with a delicious glass of Brut. Take a look at the full menu here.
Tempting delights at Tony Parkin's Tudor Room
Having worked at two Michelin-starred restaurants prior to his appointment as Head Chef at Great Fosters Hotel, Tony Parkin is no stranger to stunning guests with award-winning food. That's why, within only six months, Parkin and his team obtained this prestigious accolade for the hotel's restaurant: The Tudor Room.
Set inside a luxury Grade I listed-country house, surrounded by acres of idyllic parkland and gardens, the setting at this Surrey hotel is just as opulent as the dishes themselves. With that in mind, why not relax and indulge your senses with a seven course Michelin tasting menu and one night break for two? Diners can expect to take a gastronomic journey around the continents; morish hen of the woods with celeriac, date, Iberico ham and orkney scallop, served with finger lime, ginger and caviar are just two of the show-stopping highlights.
And after a decadent meal, you can settle in for a night of pure comfort in one of the hotel's spacious luxury rooms. Just don't head off too quickly in the morning; this experience includes a hearty English breakfast too.
Whether it's a hotel stay with breakfast, Michelin-starred dinner or decadent afternoon teas, we've got hundreds of dining experiences that are open for bookings again. Take a look at all of the experiences that have reopened here.
We're happy to announce that many of our experience providers have reopened with social distancing measures in place. Importantly, your vouchers can be exchanged or extended, allowing you to experience something memorable with the people you care about all over again.