If a rose by any other name would smell as sweet, does that apply to pets as well?  On Love Your Pet Day, we're delving into the wonderful world of pet names. According to a survey by Argos Pet Insurance, the top names for dogs in 2017 were Alfie and Poppy. For cats, Charlie and Poppy were most popular. It would seem that human names are very much in vogue. But does that hold true among the pets of the Red Letter Days staff? From the sensible titles to the cutesy monikers, we set out to find out the stories behind the names of your non-human bezzies.
And while you're here, don't forget to check out our purr-fect range of Pet Gifts for the animal lover or the loyal critter in your life.
 Cody 
This is Cody, Sophie's 10-year-old golden retriever. A highly photogenic Instagram star, it was tough to choose just one photo. This shot of him taking himself for a walk just nabbed the top spot, though. Sophie's family have always kept dogs, but how did they come up with a name in this case?
When we picked up our puppy for the first time, we found out that his grandfather was called Cody. We liked the name so decided to keep it in the family!
~Sophie
 Jeff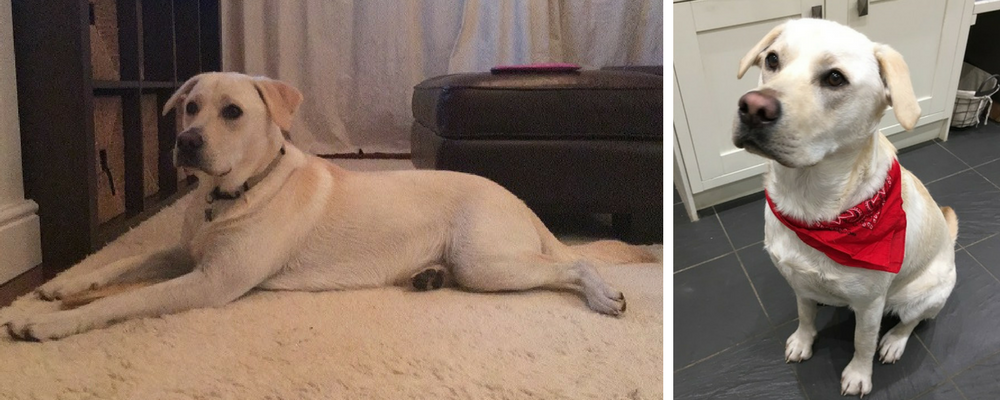 This good boy is Maddie's dog Jeff, a three-year-old Labrador. Living with a family of six, who took the responsibility for naming him?
He was named by my little twin brothers after Channing Tatem's character in 21 Jump Street.
~Maddie
 Rosie 
Introducing Dario and Erica's dog Rosie, a nine-year-old Staffie. Will you look at that face?
When our dog Memphis had her litter of puppies, I allowed my nieces and nephews to choose all the pups' names. My niece chose the name Rosie. Memphis' name was chosen because my mother LOVED Elvis so it was a tribute to her.
~Erica
 Tessa 
We're big fans of this cheeky photo of Evvie's pet. A proper midnight black cat, her name is Tessa. Where did she get her name from?
It was my mum's decision because when we had a dog, she wanted to call her Tessa but she didn't get her way, bless her! So we let her have her way with Tessa seeing as she allowed us to keep her after my brother rescued her.
~Evvie
 Lexi & Charlie 
This pair of heartbreakers belongs to Kimberley. Less than a year old, puppies Lexi and Charlie have already visited RLD HQ and stolen the hearts of the office with their antics.
We chose their names in the car on the way from picking them up. I wanted Teddy for the boy and Halie for the girl but I got outvoted and we settled on Lexi and Charlie! Charlie because my partner's godson is called Charlie. We found the name Lexi from looking up girl puppy names and it just suited her so well.
~Kimberley
How do you choose names for your furry/feathered/scaly buddies? Does the right moniker pop into your head the moment you see their face? Are you a fan of human names, or do you believe pet names should be different? We asked the Twittersphere what they think. Here's what we found.
Where did your pet's name come from? #LoveYourPetDay 🐶🐱🐰

— Red Letter Days (@RedLetterDaysUK) February 20, 2018
The majority of respondents give over the responsibility of choosing a name to their friends or families. A wise and time-saving choice, we feel.
Happy Love Your Pet Day 2018.
For more pet pics, take a look at our National Pet Day: Do You Look Like Your Pet? blog post from 2017.
Images courtesy of Sophie, Evvie, Maddie, Kimberley, Dario and Instagram
Gif courtesy of Popkey
Data courtesy of Argos Pet Insurance