10 Great Reasons to Visit The Eden Project
The Eden Project in Cornwall is a wonderful showcase for ecological British gardening, innovation and design. Read on for 10 reasons to visit this fantastic venue.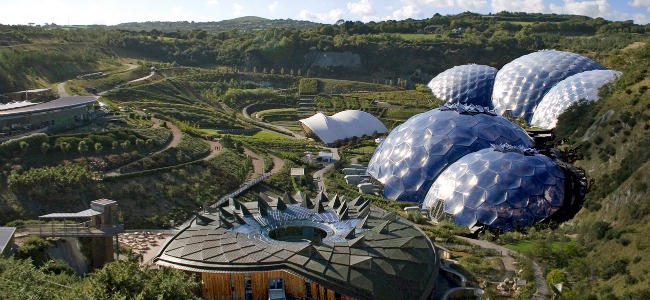 1) While The Chelsea Flower Show's a blooming brilliant day out, you can always dodge the queues and be blown away by the garden displays at the Eden Project instead. They have amazing spectacles all year round.
2) We are a nation of dedicated gardeners and the popularity of allotments has exploded in recent years. Eden Project Cafe uses vegetables grown in Cornwall – fairly traded, singlely-sourced, organic and seasonal. Meet what you eat – much of the food consumed in the cafe can be found growing in the biomes at Eden Project. From bananas to nuts, olives to tea, see them at their source before they arrive on your plate.
3) Where else can you experience the world's largest captive rainforest? The Rainforest Biome represents South American jungle and (among other delights) contains an almighty waterfall and canopy walkway where you can stroll among plants and trees including banana, rubber, vanilla, cashew and cocoa.
4) The second of the two indoor biomes is dedicated to Mediterranean, South African and Californian climates. Journey through the golden mosaic path known as Liquid Gold and take in the many heady sights and smells of perfume vats, seas of flowers and vineyard sculptures. There are added attractions here daily such as massage, story telling and street theatre performances.
5) Red Letter Days in partnership with Eden Project offers day tickets and annual membership (choose to include afternoon tea or lunch), as well as privately guided tours of both indoor biomes.
6) Visitors large and small can take advantage of the tractor-pulled land train. Brilliant if you don't quite have the energy to walk around the whole site!
7) As an educational charity, Eden Project's learning centre and demonstrations are continually innovative in approach. Every day they entertain school, college and university visitors, as well offering adult and teacher training and development. Students can even gain an MSc in Sustainability by studying at Eden Project.

8) Art and creativity are centrally valued so expect to see world-class architecture and sculptures, both natural and man-made, all over the site. A huge bee, a sheet-metal man, a robot recycled from old electrical appliances and a driftwood horse are just four of the huge breathtaking sculptures.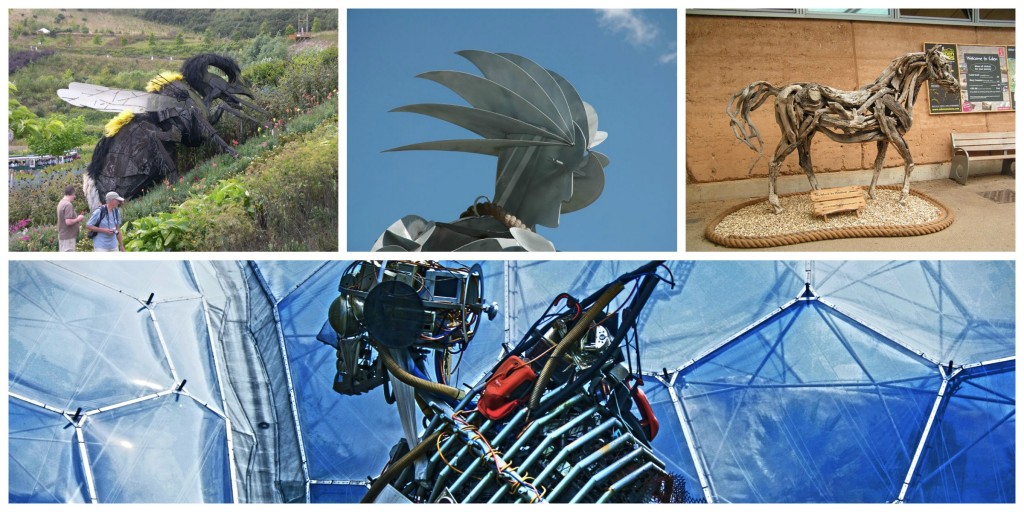 9) The final biome area covers the outside space amongst the two covered domes. It includes a winding path with planted landscapes, vegetable gardens, flowers and sculptures, like the bee and robot.
10) Eden Project is one of the biggest and greenest attractions in the country.
DID YOU KNOW?
In June 2007 Red Letter Days hosted a unique naturist event at Eden Project, gaining nationwide attention. Several hundred nudists enjoyed exclusive use of the site in 'The Garden of Eden' for an evening. The addition of Red Letter Days extras such as guided tours, the opportunity to walk with a bird of prey, receive a haircut or a shave, enjoy live music and food made it unforgettable to all those who were there.
There is much more going on at the Eden Project than we're able to tell you about here, so for a full rundown of activities visit their website.
Keep your eyes peeled to our Twitter feed for the chance to win A Family Pass (two adults and two children) to the Eden Project.