Happy 1st Blogiversary: Celebrate with a Gift Card Giveaway (CLOSED)
**Please note, this competition is now closed**
Angela, Dan and I (a.k.a. The Blog Team) all had a hand in today's blog post, which marks the very first anniversary of the Red Letter Days blog, or 'blogiversary' as it has become known.
To celebrate, we're giving away a £50 Red Letter Days gift card to one lucky reader.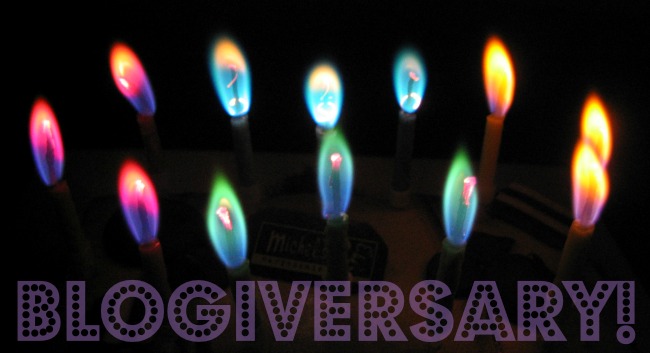 Before we get to that, we've been having a think about our own most memorable birthday experiences, and have a couple of stories to share.
Dan:
"The most memorable birthday gift I received was for my 16th. My dad kindly took me away to Holland for the weekend to The North Sea Jazz Festival. It was a great weekend but the part that really sticks in my mind is the journey home.

When queuing for the ferry back to England, a customs official made us pull over for inspection. As there were a fair few of us crammed into a transit van, Dutch customs seemed to think we might be trying to smuggle illegal goods out of the country.  When my dad explained where we had been, the customs officer asked if we were one of the bands performing, to which he replied "Yes". The officer tried to call our bluff by asking us to open up the van and show him our musical instruments. My dad then rifled through the bags and coats, pulled out two small novelty maracas, smiled and shook them in the officer's face. Customs weren't amused but we got home safely and all in all, it was a brilliant trip."
Issy:
"My favourite birthday experience and surprise was being taken to France for a long weekend via Eurostar – first class. It was champagne all the way for the journey and Paris in summer was very romantic. I'm scared of heights so we admired the Eiffel Tower from the base and if it doesn't sound too morbid, my favourite place was the Père Lachaise Cemetery, glamorous resting place of a variety of greats such as Chopin, Oscar Wilde, Marcel Proust, Marcel Marceau, Jim Morrison and Edif Piaf"
We would like to hear your stories too so…
For a chance to win a £50 Gift Card, leave us a comment below over the next week, telling us about the best birthday experience you've ever had (don't forget to leave a valid email address so we can get in touch if you win). 
The competition closes at midnight on Wednesday 4th December and comments are moderated, so don't panic if your entry doesn't show up straight away!
The winner will be chosen at random from all the correct entries, but as we reckon you are likely to come up trumps with your birthday experiences, we'll aim to put together a subsequent post including some of the best stories, so we can all share the fun.
Good luck!
TERMS AND CONDITIONS
BY ENTERING THIS prize draw YOU AGREE TO THESE TERMS AND CONDITIONS.

THIS PRIZE DRAW IS OPEN TO RESIDENTS OF THE UK AND EIRE, EXCEPT FOR EMPLOYEES OF RED LETTER DAYS, THEIR IMMEDIATE FAMILY MEMBERS, OR ANYONE ELSE ASSOCIATED WITH THIS GIVEAWAY.

YOU MUST BE OVER 18 YEARS OF AGE TO ENTER.

THE PRIZE IS A RED LETTER DAYS £50 GIFT CARD.

TO ENTER THIS GIVEAWAY, NO PURCHASE IS NECESSARY. USERS WILL BE ASKED TO leave a comment ON this blog post with THEIR BEST BIRTHDAY EXPERIENCE.

The competition closes at midnight on Wednesday 4th December. Entries submitted after this point are not valid and will not be counted.

THIS OPPORTUNITY IS OPEN TO ONE ENTRY PER PERSON AND THE WINNER WILL BE PICKED AT RANDOM out of all correct entries.

RED LETTER DAYS ACCEPTS NO RESPONSIBILITY FOR  NON-RECEIPT OF ENTRIES DUE TO ANY REASON WHATSOEVER, INCLUDING TECHNICAL FAULTS OR INABILITY TO ACCESS THE INTERNET.

RED LETTER DAYS COMPLIES WITH THE UK DATA PROTECTION ACT TO ENSURE THAT THE PERSONAL INFORMATION YOU GIVE US IS KEPT SECURE AND PROCESSED FAIRLY AND LAWFULLY. WE WILL NOT SHARE YOUR INFORMATION WITH THIRD PARTIES FOR MARKETING PURPOSES. FOR FURTHER DETAILS PLEASE SEE OUR ONLINE PRIVACY POLICY AT HTTP://WWW.REDLETTERDAYS.CO.UK/PRIVACY

THE WINNER WILL BE NOTIFIED VIA THEIR ENTRY EMAIL ADDRESS. RED LETTER DAYS' RANDOMLY CHOSEN WINNER WILL BE FINAL AND NO CORRESPONDENCE OR DISCUSSION SHALL BE ENTERED INTO.

THE PRIZE IS NON-TRANSFERABLE AND NON-REFUNDABLE. THERE IS NO CASH OR OTHER ALTERNATIVE TO THE PRIZE AND THE PRIZE MUST BE TAKEN AS OFFERED.

THESE TERMS AND CONDITIONS SHALL BE GOVERNED BY ENGLISH LAW AND EXCLUSIVE JURISDICTION OF THE ENGLISH COURTS.

RED LETTER DAYS RESERVES THE RIGHT TO CANCEL OR REFUSE ANY INDIVIDUAL ENTRY OR TO POSTPONE OR CANCEL THE PRIZE DRAW IN EXCEPTIONAL CIRCUMSTANCES, INCLUDING BUT NOT LIMITED TO CIRCUMSTANCES WHERE IT IS APPARENT THAT THERE HAS BEEN FRAUDULENT ACTIVITY OR ACCESS TO THE INTERNET HAS BEEN PREVENTED FOR A PERIOD LONGER THAN 48 CONSECUTIVE HOURS DUE TO TECHNICAL PROBLEMS BEYOND THE CONTROL OF RED LETTER DAYS.

PROMOTER: RED LETTER DAYS LTD, 77 MUSWELL HILL, MUSWELL HILL, LONDON N10 3PJ.