Food & Fast Cars: Andy & Chloe Experience Life in the Fast Lane
Fast cars and fantastic food – sounds like a dream day out, right?
Well last month Andy and Chloe got to make that dream reality, as they shadowed the film crew of a potential new TV show that combines just that – world-class supercars (like those on our Driving Experience Days) and delicious grub.
The fuel for the show came as a result of online supercar influencer Tom Howard (AKA The Gentleman Racer) and butcher turned Dragon's Den entrepreneur Paul Turner bonding over their shared love of cars, after meeting via Twitter. When they later met in person at the 2016 British Tour Car event at Silverstone, it wasn't long before they sparked the idea of a brand new TV show.
Months later the dream became a reality and we were lucky enough to be there and witness the pilot being shot – by an Oscar-winning producer (that we can't yet reveal!). Paul and Tom had paired up with Luke Matthews, head chef at award-winning hotel Chewton Glen and its brand new James Martin cookery school, The Kitchen, to create the challenge of sourcing (and later cooking up) fresh produce from local artisan food producers.
Taking place in the lush surroundings of the New Forest, the crew set out on a road trip, stopping off to visit some of the region's incredible artisan food producers, as they wound their way around the country lanes. Not to forget their chosen mode of transport – A brand new Ferrari California T… No biggy!
The Car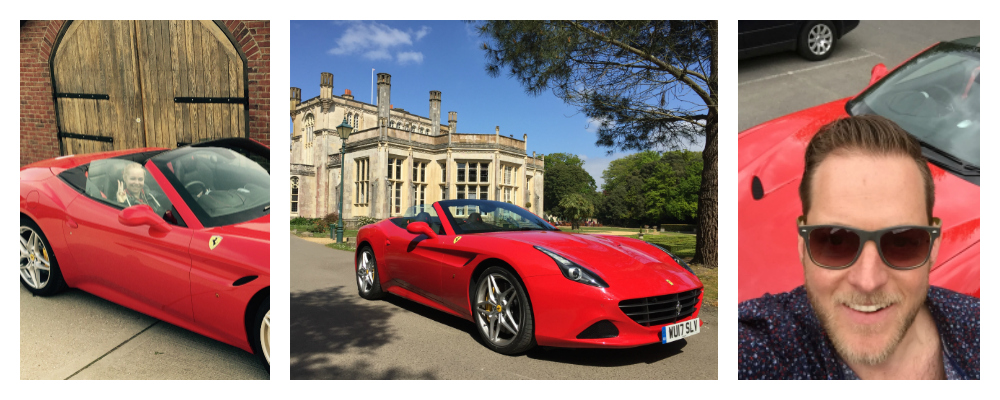 Kindly loaned by Bespokes, the Ferrari California T is an everso sleek two door hardtop convertible sports car and a true piece of perfection, distinguished by sexy lines and ferocious power. Modelled on the earlier Ferrari California, the California T was named after its new twin turbocharged engine and is known as Ferrari's softest car, thanks to an easy-driving character. The speed machine can accelerate from 0 – 60 mph in 3.6 seconds and reach the lightening speed of 196 mph!
Chloe described the Ferrari California T as her 'dream car' and, though she didn't get to drive it herself, she said that hopping in the passenger seat for a spin and hearing the distinctive roar of the engine was an experience to remember! Andy, on the other hand, was lucky enough to test-drive the world-class vehicle, though he's admitted that he wasn't overly confident when he first took to the wheel of the Ferrari – it's one rather expensive piece of equipment after all! He soon relaxed, however, taking the opportunity to swing by his children's school to show off this new set of (borrowed) wheels!
"Nerves unsettled, I cajoled Adrian from Bespokes to accompany me for the first 400 metres of driving from their central London garages, but once confident I can't deny that it left me feeling really rather special and very, very smug!"
His highlight?
"Cruising the open roads of the stunningly beautiful New Forest in this brand new £200k+ Ferrari – always within the speed limit of course and always on the lookout for the famous New Forest wild ponies! Also, there's a Bond like 'LAUNCH' button on the dash but, until at least 1000 miles is on the clock, you can't touch it. That temptation was agony to control and perhaps the only downside of driving a new Ferrari!"
The Locations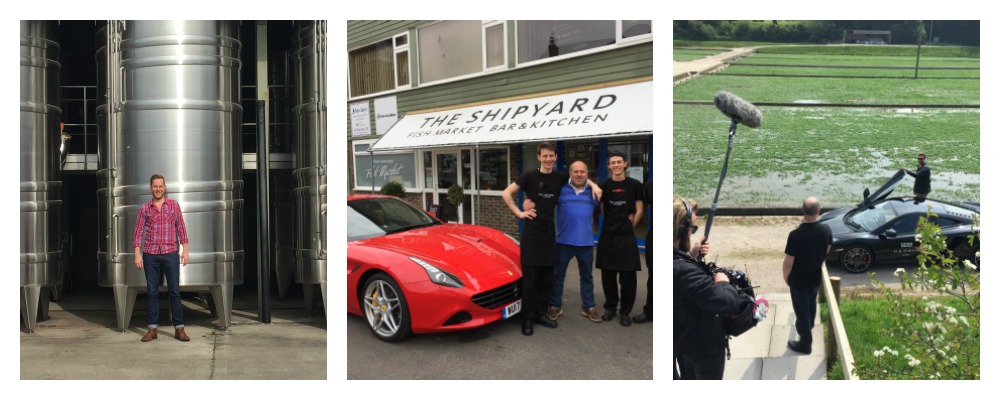 Left to right : Hattingley Valley Wines, The Shipyard Fish Market, The Wasabi Farm
Over the weekend, the team visited seven different artisan food producers in Hampshire with their first stop at Hattingley Valley Wines. Since launching its first release in August 2013, the company has developed into one of the most respected producers of English sparkling wines in the country. They use oak barrels to ferment a small proportion of the wines each year and age the wine in stainless steel tanks, as this softens the wines before they go into bottles for the second fermentation.
Moving on, the team visited Twisted Nose Gin's Winchester distillery, owned by the delightful Paul. Their small batch gin boasts ten botanical notes, creating an intense and fragrant spirit. Watercress is one of the key ingredients and the local chalky earth and crystal-clear streams of Hampshire create the ideal environment for this herb to flourish. The peppery oils in the watercress act as a stimulant for the tastebuds, preparing the palate for detecting all of the varying notes in the gin while adding a tangy flavour.
Next up was the wasabi farm – a real highlight for Chloe:
"My favourite stop on the tour was the wasabi farm. It was a very tranquil place and the fresh wasabi tasted extraordinary!"
Traditionally from Japan, wasabi is one of the hardest plants to grow and incredibly rare in the UK, with just one farm commercially producing the root. The Wasabi Company originally started out growing watercress, but it came to their attention that wasabi requires the same growing conditions, and the rest is history. They now sell wasabi to some of the top chefs in the UK and Europe. Fetching up to £250 per kilo, wasabi is considered the most valuable vegetable in the world and it takes two years to fully mature – you'll agree that must take some patient farmers!
Hampshire Cheeses was next on the agenda. Launched by Australian Stacey and Hampshire born-and-bred Charlotte, the business was created with the dream of making cheese with tradition, precision, passion and care, while proving that British cheese is some of the best in the world. The Tunworth soft cheese is their signature Camembert with a sweet nutty flavour, made entirely by hand. The Winslade is the newest of their cheeses – a Vacherin/Camembert cross with a unique pine note.
In search of fresh fish, the group made their way to The Shipyard Fishmarket at Lymington Key to collect some crab and then on to Chalk Stream Foods for some of the UK's richest and leanest trout.
Their final stop was Laverstoke Park Farm, which Andy noted as his most memorable visit on the trip. Owned by ex F1 Ferrari champion and racing legend, Jody Scheckter, England's only buffalo farm is spread over 2,500 acres of rolling Hampshire countryside. Jody set up the biodynamic and organic farm to produce the best-tasting, healthiest food for his family, before deciding to sell the produce to the public. Laverstoke Park Farm specialises in producing buffalo mozzarella, buffalo ice-cream, milk, burgers, cuts of buffalo meat, beers, wines and much more! Andy told us
"The day at Laverstoke Park got off to a pretty amusing start. After a bleary-eyed, dawn start and 30 minutes on the main roads I discovered the guys had cunningly put a L plate on the Ferrari without me seeing! Ah, such pranksters! Anyway, I soon had the honour of meeting F1 legend-cum-farmer Jody, his wife Clare and their herd of 1000s of beautiful buffalo. The creatures were incredibly friendly and curious and the cameras clearly loved them (and vice versa). As part of the filming Jody also took Tom and Paul for a bone-shaking, nerve-racking, high-speed ride in his new £150k+ V12 super charged Mercedes GLS AMG. It's terrifyingly fast for such a big car and would probably give most supercars a run for their money. I'm delighted to say that karma triumphed here as a rattled Tom, Paul and cameraman all ended up on each other's lap in the boot!"
The Food
The tour of the New Forest came to a climactic end with an exquisite three-course meal, whipped together by Paul and Tom, with guidance from Luke Matthews of Chewton Glen. Each course was cooked using locally sourced produce, collected at each stop on the tour. Luke talked the crew through the cooking process before they were let loose to tuck into his tasty creations.
Andy's favourite bit of the meal was the Tunworth Camembert spiked with Laverstoke buffalo and wild Isle of Wight garlic, which he described as 'sensational' and he couldn't speak more highly of the Chewton Glen team.
"Mark Bevan – the head concierge of Chewton Glen, is quite simply a legend. He also has a very soft spot for nice cars. He knows a lot of secrets and stories about lots of very famous guests. Shame he's a man of his word and kept schtum."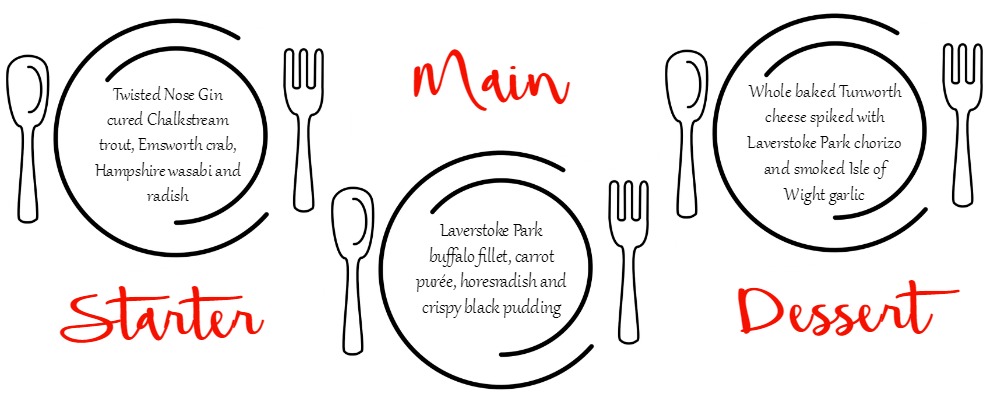 To round things up Andy and Chloe shared some of the best things they learnt from the experience. Both said that they gained so much knowledge from their trip, mainly from the passionate artisan food producers who have often given up everything to pursue perfection. Here are some of their top learnings:
Wasabi is worth £250 a kilo – hence the location is a closely kept secret. To compare, a great fillet steak is £45 a kilo
The best buffalo to produce beef and cheese is an Asian one – not the big African ones that initially spring to mind
Filling up a California T is not as expensive as you'd think (c£90) and it's not as thirsty as you'd expect (approx. 20 mpg)
Check out some mouth-watering foodie experiences- perfect for those who enjoy exploring new flavours, leaving them hungry for more.
Images courtesy of Andy, Chloe and Pixabay.