When Floatworks invited a representative of Red Letter Days to the big launch of their brand new float centre in Vauxhall the weekend of 9/10 April, I was happy to accept the opportunity and 'work' on a Sunday. As we're all leading busier lives than ever, maybe taking an hour to turn off, tune out and free my mind from overload would be just the thing. Read on for an insomniac hippy's personal take on the float experience.

As a self-confessed devotee to all things alternative, I enjoy trying different 'holistic therapies' and had always loved the idea of a float tank. I was interested to test the claim that an hour's floating could be as rejuvenating as a whole night's sleep. I had tried it years ago but came away very disappointed. This time couldn't have been more different and the change I saw in myself after floating has made me an enthusiastic convert.

Maybe floating isn't for everyone, but you don't know if you don't try. If you try and find that it IS for you, then the discovery can be powerful. The benefits of floating have been well documented and athletes, in particular, were early adopters of the therapy. Exceeding the physical of enhanced performance and speedy healing, floating has also been proved to positively impact sufferers of anxiety, depression, addiction and much more. These days many high flyers who are time poor invest in float sessions to balance mind and body.
Chris and Ed who run Floatworks come from banking backgrounds themselves. Having met them on the day, I can tell you that both give off such calming vibes, they are perfect adverts for their business!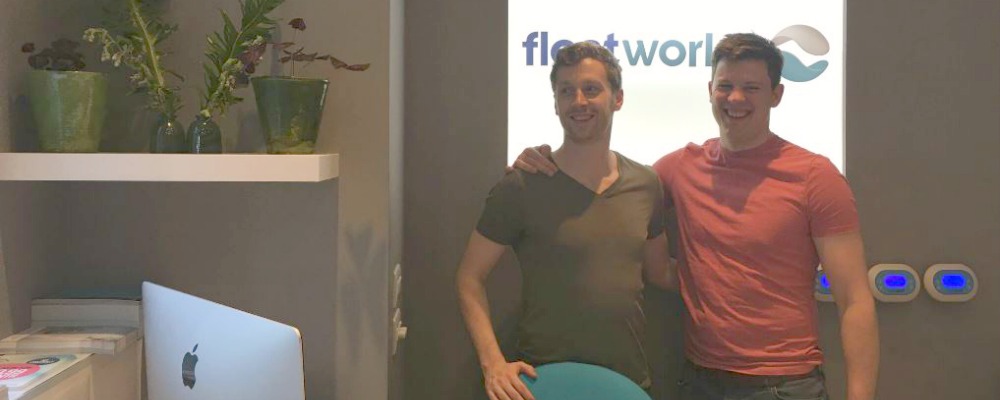 I arrived on an overcast Sunday afternoon in Vauxhall. Generally this area of London is bustling at any time of day, due to the many clubbing venues, pubs and constant heavy traffic. So through that buzzing atmosphere I was surprised to enter a quiet and rather calm piazza next to the river, with contemporary high rise flats on all sides, a bubbling water feature with iron sculpture in the middle of the space and the gentle blue of the Floatworks sign winning my attention from the corner.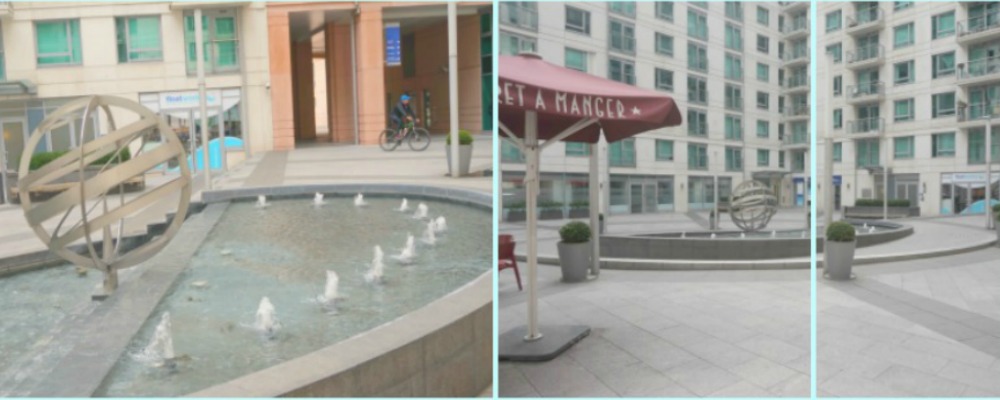 I was greeted by Chris, one of the directors, on arrival. The venue had launched at the beginning of the weekend and he and business partner Ed hadn't stopped, but Chris exuded an aura of calm energy which if it was a special marketing ploy he should bottle it, and if it was natural he should bottle it.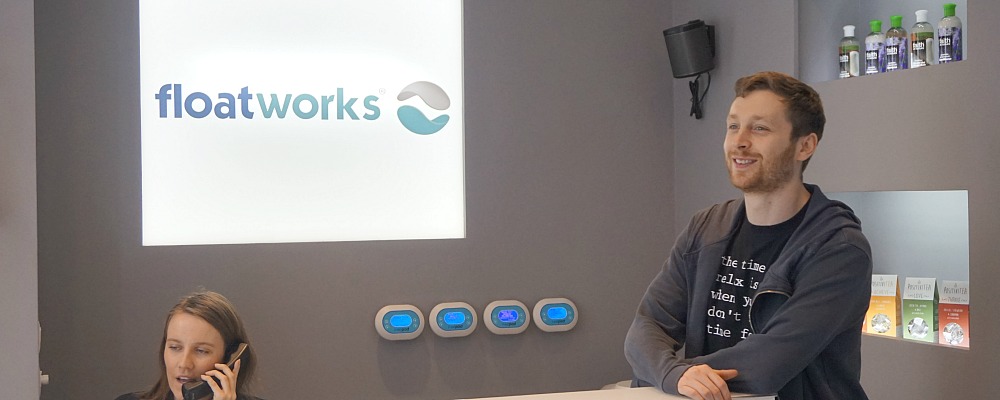 The place itself reminded me of a small luxury spa, understated, first class, quiet, with light neutral colours, tasteful flower arrangements and beautiful artworks which set the space off perfectly. The abstract Mona Lisa pictures hanging on their walls came courtesy of  talented artist Allan Banford, a previous contender on Sky's Portrait Artist of the Year.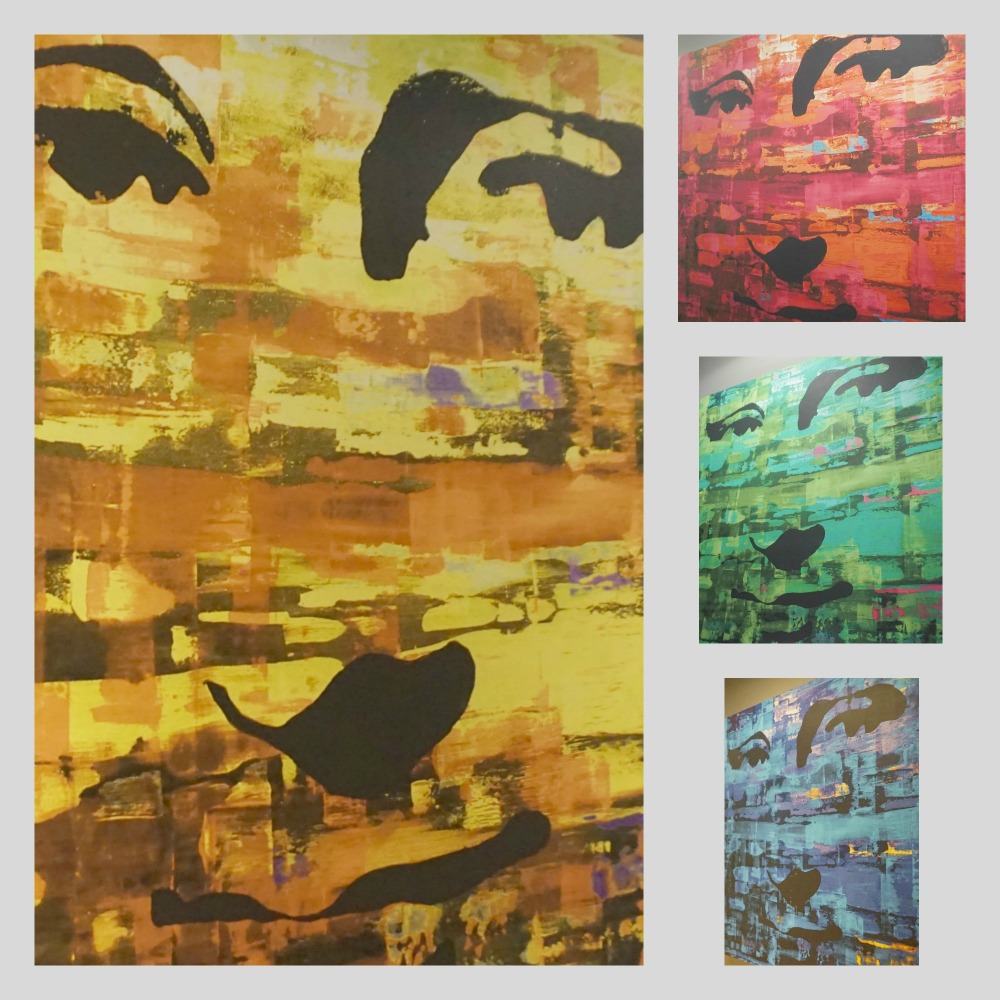 From reception I was led beyond the solid door. To the left were the lockers for valuables and piles of towels.
Having dispensed with coat and bag, armed with a fluffy white towel, I was led to my float room (one of four) and instructed on what to do before being left alone. Bathed in blue light, this cacoon immediately felt other worldly. There was a fancy shower in one corner, for use before and after the float. Before to clean off any products and afterwards to rinse off surplus salt and indulge in the organic Faith in Nature products provided.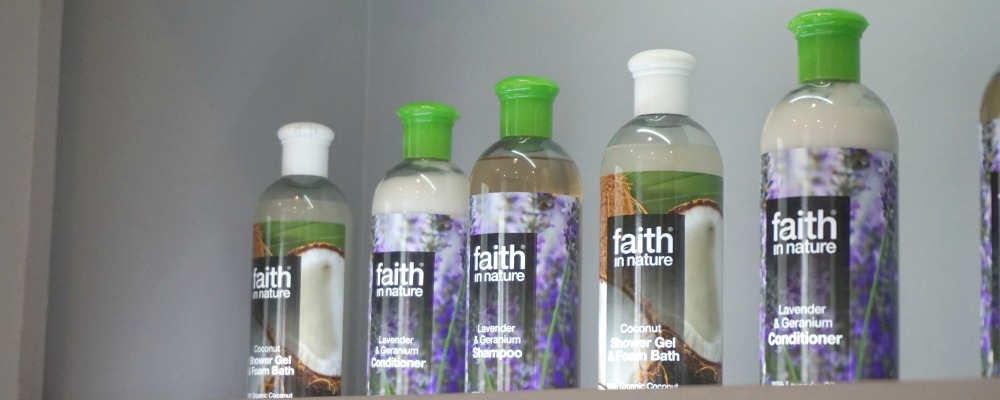 I placed my clothes on the provided chair and towel on the heated rail. Moulded ear plugs in and swimming hat on I entered the space age looking i-sopod. The water is only 10 inches deep (scientifically filtered many times over), and full of Epsom Salt which enables a body to float effortlessly. I found it surprisingly easy to relax all my muscles and let go. Set at body temperature, I couldn't tell where my body ended and the water began.
It took me a while to close the pod lid but I didn't feel claustrophobic once I did. A little longer to brave turning off the light which also proved fine. There is a button in the pod for on/off and mood coloured lighting and a fresh water spray for if you happen to touch your face and get a salt sting (not recommended. In fact, make sure any opening in the skin is pre-covered with Vaseline. And don't forget to use the bathroom and insert the provided ear plugs in advance too).
There was just a smidgen of panic which I talked myself out of, and concentrated instead on trying to think of what other instances in life put us in a such a sensory void – no movement or tension, no light, no scent and after a few minutes no sound (for the first and the last 10 minutes, some gentle background). I felt a little bored, and my mind wasn't able to switch off from the day to day, so I mentally noted what I needed from the shops and wondered how I would feel later. I did lose sense of time and the hour didn't feel like an hour. When the music kicked in again, I remembered it signalled my 10 minute alarm call to the end of the float.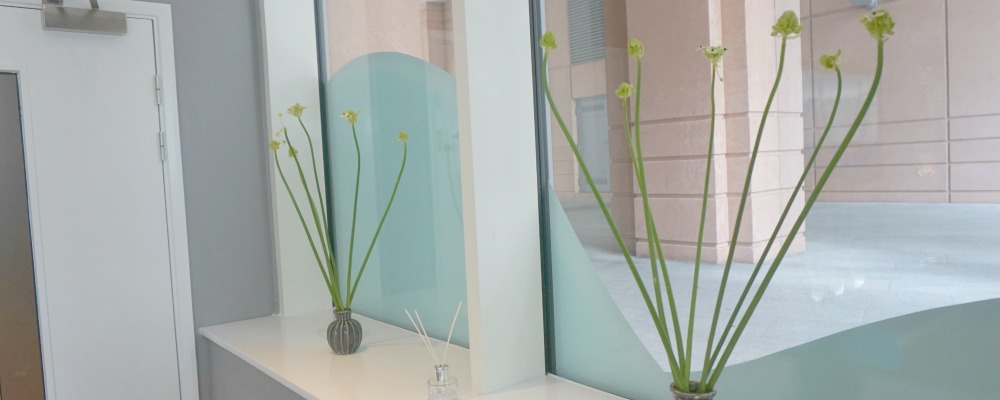 The swimming hat was a silly idea, not needed and was full of salt when I removed it. The deluxe shower was so nice that I washed and conditioned my hair anyway (and left my hat behind which staff returned to me later). I was glad I had worn flip flops and didn't have to encase happy feet (although Floatworks provide slippers if needed). All dressed, I said goodbye to my watery sanctum and left the room.
I moved to the next stage of the experience – the 'Hollywood' vanity room, complete with swivelling stools, lighted mirrors, hairdryers, tissues and cotton buds – it had everything a girl could need to prepare to face the world.

Once fully dried off, moisturised and preened I checked in next door at the chill out room. Softly lit, with plenty of comfy seating and bean bags, I was offered a vast choice of green teas. I felt guilty asking for the details of each one, since they must have been recited 100 times that weekend, but it helped me pick a favourite flavour and as I sank into my beanbag and sipped on the delicious tea, it occurred to me just how relaxed I was.
Both Chris and Ed were keen to hear about my experience (as they were with every guest) and I chatted with others in the room on subjects ranging from massage, the history of floating, taking cold showers and Wim Hof, the amazing Dutchman who uses meditation not to feel the cold. Unbelievably almost two hours had passed.
I said my goodbyes and was given a goody bag to face the big wide world with (filled with a bag of Epsom Salt for a home bath, some toiletries, a fresh juice and a tasty Max's Protein Bar which, despite not liking either dark chocolate or cranberries, I devoured on the way home, it was delicious) as a final treat.
I am told that floating has a cumulative effect, so the more you float the more you benefit. I felt more relaxed and slept better for the next few nights and I have already booked a return visit.
I would recommend everyone try floating, and Floatworks in Vauxhall is THE place to go. Red Letter Days is delighted to be working with them as a partner, click here to book your float now