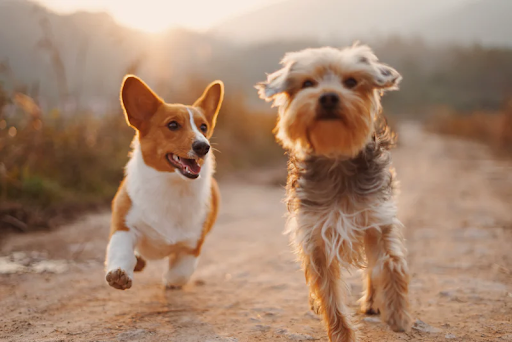 To most dog owners, canine pals are as much a part of the family as any other member. So, when it comes to enjoying a break away from home, it only seems fair that furry friends should be included. Fortunately, there are tonnes of dog friendly holiday spots around the UK, many of which are more than happy to accommodate our fluffy friends, so there really isn't any reason they can't join in the fun!
The great British outdoors is the perfect destination for unbeatable walking routes and dog friendly tourist sights, so we've put together a list of the top accommodation in Blighty, where cuddly canines are welcomed with open arms. From rustic glamping breaks nestled in the woodland to chic country house escapes, these destinations won't disappoint!
Dog Friendly Glamping
Camping Pods
Camping pods are perfect for those who are after an authentic camping experience, without all the hassle of pitching a tent. Though not the most glamorous form of accommodation, what these compact wooden dwellings may lack in plush decor, they certainly make up for in rustic charm. Besides, one of the best things about camping is stripping life back to basics and being at one with nature. Facilities vary from site to site – some of the pods come ready furnished, whereas others let guests bring their own equipment and comforts.
Two-Night Camping Pod Break for Two in Worcestershire
At the more lavish end of the scale are the cosy camping pods at Rosebud Meadow Glamping Site. Nestled at the foot of the Malvern Hills in the picturesque Worcestershire countryside, these home from home pods come equipped with all the creature comforts you could wish for, including electric lighting and sockets, a kettle, a mini fridge and even a flat screen TV with a DVD player.
Two-Night Family Camping Pod Getaway in Devon
For dog owners who prefer to keep it simple on their country breaks, sites such as Langstone Manor Park in Devon offer the true camping experience – minus the tent. Bring your own bedding and make yourself comfortable in your very own insulated pod, kitted out with electricity and heating for a comfortable stay. Don't forget the dog bed too or your furry pal may want to steal yours!
Only fancy a flying visit? Say no more. Langstone Manor Park also offers overnight family stays for those on the move.
One-Night Hobbit Hole Break in The Lake District
For something a little different, why not head up to Hobbiton (also known as the Lake District) for a magical overnight stay in a hobbit hole? Four times larger than a standard camping pod, these large underground living spaces are superbly insulated and virtually invisible unless you know where to look – hobbits very much like to blend into the local scenery! With breathtaking views over the Ullswater valley, each hobbit hole is equipped with central heating, soft sleep ledge, electric and USB points, a toilet, picnic table and chairs as well as a sheltered patio area that is perfect for BBQs or soaking up the scenery. All you need to do is bring your camping gear, your family and your pooch for an unforgettable dog friendly holiday!
Bell Tents
Ok, technically they're tents, but these bell tents aren't like any old piece of canvas you could pick up in the sale at your local DIY store. Putting the glamour into glamping, these spacious bell-shaped tents are styled and fitted with plush furnishings and chic decor, making for a magical experience in the outdoors. Suitable for couples, families and groups alike, the tents vary in size and facilities between sites. Of course, there's always space for a four-legged pal too and the countryside dog walking routes are unbeatable!
For a boutique break that offers some real style, visit the appropriately named 'Plush Tents Glamping' in West Sussex for two nights of luxury camping. Nestled in woodland at the foot of the South Downs, close to the sea, the tranquil setting offers an idyllic escape from busy lives. Not only is the rural location super exciting for adventurous dogs, but the site also comes equipped with brilliant amenities including memory foam mattresses, a solar-powered tent kitchen, comfy hammocks and a charcoal BBQ.
One-Night Stay in Bell Tent at Woodland Escape for Two
Embrace a more relaxed style of living in the great outdoors with an overnight stay at Woodland Escape in glorious Somerset. Every bell tent at this family-run campsite comes complete with ornate Moroccan lamps, a comfy double bed and futon sofa beds as well as many other modern luxuries! Take a stroll through the nearby meadows, fire up your personal BBQ for a forest feast and roast marshmallows over the firepit once the sun starts to set. Dogs are welcome at the cost of £17.50 – this price includes a water bowl to hire and a cute chew toy to take home with you.
One-Night Glamping Break with Hot Tub and Fizz for Two at Woodland Escape
Just when you thought the bell tent life couldn't get any more glam, along comes Woodland Escape with a private hot tub in the woods and a complimentary bottle of fizz. A welcome break away from the stresses of everyday life, retreat to your luxurious bell tent and slip into a fluffy bathrobe, before following the nature trail to your bubbly oasis. As well as the hot tub, your bell tent experience includes a cosy double bed, a warming log fire and a BBQ pit so you can cook up an al fresco feast before settling down to sleep under the stars. Your little pup will have a whale of a time becoming one with nature as the Somerset countryside is abundant with open green spaces for them to run, play and chase their own tails.
Dog Friendly Hotels
For those who prefer their accommodation to come with four walls and proper plumbing, look no further than a charming country house hideaway or seaside hotel escape. Boasting beautiful scenery, you can expect all of the creature comforts you could wish for on holiday, including cosy marshmallow beds made up with fresh linen, en-suite bathrooms complete with fluffy towels and a TV to kick back in front of. Many are more than happy to accommodate dogs – on the basis they're on their best behaviour, of course!
Country House Hideaways
Country House Escape for Two at The Lake Country House Hotel, Powys
For a tranquil lake-side setting, spend a night of luxury at The Lake Country House Hotel in Powys. Originally a hunting and fishing lodge, the beautifully restored building blends contemporary styling with original features, retaining its charm and character of yesteryear. Not only are they happy for you to bring your four-pawed pal, they even have their own resident dog called Molly! It's simply the perfect location for a country house escape.
Country House Escape for Two at Langrish House, Hampshire
In the heart of the South Downs National Park lies Langrish House, a quintessential 17th Century English manor. Boasting an idyllic setting, the house is situated within 14 acres of rolling Hampshire countryside – perfect for dog walks and exploring the picturesque villages nearby. Owners Nigel and Robina are avid dog lovers, so they gladly invite pets to enjoy the delights of a country house escape at Langrish House alongside their owners. To make their stay extra comfortable, they even provide a dog blanket, water bowl, dog biscuits and…a poopascoopa (because dog-ownership isn't all that glamorous!)
One-Night Break at The Craigellachie Hotel for Two
A warm, relaxed welcome awaits you at Scotland's oldest whisky hotel – the beautiful, historic and dog friendly Craigellachie Hotel. Found in the magical, wild valley of Speyside, check into your opulent Snug Room with pooch and partner in tow before heading down to the world-famous Quaich Bar where you can enjoy a dram or two of one of the 1,000 whiskies on the menu. In the morning, tuck into a delicious full English breakfast before embarking on a day of adventure in the beautiful nearby area – long dog-walking tracks and trails await you!
Seaside Escapes
Boutique Escape with Dinner for Two at Stanwell House Hotel
If you're looking for the best dog friendly accommodation in the New Forest, call off the search! The Stanwell House Hotel is a cosmopolitan and stylish boutique hotel situated in the heart of Lymington, ideally positioned minutes from the stunning quay. Stay in a luxurious double or twin room complete with flatscreen TV and complimentary bath products and get your foodie fill with a £55 dining allowance at a choice of two restaurants and breakfast the next morning! Well-behaved woofs are welcome for a £15 supplementary charge which covers a thorough room clean and includes a goody bag for your pup, with a blanket (to keep) and some chewy treats (to chew!)
Two-Night Escape with Breakfast at The Dial House or Two
The Dial House are barking mad and proud – so much so that they have a dedicated doggy bedroom! The Print Room means guests from near or far can bring a canine companion to stay as the room is equipped with a dog bed and bowls and their pastry chef Jemima even makes dog biscuits in-house for your fur baby to enjoy! Human guests will also have a hoot at this stunning 4-star hotel set in the idyllic county of Norfolk. The hotel is in close proximity to charming independent shops, stunning walking trails and Areas of Outstanding Natural Beauty for you to explore. And if you're looking for somewhere to doggy paddle, don't fret – the Norfolk coast is only 30 minutes away by car.
Woof-approved best dog friendly holidays in the UK
For those animal lovers who cannot bear to leave their pet at home, these holidays with dogs would be the perfect little getaway for any playful pooch.
**Please note that most venues charge an extra cleaning fee for guests bringing dogs.**
Looking for the perfect UK getaway without a pup in tow? Check out our handpicked selection of the best short breaks and weekend trips.